Gerry Adams, Enda Kenny and Joan Burton have one thing in common.
The three politicians fought the 2016 general election as leaders of their respective parties. But when the country next goes to the polls, all three will have exited as party leaders.
Last night, Mr Adams outlined his intentions to step down as Sinn Féin leader next year.
Without doubt, he is one of the most controversial and divisive leaders ever in Irish politics.
When he became leader in 1983, Sinn Féin advocated a policy of the ballot box in one hand and the ArmaLite in the other hand.
Mr Adams, along with the late Martin McGuinness, led the republican movement through a period of dramatic change.
Unlike Mr McGuinness, Mr Adams has always denied being a member of the IRA but politicians in Dublin and London never believed his denials.
He pushed through compromises as part of the peace process leading to the first IRA ceasefire in 1994. That eventually led to the Good Friday Agreement in 1998.
On the back of those developments, Sinn Féin emerged as a political force, north and south of the border.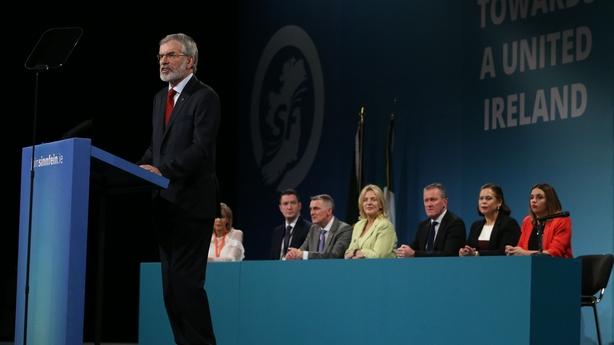 In 1997, the party had a single TD in the Dáil when Caoimhghín Ó Caoláin was elected in Cavan–Monaghan. Today, Sinn Féin has 23 seats in the Dáil and, in Northern Ireland, it has replaced the SDLP as the main party of nationalism.
During his 34-year tenure as leader, Mr Adams more than anything else succeeded in maintaining party unity.
But his links to the republican movement always dogged him and the party. Questions about the 'Disappeared' and the killing of Brian Stack and Tom Oliver - among others - never went away.
Now, Sinn Féin knows it has to be relevant to debates about government formation during the next general election or it risks suffering at the ballot box.
So this weekend has been about strategically moving into a new political space where the party can possibly do a deal with Fine Gael or Fianna Fáil to form a future coalition government.
The two main parties in the Dáil insist they will not deal with Sinn Féin irrespective of who leads the party.
But the numbers game will ultimately dictate decisions after the next election.
After all, Fianna Fáil had this experience in 1989 when it went into government with the Progressive Democrats.
The departure of Gerry Adams means Sinn Féin will most likely have a leader not directly connected to the northern conflict.
In the post-Adams world, the strong words of rejection from Fine Gael and Fianna Fáil about forming a coalition with Sinn Féin will only be tested after the ballot papers are counted.
We know politicians are pragmatic so we will just have to wait and see what politics after Gerry Adams means for politics in the Dáil.