Gerry Adams has told delegates at his party conference that he will step down as president of Sinn Féin next year and he will not run again for the Dáil.
In his keynote speech, he told delegates this would be his last Ard Fheis as party leader.
He told delegates that "leadership means knowing when it is time to change. That time is now".
Gerry Adams has announced that he will be stepping down as Sinn Féin President next year and will not contest Dáil election pic.twitter.com/V6rB2GuYbI

— RTÉ News (@rtenews) November 18, 2017
"This is my last Ard Fheis as Uachtarán Sinn Féin. I will ask the incoming Ard Comhairle to agree a date in 2018 for a special Ard Fheis to elect our next Uachartaran".
He said Sinn Féin needed to "prepare for being in government on republican terms in Dublin".
In his keynote speech, he also said one of the party's greatest achievements has been, with John Hume and others, to build a peace process.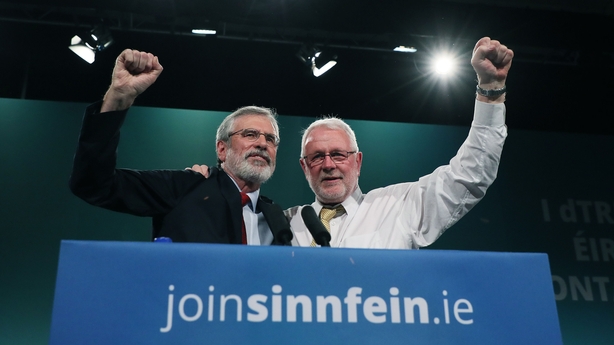 He added: "We have also recast Sinn Féin into an effective all-Ireland republican party, with clear policy and political objectives, and the means to achieve them through democratic and peaceful forms of struggle where none existed before.
"Republicanism has never been stronger," he said, adding, "this is our time. We will grow even stronger in the future."
Mr Adams said the move was part of the ongoing process of leadership transition within the party.
The plan, formulated along with Martin McGuinness before his death earlier this year, has already seen Michelle O'Neill take the role of Sinn Féin's leader at Stormont.
Mr Adams has gone before the Ard Fheis to seek re-election every year since 1983 and that formality was repeated tonight.
In his speech, he told delegates it would be the last time he would put himself forward for the role.
"I want to thank everyone who has welcomed me into their homes and communities and have made me part of countless campaigns, countless elections and countless negotiations," he said.
Amid rapturous applause and a standing ovation, Mr Adams told delegates: "We are going to continue to go forward."
He paid special tribute to his wife Collette and son Gearoid.
Deputy leader Mary Lou McDonald is a favourite to succeed Mr Adams.