At 7.50pm on Wednesday 22 March, Gerry Adams made a final inspection of the script he was about to deliver. Almost 800 people had gathered in the function room of Newry's Bellini's Restaurant. Sinn Féin was holding what it billed as the first in a series of island-wide 'Town Hall' meetings.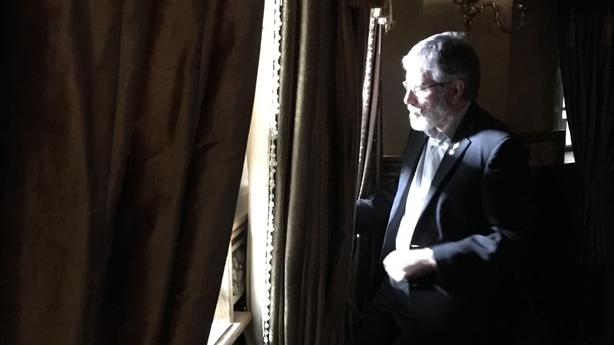 The organisation's machine was still humming after successful Assembly elections. The audience was drawn from a border community, energised by awareness that it is in the eye of the storm of what is Political Hurricane Brexit.
But the deepest reality, the sadness that could not be avoided, or rationalised was that Martin McGuinness had died in Derry's Altnagelvin Hospital the previous day. The morning after the Newry speech, Mr Adams would cross the Glenshane Pass for his funeral.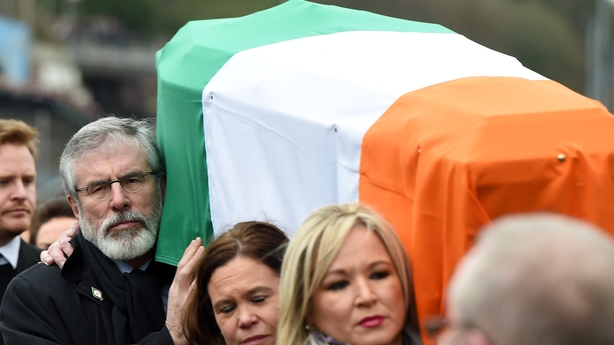 In modern times can any political relationship be compared to the Adams-McGuinness bond? The IRA and Sinn Féin had their share of splits and feuds. For decades the British government expertly practised the dark arts to undermine the republican movement from within. But there was never a smirk, wisecrack, comma or silence to suggest a blemish or frisson in the Adams-McGuinness friendship. East coast - west coast, light bulb - iron: it was unique.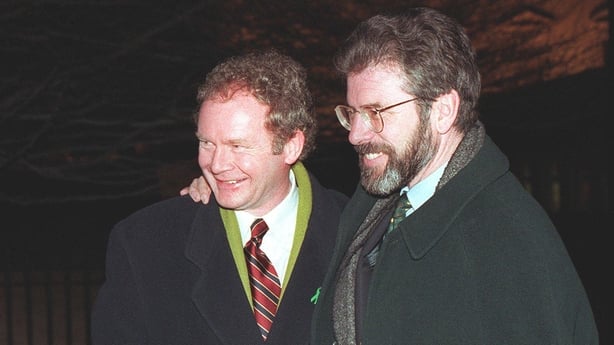 Adams has internally processed much during his complex life. But the scale of the worrying and grieving for the three months before the passing of his friend and the weeks since is, for him, a new level of churning.
They had loosely discussed a different plan … of maybe retiring together, in the middle of this year, along with a cluster of pension-age colleagues to allow for a new post-cordite, both hands on the ballot box cohort to take charge. That unfinished conversation was obsolete when Martin McGuinness became ill.
A sometimes aired view is that McGuinness, despite his past, could make a human connection in most situations whereas Adams invariably generates wariness. The bald truth is the day the Sinn Féin president acknowledges he belonged to the IRA for a nano second at any stage since birth, the gardaí or PSNI would be obliged to arrest and charge him. Martin McGuinness could and did acknowledge his IRA membership up to 1974, the time he was released from prison after serving IRA-linked convictions.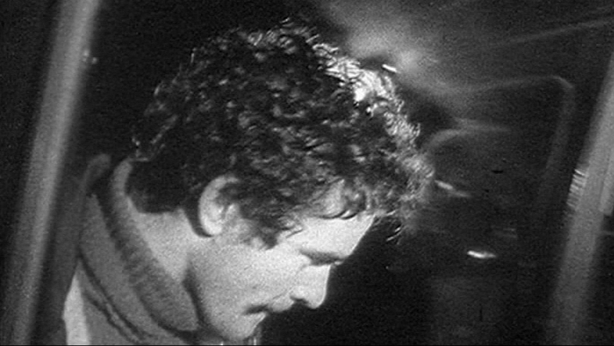 His policy about IRA associations from then onward followed the Adams formula – outright denial. Regardless, Adams seems destined to be the one always associated with steel cold.
One of the two-fixed cameras allowed in The Long Tower Church during the funeral of Martin McGuinness captured the image of Michelle O'Neill shaking hands with Arlene Foster.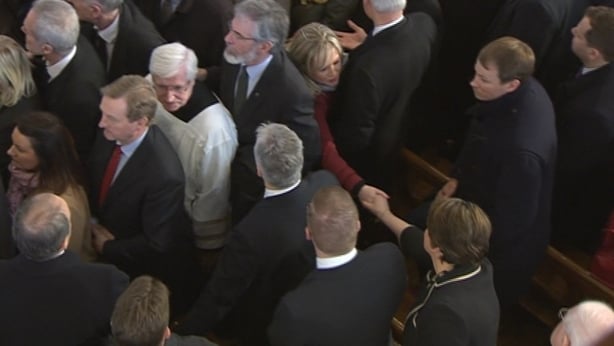 But minutes before that Adams and Mary Lou McDonald had extended a hand to the DUP leader.
For Foster, it had been a day without precedent. Three times spontaneous warmth surprised her: as she entered the Catholic church, following the reference to her by Bill Clinton during his remarks from the altar and in the churchyard following the requiem mass.
During a decade of DUP and Sinn Féin power-sharing, in her extensive interactions with Martin McGuinness, Foster never fully managed to deal with what is primal baggage. When she was nine, living on a Co Fermanagh farm, the IRA tried to kill her father, policeman John Kelly. When she was 16, the SAS killed an IRA member, thought to be involved in the attack on her father, seven years before. Martin McGuinness gave the oration at the subsequent funeral, describing the deceased as a "freedom fighter, murdered by a British terrorist".
In December 2011, Foster travelled to London on business as enterprise minister. As soon as she switched on her mobile phone at Heathrow Airport, she learned that her then 81-year-old father had died after a suspected heart attack. "I never got to say goodbye to my darling Daddy" was one of her comments in the days immediately afterwards.
He was waked in the terraced house, close to the Lisnaskea police station, the family had moved to following the IRA attack 32 years before. Martin McGuinness, at this stage Arlene Foster's colleague in the power-sharing administration, was keen to go to the funeral. The offer was acknowledged but the message was conveyed that attendance would not be appropriate. One senior DUP figure calculated "if McGuinness turns up at the church, some folk might want to pull the limbs from his body".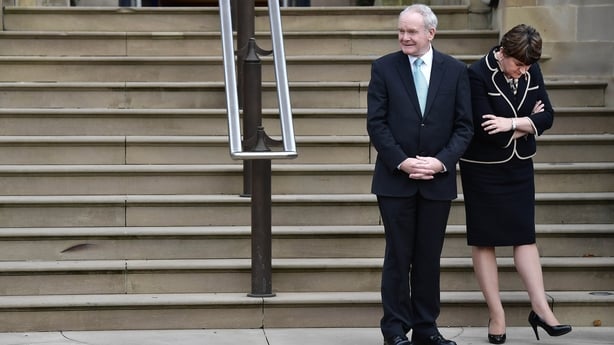 Even after his health problem was diagnosed in December, Foster's empathetic instincts towards McGuinness were clogged. His decision to resign over a row with the DUP had triggered the collapse of the administration and placed her under enormous strain. For weeks her anger with him wouldn't allow her fully compute his many times deeper challenge.
During the final days of a campaign when the tide failed to turn for the DUP, Foster was reconciled with McGuinness. One of the last texts sent by him acknowledged his appreciation to her.
As she left the McGuinness funeral, in the packed churchyard Foster met a man who quietly asked her if she would be photographed alongside his father. In a wheelchair she recognised a frail Brendan Duddy. They had served together, more than ten years before, on Northern Ireland's Policing Board.
She knelt on the ground with her arm around him. The son used his smart phone to capture an image of the DUP leader and his father, the man who set up one of the first contacts between the British government and the IRA's Martin McGuinness decades ago.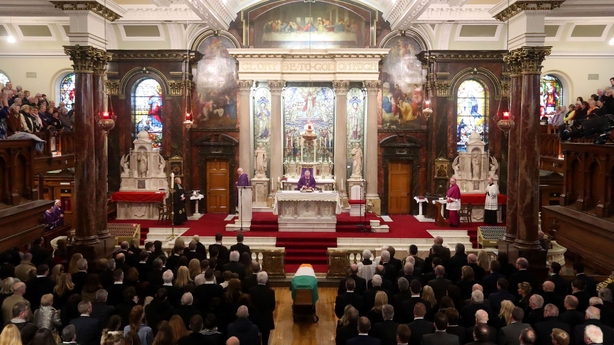 Foster has since written to the chief celebrant of the requiem mass, Fr Michael Canny, acknowledging the kindness extended to her during her visit to Derry.
In the days since, the images from that Derry day – sadness, grief, generosity, the Clinton plea to "finish the work" – have not influenced efforts in Stormont to form a power-sharing administration.
Bill Clinton's full speech at the funeral of Martin McGuinness https://t.co/9poLXrLATi

— RTÉ News (@rtenews) March 23, 2017
Adams must now lead without his friend. As Easter Week approaches, including the 19th anniversary of the Good Friday Agreement, this is somewhat of a Gethsemane moment.
Is it his calculation that Sinn Féin should hold out for full delivery on long-promised concessions? Will Sinn Féin show any flexibility on its insistence that Arlene Foster must stand aside as first minister for the full duration of a public inquiry that has no set completion date? Might there be electoral implications, south and north, of being more comfortable as a party of protest rather than a party of government?
On the opposite side of the table sits a DUP arguing that legislating for an Irish Language Act is too high a price to pay for a resumption of government. Under Arlene Foster's leadership, it lost ten Stormont members and maybe double that number of administrative staff in the March Assembly elections. Is she unwilling to concede now in case disgruntleds within the party might shout why couldn't this have been done before what was a damaging election? Is Foster fatally flawed in the role of first minister, because of her reluctance to reach out?
In a different time, Peter Robinson or Ian Paisley and Martin McGuinness might have assessed the potential consequences of such a stand-off and found a solution. But now the cast is different: Foster, Adams and Michelle O'Neill, the Sinn Féin representative identified by Martin McGuinness as his successor.
Calls made and not made in Holy Week 2017 will decide if, without its most committed convert, power-sharing has run out of road.