As we near the end of the year and enjoy the season of goodwill, myself and the radio show team have decided to completely ignore the festivities and grapple with one of Ireland's most contentious issues.
We are devoting a chunk of the radio show on Saturday to the following question: Is it time to have a United Ireland? To get a sense of what voters think, we asked the Claire Byrne Live/ Amárach panel that question and the results are, 46% say yes, 32% say no and 22% don't know. The highest number in favour of a United Ireland are those in the 25 - 34 age group, 54% of whom answered yes.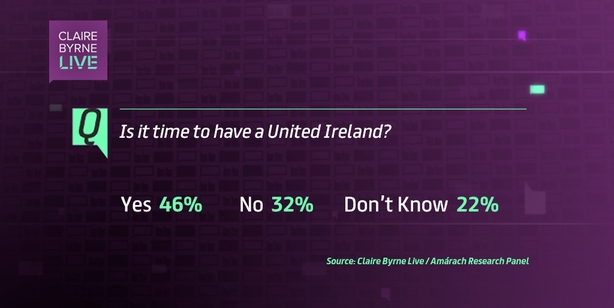 Sinn Féin seized on the Brexit result this year to launch its reunification blueprint and Pearse Doherty will represent the party on the issue. Joe McHugh from Fine Gael and Darragh O'Brien from Fianna Fáil will also be with us. Alongside the ideology, there is also the matter of cost when it comes to the united Ireland question. Sinn Féin claims that the current subvention from Britain to Northern Ireland is €3.2 billion per annum, with other estimates putting it at around €13.1 billion. 
So, how might that little nugget influence any desire for a united Ireland? Economist Tony Foley is crunching the numbers for us this week and will tell us whether economies of scale in a united Ireland might reduce the bill or would we all be facing mighty tax hikes to bring the six counties back into the fold.
We will of course, be discussing the drama in Leinster House this week when Fine Gael and Fianna Fáil had their first major falling out over Simon Coveney's rent control plans.
I hope you can join me and our panel on RTÉ Radio One for Saturday with Claire Byrne from 1pm. And of course, we are back on RTÉ One television at 10.35pm on Monday for Claire Byrne Live.
Listen to Saturday with Claire Byrne at 1pm this Saturday on RTÉ Radio 1
Watch Claire Byrne Live at 10.35pm this Monday on RTÉ One
Follow us on TV at @clairebyrnelive & on radio at @SaturdayRTE