Sinn Féin TDs never break ranks, especially when it comes to their leader. No matter what Gerry Adams says or does, his ability and credibility as president of the party is never called into question by those who populate the ranks.
In the wake of the Brian Stack murder controversy last week. Meath West TD Peadar Toibín was on the panel on my radio show, Saturday with Claire Byrne, defending Gerry once again. While he put up a spirited defence, he did say that in taking it on himself to provide some sort of justice for victims' families, Gerry's actions were making political life difficult. It is beyond surprising to hear anything remotely like criticism of Gerry Adams uttered by one of the party faithful.
The events of the last week also lend further weight to the notion that Gerry Adam's time as leader of Sinn Féin might soon be up. What other political leader would get into a blacked out van with the family of a murder victim and have them driven to secret location to meet an unknown individual who gave them some details around the killing?
While most can agree that Gerry Adams did the State some service in bringing republicans into the peace process, every time he behaves like the middle man between victims and former IRA men, he leaves an open goal for opponents of Sinn Féin to score easy and effective political points.
We asked our Claire Byrne Live/Amárach panel whether Gerry Adams should remain as leader, just 19% said yes, 63% said no and 18% don't know.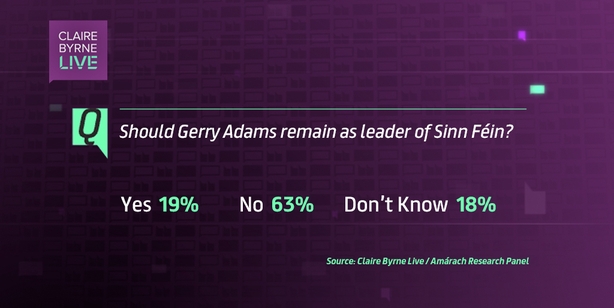 It would be a very interesting exercise to carry out the same poll among Sinn Féin supporters.
Watch Claire Byrne Live at 10.35pm this Monday on RTÉ One
Apply for audience tickets www.rte.ie/cblive
Follow us at @clairebyrnelive and join the conversation #cblive
Get in touch, email clairebyrnelive@rte.ie