Bertie Ahern is a great politician. Whatever he did, or may have allowed others to do in the course of his time as Taoiseach, no one can deny that, at the precision art that is politics, he is a consummate master. He has three consecutive election wins under his belt to prove it. 
There has been further proof in recent days though, where headlines, straws in the wind and a delicate whiff of an election converged to allow the prospect of a new Bertie-era to emerge.
Firstly, Bertie's old cumann in Dublin Central agreed, by unanimous vote to invite him back into the party. Bertie Ahern himself appeared to give conflicting reports as to how involved he would like to be, but it became clear that he feels that Fianna Fáil needs some help in Dublin and he would be the person with the knowledge and experience to fulfill the role. 
We asked our Claire Byrne Live/Amárach Panel what they thought: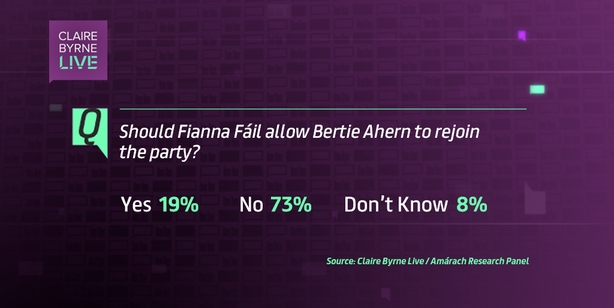 Should Fianna Fáil allow Bertie Ahern to re-join the party? 73% said no, only 19% said yes and 8% don't know.
Now, knowing all of that, fast-forward to later in the week and the Irish Times/Ipsos MRBI poll, which shows Fianna Fáil on 30% support, on course to become the biggest party in the state after the next general election. 
Underlying that number and the reason for the lift, is the news that Fianna Fáil support has grown massively in Dublin, up to 29%. So now, Bertie's prescience and the poll results begin to converge. Fianna Fáil needs to hold on to that growth in Dublin and it needs to capitalise on it by turning it into seats. How easy would it be for Bertie Ahern to win a seat in Dublin Central? Not easy at all, according to our own poll, but the Irish Times shows that support for Fianna Fáil is greatest amongst older voters, so that might play well for any back to the future plans that Mr Ahern might have.  
With numbers like we see in that poll this week and the tantalising prospect of returning as the largest party, the obvious question is just how long Fianna Fáil will be content to remain as the only thing propping up this Fine Gael-led government?
With their eyes cautiously on the prize Micheál Martin has indicated Bertie shouldn't expect a call from HQ any time soon.
Watch Claire Byrne Live at 10.35pm this Monday on RTÉ One
Apply for audience tickets www.rte.ie/cblive
Follow us at @clairebyrnelive and join the conversation #cblive
Get in touch, email clairebyrnelive@rte.ie