Monday afternoon, I had to finally concede that the black trousers I wear most of the time on Claire Byrne Live had done their time and I needed to invest in a new pair.
In the course of my quick purchase, I had a chat with the woman in the shop about how trade is ahead of Christmas (it's the standard shop-chat right?).
She is delighted that things have picked up and said that people are back spending again, but there was a caveat 'I hope Donald Trump doesn't take the legs from under us now with his plans for the multi-nationals'.
Sometimes, the woman on the till is the best economic predictor you'll find.
We asked our Claire Byrne Live/ Amárach Smartphone panel How do you feel about the Irish economy after Brexit and Donald Trump's election? Optimistic 19%, Pessimistic 49%, Don't Know 32%.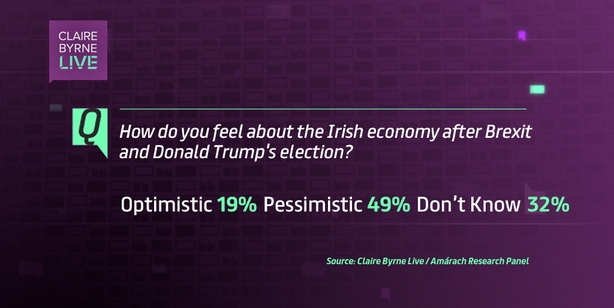 So, just as many people were starting to feel somewhat optimistic that the clouds might be starting to part, we are dealt a hand devoid of aces – Brexit and the election of Donald Trump may conspire to hit us all in the pocket.
Some, particularly exporters to the UK and those retailers on the border with Northern Ireland are feeling it already, but as the rest of us wait for these massive events to play out, an inertia based on fear of the unknown may take hold.
As we discovered on the show on Monday night, people are now willing to discuss the previously unmentionable and question whether we should examine whether we stay in the EU or align with Britain – what would be better for our economy?
On the other side, Donald Trump wants to bring multi-nationals home by offering them reduced tax rates and an amnesty for profits held overseas. We will soon find out why those companies were here in the first place – was it really about our talented and well-educated workforce or was it all to do with tax?
These are big questions and even if you believe that we had worked our way out of the woods earlier this year, there is a great big bunch of dense-looking trees straight ahead that we will be forced to navigate with care.
Watch Claire Byrne Live at 10.35pm this Monday on RTÉ One
Apply for audience tickets www.rte.ie/cblive
Follow us at @clairebyrnelive and join the conversation #cblive
Get in touch, email clairebyrnelive@rte.ie