Archaeologists excavating dozens of sites along the route of a new motorway in Co Cork have said they are excited by their findings.
Those findings have revealed the home of one of the first farmers to settle in the area, along with a bronze age burial ground, weapons, kitchen implements and pottery.
The farmer's home is believed to be one of a number in the area that are almost 6,000 years old.
The excavation work is being done by a team of 50 archaeologists as part of preparatory work for the construction of the M28 motorway.
It will connect the port of Ringaskiddy with the Jack Lynch Tunnel and the main Cork-Dublin motorway, the M8.
The archaeologists, from Rubicon Heritage Services, have been conducting excavations along the 12.5km route of the new motorway since January of last year.
Rubicon was commissioned to do the work by Cork County Council, which is managing the motorway construction project on behalf of Transport Infrastructure Ireland.
TII is providing funding. The overall cost of the M28 motorway project is expected to be around €300m.
The archaeologists have dug 50,000 metres of test trenches along the motorway route. Just one of the 38 sites where they have been digging had been known about previously.
"This is all new archaeology," said TII Project Archaeologist Ken Hanley.
"The net gain to the public is enormous, because the knowledge we get from a project like this can be quite staggering.
"When you take it together in terms of the amount of infrastructural development over the last few decades, it really has been a complete game changer in terms of what we know about the archaeology of Ireland."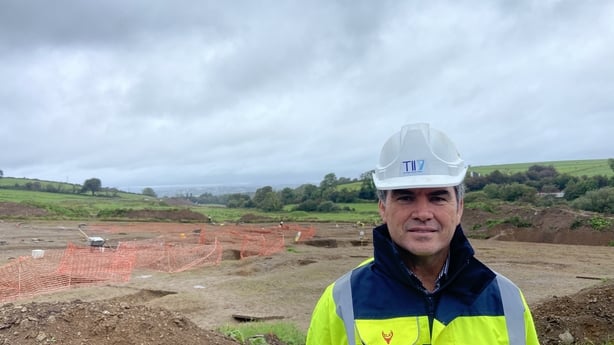 What remains of the farmer's house was found at a place called Ballyhemiken. It is thought to date from early Neolithic times and was probably built around 5,700 years ago.
"It's a simple timber structure, probably thatched, that would have housed a single family and there may well in the general vicinity have been other similar houses that formed part of a community," Mr Hanley explained.
"What's interesting about these is that there had been thousands of years of a nomadic hunter gatherer society in Ireland and these people introduced farming.
"The evidence points to a community of people who arrived in Cork Harbour with their livestock and introduced their farming practices to what had been been - up to then - a nomadic, hunter gatherer society.
"The evidence so far seems to suggest that it was an influx of people, that they brought their livestock, their families and the whole farming package with them, and they started building these houses. So, it's basically the first farming community to arrive in this part of Cork Harbour. It's an extremely exciting find for us."
Mr Hanley estimates that the house was built some time around 3,700BC, making it more than a 1,000 years older than Egypt's Pyramids of Giza.
Archaeologists also uncovered a burial ground in the townland of Carrigaline Middle. It contains the remains of six cremations and dates from the Bronze Age. The ashes were buried in stone-lined pits with pottery, urns and vases.
"The thinking is that the food vases were put with them to nourish them in the afterlife in their journey as they passed on," Mr Hanley explained.
Shirley Clot has been working as an archaeologist on the M28 project for the past year-and-a-half.
She recalled how she and two of her colleagues, Michael McCarthy and Kieran O'Sullivan, were searching a ditch "for weeks" without finding anything of significance.
Then, she saw a corroded piece of metal protruding from the earth. She carefully cleared the mud and removed the spearhead. It was then sent to a conservator at University College Dublin.
The spearhead is estimated to date from early medieval times, probably around the 8th century.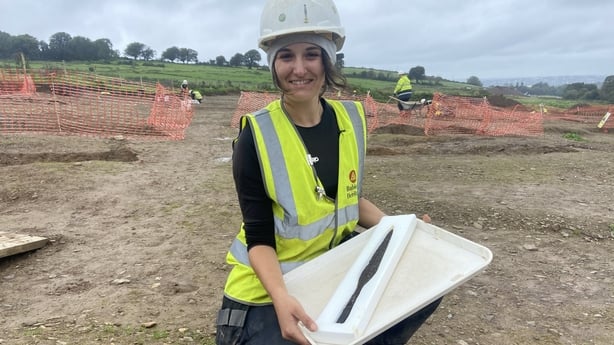 "I didn't realise at first how big of a find it was," Ms Clot recalled.
"When I first saw it I knew it was metal, but I didn't recognise it at first. It's when everybody around me got very excited [that] I realised that it was probably the biggest find of my career, so I was very very excited, very happy."
She was also happy to share her success with her team.
"Am I proud of myself? Not really! I am happy I found it," she said. "It's always exciting when we find archaeology, and I was glad to share that with my two colleagues.
"It's always good when we find nothing for a while to have something very, very exciting in our hands. It's something we want to share with the team."
The archaeologists from Rubicon Heritage Services have about a month's excavation work left on the M28 project. At that stage they will move off-site to do their excavational analysis. They will record their findings and these will be published in a book, which will be publicly available.
"Researchers in the academic field can built on what we have found and they can start to develop theories based on all facets of human existence in this country since it was first colonised," says Mr Hanley.
"It's a fascinating opportunity."
---
Read more: M28 motorway on schedule to be 'completed by 2030'