Minister for Education Norma Foley has shelved plans to introduce teacher-based assessment as part of a revised senior cycle programme, highlighting the advent of Artificial Intelligence technology for the change of plan.
Revised curriculums in seven Leaving Certificate subjects due to be introduced in schools in two years' time will not now contain any element of teacher-based assessment.
This is despite the fact that this was a key objective when plans for senior cycle reform were announced more than a year ago.
As recently as February of this year, Ms Foley said key commitments of senior cycle redevelopment included the introduction of teacher-based assessment components worth 40% of overall marks in each subject.
However, while revised curriculums in seven subjects, including Biology, Physics, Chemistry and Business, will include non-exam assessment elements, such as essays or project work, these components will be externally assessed by the State Examinations Commission and not teachers.
This is the second reversal to Ms Foley's senior cycle plans, after a decision to examine students in aspects of English and Irish at the end of fifth year was reversed earlier this year.
In a statement, the minister implied that the advent of Artificial Intelligence had caused a rethink.
"I am particularly conscious of the more recent accelerated evolution and growth in generative AI and I understand there is a need to explore the opportunities afforded by these developments in an educational context, as well as the challenges they might present," she said.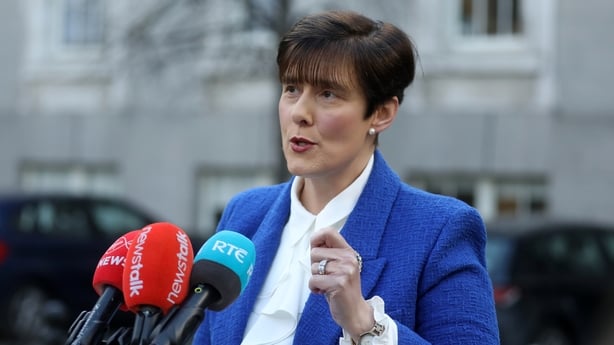 "With that in mind I have asked the SEC that further research would be commissioned on the potential role and impact of generative artificial intelligence in teacher-based assessment in particular.
"While this work is ongoing, I have decided to progress additional and practical components which will be externally assessed by the SEC."
Speaking on RTÉ's Morning Ireland, Ms Foley said today's announcement is an acceleration of the senior cycle reform and that 120,000 students, due to begin the leaving cert cycle in 2025, will benefit.
She added that the reforms mean nine subjects, including the three sciences, will now have an additional component that means students do not sit 100% of the exam on the day.
Ms Foley denied that the change was due to union opposition. But teacher unions that had vehemently opposed teacher-based assessment have welcomed the about turn. The ASTI said the decision was "sensible and inevitable".
We need your consent to load this rte-player contentWe use rte-player to manage extra content that can set cookies on your device and collect data about your activity. Please review their details and accept them to load the content.Manage Preferences
At their annual conferences at Easter, both the Teachers' Union of Ireland and the ASTI agreed resolutions opposing teacher-based assessment and calling for the retention of external SEC assessment.
There is also widespread concern that students could turn to AI programmes such as ChatGPT to generate essays, which they then submit for assessment.
New specifications in seven subjects were due to be piloted in a small number of schools next year before being adopted across all schools three years later.
However, the pilot phase is now being skipped and the new specifications will be introduced across the board two years earlier than originally planned in 2025.
Two new subjects to be phased in from 2025
Two brand new subjects, Climate Action and Sustainable Development, and Drama, Film and Theatre studies will also be phased in from 2025, starting in a small number of schools.
A second tranche of revised subjects will be rolled out in 2026, with further tranches to be introduced annually after that, according to the minister.
The changes will be brought in in 2025 for fifth year students.
The Department of Education said there had been substantial engagement with education stakeholders, including representatives of students, teachers, parents, school leadership, management bodies, and subject experts.
"Progress has been made through the establishment of the Senior Cycle Redevelopment Programme Delivery Board and Senior Cycle Redevelopment Partners' Forum, and the completion of research commissioned by the NCCA and the State Examinations Commission (SEC) in relation to the weighting, composition, and moderation of teacher-based assessment components," it said.
"Recognising this progress and positive engagement whilst acknowledging the emerging challenges and learnings from other areas, the minister now wishes to take a number of steps" which would deliver revised subject curricula earlier than previously planned, it said.
However, those steps do not include the ambitious and somewhat contentious plan to have teachers assess their own students for part of their final Leaving Certificate grade.
'Sensible but inevitable decision'
The General Secretary of the Association of Secondary Teachers in Ireland has said that it would be "overstating the power" of the union to say that it blocked moves towards teacher-based assessment.
Speaking on RTÉ's Morning Ireland, Kieran Christie said "nobody pushes this minister around."
He said the move to shelve the idea is "a sensible but inevitable decision" due to generative AI and ChatGPT.
Mr Christie said third-level and institutions worldwide are "scrambling to try and figure out how" to deal with AI in education.
He said "it would have been irresponsible, quite frankly, that's why we believe it was inevitable".
"It would have been irresponsible of this minister to proceed on the basis that she was proposing, given the advent of ChatGPT."
Mr Christie said that the union has always said it will play a constructive role in relation to the minister's plans "and that's what we would plan to do".
He said that while "a significant barrier to constructive discussions" has been put aside this morning with this decision, in the long-term ASTI members are "certainly are up for curricular development".
"We've always been in favour of curriculum development. Curriculum development is an important aspect of the education system," he said.
"We are in favour of a variety of components of assessment which enhances learning for our students because that's the job we're in".
TUI General Secretary Michael Gillespie welcomed the decision, saying the union had been "very strong" on the point that teacher-based assessments would have fundamentally changed the relationship between teacher and student.
Mr Gillespie also welcomed the second components of assessment, and said schools will need more resources and training for the introduction of two new subjects.
That means flexability in timetabling, he said.
Mr Gillespie added that things are currently so tight in schools that "we can't even give away permanent jobs".