Dozens of people have gathered outside the Wall of Fame in Dublin to pay their respects to the "beautiful soul" of Sinéad O'Connor.
Those at the event in Temple Bar spoke about the influence her music had on their lives, and called for her death to "light an absolute fire under all of us" to tackle how mental health and children are treated in Ireland.
O'Connor was found unresponsive at her home in London yesterday and pronounced dead at the scene.
In a statement, police said the 56-year-old's next of kin were notified, and that her death is not being treated as suspicious.
Officers were called shortly before 12pm yesterday following reports of an unresponsive woman at a residential address in the southeast of the city.
As no medical cause of death was given, London Inner South Coroner's Court has ordered a post-mortem examination.
"The results of this may not available for several weeks", it said in a statement.
"The decision whether an inquest will be needed will be decided when these results are known and submissions have been heard from the family."
The crowd in Temple Bar sang two of her most famous songs, Black Boys On Mopeds and Nothing Compares 2 U.
One attendee said O'Connor was a "model and activist that I always look up to. I never got the opportunity to meet her in person but I would like to honour her beautiful soul today and hopefully she is in a better place and God bless her".
Speaking of the singer's social impact, another said: "Those conversations I don't have, but Sinéad the celebrity did, the A-list celebrity. Let's have those conversations every day, let's keep that up, let's not stop it.
"Let's listen to her music, it's a banger, it's so good."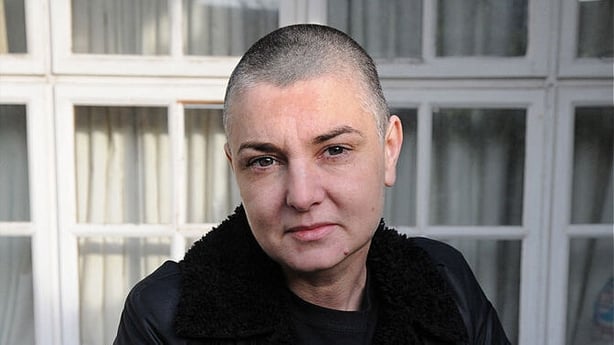 The portrait of O'Connor in Temple Bar was lit up, with flowers and photographs left at the foot of the wall which features other stars of the Irish music industry such as U2, Bob Geldof and Luke Kelly.
Politicians, musicians, actors and charities from across the world have paid tribute to the singer for her contributions to the music industry and raising awareness of social issues.
She made headlines in 1992 when she tore up a photo of Pope John Paul II on US TV show Saturday Night Live, sparking a ferocious backlash.
The musician, who spent time in care set up to house "fallen women", frequently spoke out about the child abuse scandal in the Catholic Church.
Text on a mural of O'Connor outside Temple Bar reads: "Sinéad you were right all along. We were wrong. So sorry."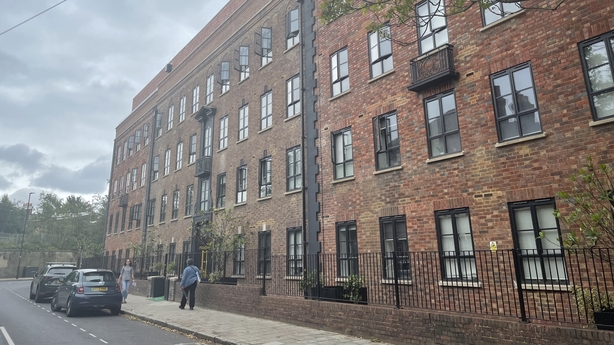 A woman at the vigil spoke of the impact of O'Connor speaking out about institutional abuse, saying: "I don't think I've ever cried so much for a stranger but I think she held bits of generations of this nation in her heart.
"She was saying things before we could say them. She held our pain about the institutionalised sexual abuse, the threat of being sent ... to a Magdalene laundry if you misbehaved, and she held that along with the courage that we weren't able to fully live, and so when she died yesterday it felt like that part of us went with her."
Another added: "She stood up for people, she stood up for what was right. She always did what she thought was the right thing, she acted without consequence or without thought of what might happen to her."
She described O'Connor as "a free spirit ... an incredible artist, an incredible lyricist and musician".
The vigil heard a poem written in memory of O'Connor.
"She kicked down the barriers in her Doc Marten boots, bald-headed deliverer of unwanted truths," the speaker read.
"The industry wanted her to change who she was, so she shaved off her hair and broke unwritten laws.
"Truthful witness, fiery, fierce and bold to the core, goddess of 90s she bellowed her roar. The world wasn't ready for what she had to say, stifled by a church that hurts us to this day.
"Nothing compared to her and no-one came near, her voice was her weapon and her words are her spear.
"For Sinéad, our sister, was always ahead of her time, love and human compassion perhaps her only crime. She used her music to protest, to open our eyes, I hope the next generation will learn from her cries.
"She, a young woman, was what was needed back then, so let's rip up more pictures, expose the corruption of men and women who have lost their souls to greed. For they tried to bury Sinéad, and forgot she is a seed."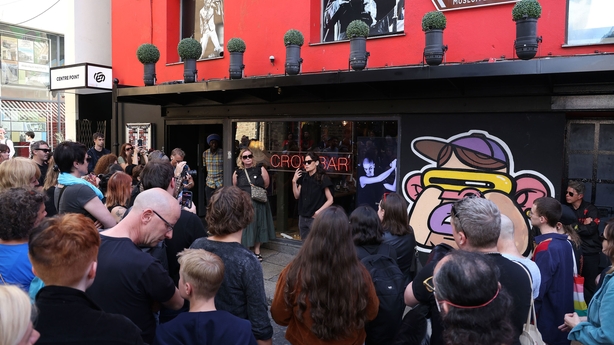 In 2018 O'Connor announced she had converted to Islam and changed her name to Shuhada' Davitt, later Shuhada Sadaqat.
Tributes have been pouring in for the singer, who has been described as having "the greatest voice of her generation".
Books of condolence have been opened in Dublin and Cork.
O'Connor had been working on an album - No Veteran Dies Alone - before she died.
Speaking on RTÉ's Six One, producer David Holmes said that they were one track away from finishing that album which would have had nine or ten songs.
"We've got seven, maybe eight tracks that are finished, each one is as incredible as the next," he added.
Sinéad told Mr Holmes that it takes a her a long time to write a song that she was very proud of.
"When I've done it, you'll see why ... And she wasn't wrong," he said.
The producer explained that she had sent him song recordings of her voice acapella that she would do on a karaoke machine.
"Even though it was done in this real amateur recording way, it was still absolutely breathtaking.
"She was such a kind, generous and very misunderstood person who told the truth to power," he continued.
We need your consent to load this rte-player contentWe use rte-player to manage extra content that can set cookies on your device and collect data about your activity. Please review their details and accept them to load the content.Manage Preferences
On when the album might be released, he said that he did not know as people needed to use this time to grieve, and that had to be respected.
"Once things have calmed down, then I'm sure it'll be a discussion by her estate and her record company".
He added that it was an absolutely extraordinary piece of work.
"It was the pentacle of my life as a creative artist music producer".
He described her work ethic as extraordinary, recalling a case of arriving hours early for a recording and being able to do it in one take.
"Everytime I recorded her it was like a pinch yourself moment because I knew that I was in the company of a Nina Simone or a Billie Holiday, Wanda Jackson, a Dolly Parton, Karen Dalton, or Etta James.. she was that special," he said.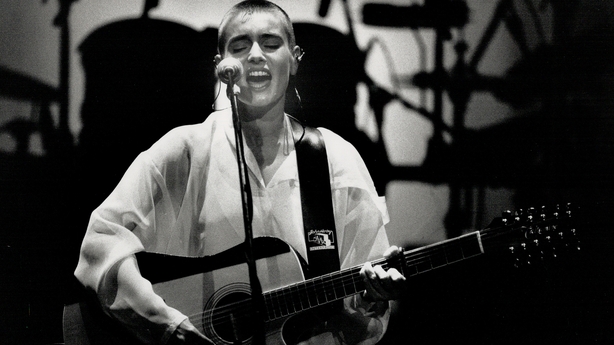 ---
Read more:
Tributes to 'the greatest voice of her generation'
Sinéad O'Connor: 'The golden voice'
Sinéad O'Connor's teacher recalls fateful gig and demo
Why does the death of an artist we love affect us so much?
Video: An immense talent remembered
---