A tapestry commissioned to commemorate the Holocaust and intended as a protest against racism and genocide has gone on display at the GPO in Dublin.
Campaigners against racism here say they hope the piece, called "El Holocausto", will help people reflect and learn lessons from the past.
The tapestry was commissioned by the founder and director of Art for Human Rights, Bill Shipsey.
It is based on a mural painted by Mexican artist, Manuel Rodriguez Lozano in Mexico city in 1944 as a protest against the Holocaust.
Mr Shipsey said the original mural "vividly captured the pain and tragedy of the victims of human rights violations war". He said commissioning the tapestry allowed it to travel and to be seen all over the world in a way the original mural could not be.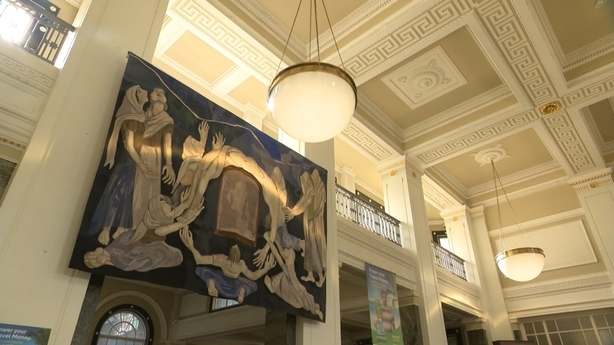 The tapestry was woven over nine months in 2019 by weavers at Atelier Pinton in Aubusson in France and first went on display at the headquarters of UNESCO in Paris in 2020 to mark the 75th anniversary of the liberation of the Auschwitz-Birkenau concentration camp.
It is the fourteenth commemorative tapestry commissioned by Art for Human Rights and created for Amnesty International since 2012.
Art for Human Rights brings together artists of all disciplines to raise awareness of human rights violations.
Shane Ocurry of the Irish Network Against Racism said the work sent out the message that horrors like the Holocaust were something all people were capable of. He said it should be remembered and the victims should be honoured. People needed to think about the consequences and about how easily societies could descend into this kind of hatred he said, otherwise there was a danger that history would be repeated.
Suzi Diamond, a survivor of the Bergen-Belsen concentration camp said the good thing about the tapestry was that people passing through the busy GPO would see it and be reminded about what had happened. She said the lessons of the past had not been learned.
The tapestry is on display in the GPO until the end of August and will then be displayed at other locations around the world.