Eleven Scott medals for bravery have been awarded to serving, retired and deceased members of An Garda Síochána at a ceremony in Dublin.
The Scott Medal is the highest award that can be bestowed on a garda by the Garda Commissioner for exceptional bravery and risking one's own life in the line of duty.
Among those receiving Scott Medals are Sergeant Andrew O'Connor, Detective Garda Niall Minnock and Garda Conor Garland, who were each awarded a Silver Scott Medal.
In 2019, gangland criminal Derek Devoy fired shots in Ballymun in March 2019 in the middle of the day and then at gardaí as they tried to stop him.
He ran into a private house and despite being armed and having a grenade, the two gardaí and sergeant arrested him.
Sergeant Edward Griffin, Detective Garda Darren Carter, Detective Garda Enda Jennings and Garda Louis Browne also received a Silver Scott medal, following their actions in the arrest of a man in 2020.
Stephen Dowling from Co Carlow, a deerhunter on alcohol and cocaine, went on a shooting rampage with a high-powered rifle in Co Donegal.
Even though they came under fire, the four gardaí arrested him in Glenties.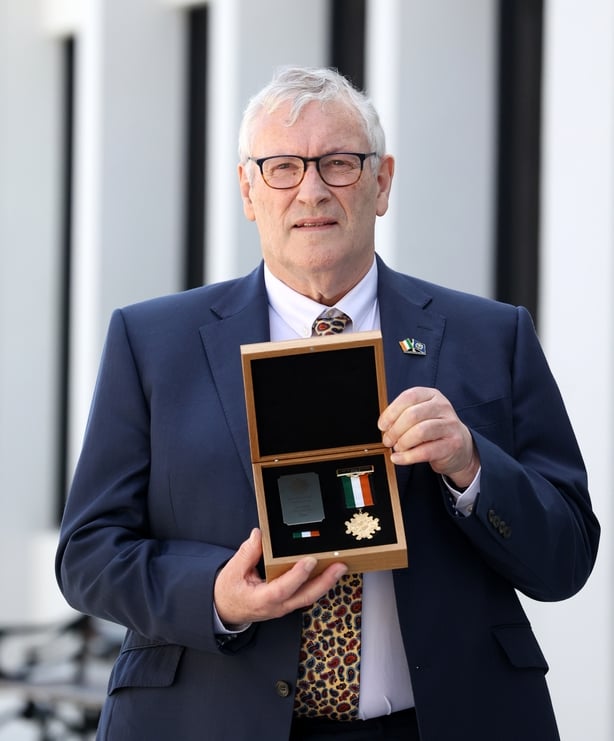 A sergeant and a garda who were bundled into the boot of a car by a gang at gunpoint in Co Sligo, in 1983, but managed to free themselves and raise the alarm were being recognised.
Sergeant PJ Gallagher and Garda Thomas McGuiness received a Bronze Scott Medal.
Two other gardaí who have since died were recognised for their exceptional bravery at the ceremony.
Inspector Samuel Donegan who died from his injuries when a device exploded along the Cavan Fermanagh border in 1972 was awarded a Gold Scott Medal.
Detective Garda Daniel (Donal) Kelleher, who was shot and seriously injured while escorting kidnapped businessman Don Tidey to safety in 1983 received a Bronze Scott Medal.
Speaking at the ceremony, the Minister for Justice said the Garda Síochána Ombudsman Commission (GSOC) investigations need to be conducted in a more timely and efficient manner.
A gangland criminal who was arrested by three of the gardaí honoured today subsequently complained about the level of force used against him.
It took the Garda Síochána Ombudsman Commission and the Director of Public Prosecutions four years to find the three gardaí had no case to answer.
Minister Harris said while he supports the work of GSOC and independent oversight, cases like this should be resolved quicker.
He said the New Policing and Security would address these issues