You don't have to go too far to see the failure of fast fashion in Kenya.
Millions of items of cheap clothing end up here every year - in sprawling, stinking landfills, smouldering on open fires, clogging up waterways or washed out into the sea.
The consequences for people and the planet are plain to see.
In the Kenyan capital Nairobi, a growing number of fashion designers and textile workers are trying to turn the tide on the problems caused by textile waste.
Gertrude Makambi works in a tiny studio on the edge of one of the city's slums.
Gertrude first learnt her craft after leaving teaching and needing a way to provide for her family.
After working as a tailor, she joined Mikono, a Kenyan fashion label that makes products using recycled fabrics.
"We are not producing our own fabric anymore because of the mitumba that come in," she told RTÉ News.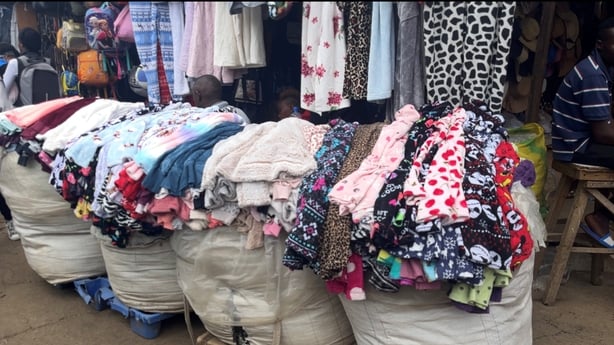 Mitumba, a Swahili term meaning "bundles", are large plastic-wrapped packages of used clothing for sale in African countries from more developed western countries.
However, an investigation earlier this year for the Changing Markets Foundation found that of the 112 million items of used clothing shipped directly from the EU to Kenya each year, up to one in three were too dirty or damaged to be resold.
"They are dumped. They block the sewage, and they block the river. Nairobi River is full of fabric that cannot decompose," Gertrude says.
Environmental group Greenpeace has argued that wealthier nations are using countries in the Global South like Kenya as "a dumping ground for textile waste".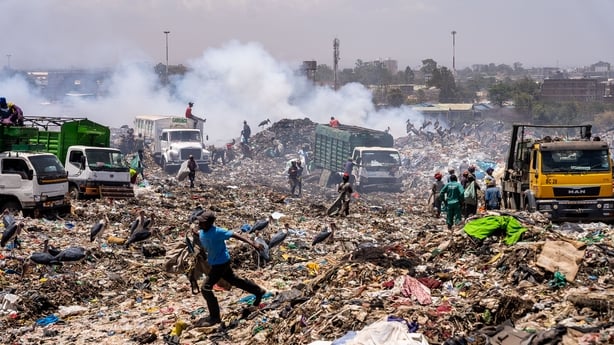 Various programmes and initiatives have been launched to help divert used textiles from landfill and give them a second life.
Africa Collect Textiles (ACT) is a Kenyan start-up that upcycles textile waste into new clothes, carpets and bags that can be re-introduced to the market.
Cofounder Alex Musembi said: "To me, it's about the impact. When we talk about trying to divert the textiles from ending up in the landfill, we are trying to eliminate the pain of dirtying our environment.
"Fast fashion has a very bad name. Most of the materials are made from synthetic fibres. Microplastics.
"Recycling needs to start at the design stage. If we really want to focus on saving this planet, we need to focus on organic material such as organic cotton. These can be collected, and they can be mixed with other fabrics to produce brand new materials."
Founded in 2015, ACT currently employs 60 people.
"There is also a social impact when you see families being supported year in year out. It's an inspiration. It's something we are passionate about."
The fashion industry accounts for up to 10% of global greenhouse gas emissions, more than international flights and shipping combined, according to the United Nations Environment Programme.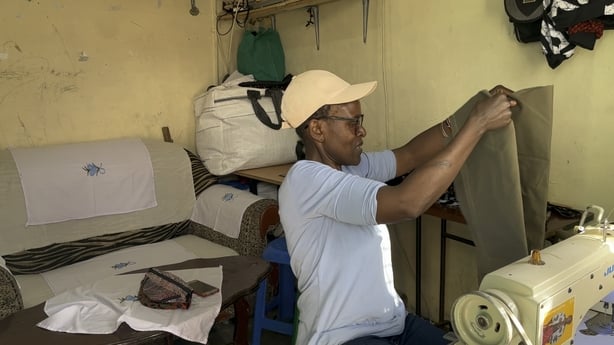 Gertrude believes individuals like her can make a difference.
Having started out with a manual Singer sewing machine five years ago, she now runs a small team of apprentices making products which are sold locally and internationally.
"We go collect the old, recycle and re-use it and do something new that can end up being sold back in the countries where it came from."
She wants to see a fairer, slower, more circular economy for textiles.
"The world has become a small place. I wish we would talk and work on this to find a way to be good to the environment," she says.