The mother of a 27-year-old woman with cerebral palsy says a €12 million settlement approved by the High Court today will be life changing for her daughter allowing her to live at home with her family.
Jane Harte, who cannot speak or walk and has spastic quadriplegia, sued over the care she received after her birth at a now-closed private maternity hospital in Cork city.
The settlement is without an admission of liability.
Ms Harte has been living at the Cope Foundation facility in Montenotte, Cork city since her birth and her mother says she will now be able to return home to live with her siblings.
Oliva Harte said: "This is life-changing for all of us and especially Jane, her life can improve from here on forward and she can return home ... she will have a far better quality of life".
Speaking outside the Four Courts today her family said it wanted to encourage the health authorities to "keep an eye on streptococcus meningitis infections, as a simple antibiotic can cure it".
Jane Harte was born at a private maternity hospital in Cork in October 1995 where her 16-year-old mother was a patient.
Seventeen hours after her birth, she was transferred to another hospital for specialist neonatal treatment, where her counsel said she was "literally in extremis with severe septic shock" and later meningitis.
Dr John O'Mahony SC, instructed by Callan Tansey solicitors for Ms Harte, told the court that if appropriate steps had been taken at City General Hospital and if Jane had been given antibiotics, she would have recovered.
But, he said it "was left too late when nothing could be done" and now Jane is "profoundly, permanently and irreversibly disabled" and has to use a wheelchair.
The case was against retired consultant and gynaecologist Pallany Pillay, 88, also of Cork city who was the proprietor of City General Hospital which closed in 2000.
Mr Pillay was also a consultant at the hospital and Olivia Harte was his private patient.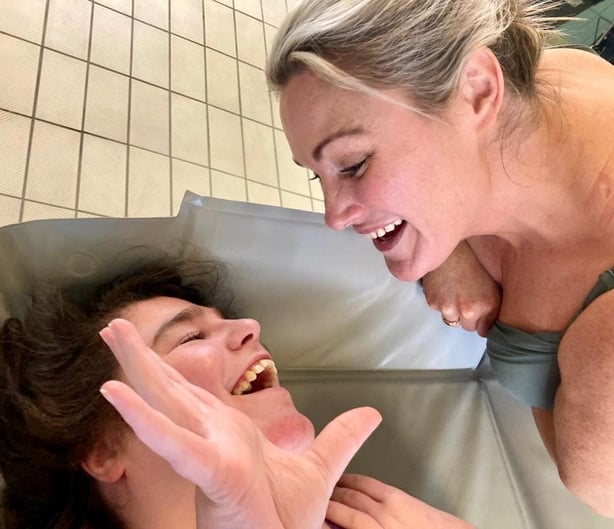 It was claimed there was a delay in the treatment of the baby's Group B streptococcus early onset sepsis and meningitis.
And it was claimed that had she been treated appropriately when she first exhibited respiratory distress she would not have developed septic shock and meningitis.
The alleged delay in administering antibiotics it was claimed allegedly caused the baby to develop septic shock and meningitis which caused her brain damage.
The claims were denied.
Counsel for Mr Pillay, Adrienne Egan SC said it was accepted that the baby developed meningitis but what was at issue was when the relevant symptoms arose.
Ms Egan said that records from the closed hospital had been destroyed in 2015 and these proceedings had been initiated three years ago.
Liability was contested in the case and the settlement is without an admission of liability.
It followed mediation talks between the parties.
Speaking afterwards, Olivia Harte said the Cope Foundation have done a wonderful job with Jane but this settlement is going to open more doors for her.
She said Jane will now have a life and be with her siblings, which she deserves.
"It will mean she can get physio and she will be able to swim which she loves, it is going to change her life to the best of her ability," Ms Harte said.