The number of international protection applicants who are without accommodation this evening has risen to 408.
The Government department with responsibility said "intensive efforts" are being undertaken daily by staff to source emergency accommodation but said it is extremely challenging to meet the demand.
A spokesperson for the Department of Children, Equality, Integration, Disability and Youth said international protection accommodation services are "operating at full capacity" and "the department is considering all offers of accommodation made to it".
As of close of business today, there were 408 people without an offer of State-provided accommodation, an increase from 371 on Thursday evening.
A woman who is eight weeks' pregnant was today provided with accommodation after spending the past five nights sleeping in a tent in Dublin city centre.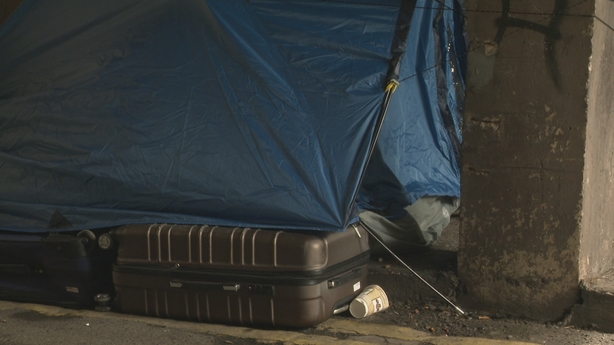 'Hulod', not her real name, arrived in the country last Wednesday with her husband and were unable to get a place to stay.
Since then, they have shared two tents with another couple and a single male friend.
"We are two couples and one single man, so the men sleep in one tent and the two ladies in the other tent," her husband told RTÉ News with the help of an interpreter this afternoon.
He said it is very cold and it can be scary, so the men take it in turns to sleep so there is always one man awake.
"Two men try to sleep and one stays around the area to be safe", said 'Asmar'.
He said it is very cold and they are fasting for Ramadan.
Asmar said he is relieved that his wife and the other woman were provided with accommodation today, saying "she was very upset and tried, she's pregnant".
He said it is very challenging trying to find toilet facilities and language is also a barrier as they have no English.
His interpreter said "they got a voucher but didn't know what it was for as they don't have English".
'Abdul' is also sleeping rough tonight.
Speaking to RTÉ News in the reception area of the Irish Refugee Council, Abdul said he has not had a bed to sleep in for almost six weeks.
"Sleeping in the road, street sleeping anywhere," he said.
He said he has one sleeping bag and spends some nights in car parks and it is very cold. He spends his day walking around Dublin city living day-to-day.
Sitting opposite Abdul is 'Lulu', also not her real name.
She arrived in Ireland in 2007 as an asylum seeker and spent the next eight years moving between hostels.
"It's very hard for me, I stayed in hostels before I got papers, for eight years, then I started looking for a house when I got my papers," she said.
But now she has to leave because the landlord is selling the property.
Lulu has to leave by 1 April and says she has nowhere to go.
Clearly upset today Lulu said she is facing homelessness again.
"I don't want to go back to being homeless and hostel."
"I don't know what I will do, I can't sleep on the street", she said.
---