A former combat medic in the Irish Defence Forces has returned to Ireland after months on the frontline in Ukraine.
Dathan Brennan from Offaly has over twenty years experience as a field paramedic in the Defence Forces, which he left in 2020.
He worked for a private medical company in Donbas for over a year before returning to Ireland to become an advanced paramedic with the HSE when the Russian invasion began.
"Obviously we saw what was happening on TV," Mr Brennan said.
"I just thought by being ex-military and with the medical skills I have, that I could be of benefit, that I could actually do something.
"I was trying to find what was the best avenue to actually be able to use the skills to benefit people and I was looking online for different groups.
"I was looking at the foreign legion over there and then I stumbled across the Mozart Group on the internet."
The Mozart Group is comprised of ex-western military specialists.
"I contacted them and gave them my CV," Mr Brennan added.
"We discussed what role they would have for me and I went over the first week of May.
"I knew it was going to be bad. I honestly just felt that I could just offer something."
Mr Brennan began working with Mozart and used his experience to oversee medical training for Ukrainian soldiers, showing them how to provide medical care to injured troops.
He later became involved in assisting evacuations from frontline zones, becoming head of Mozart's evacuation team.
"We did medical training for the Ukrainian military and then we wanted to set up the evacuation team," Mr Brennan said.
"So I was the team leader of the evacuation team and we moved off down and went into east Bahkmut."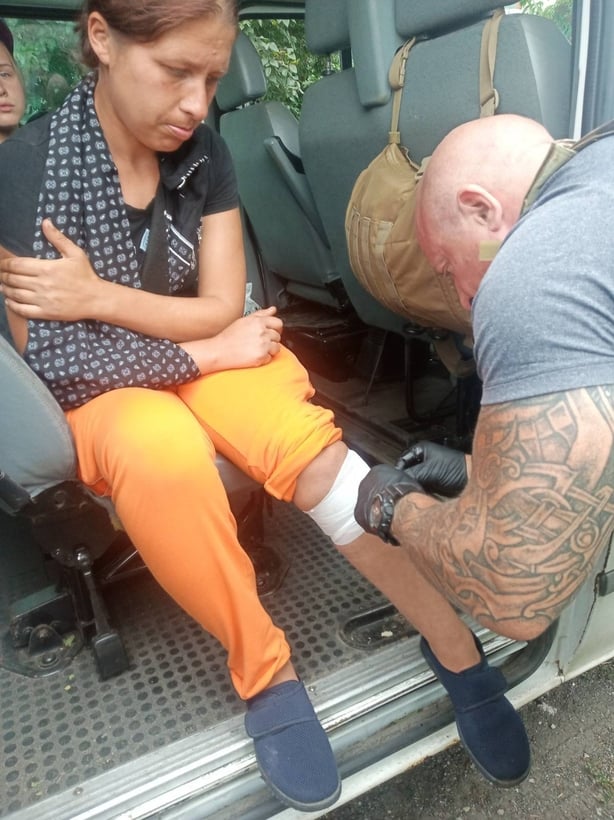 However, the Mozart Group became a target of the Wagner Group, a pro-Moscow mercenary group, which resulted in a "price being placed on our heads", Mr Brennan explained.
At this point, Mr Brennan's family back home became very concerned.
"My wife is ex-military as well so she understood roughly what the threat level was but as we started getting a name as a group who had been effective for training the Ukrainian military and doing evacuations, we were under threat," he said.
"Wagner started putting hits on us and were trying to target us."
---
Read full coverage of Russia's invasion of Ukraine
---
Bahkmut
On 30 October last, Mr Brennan and his team were in Bahkmut, helping evacuate people from the city.
Russian forces have been trying to capture the city for months, in what has turned into one of the bloodiest battles of the year-long war.
Among those Mr Brennan helped that day were Sergei and Olga.
They are too afraid to give any more details but they are now safe in another part of Ukraine.
"They actually didn't want us coming back in to get them because they told us it was too dangerous," Mr Brennan said.
"They were trying to say they could make their own way out, which physically meant that they would be walking through artillery fire, across a broken bridge with all their belongings and two dogs and I was like, no, we can just come back in."
After the escape, the couple explained to Mr Brennan that they had family in Ireland and today their relative Maria, who moved to Ireland three years ago, was able to thank him in person.
"For them, it was their only hope," Maria said.
"They tried to stay but one day they just realised that the next missile attack wouldn't be on the neighbour's house, it would be on theirs.
"I knew Dathan was still in Ukraine until recently and I'm so happy to meet him today.
"It's so amazing to see all these brave people like Dathan who went to Ukraine to help."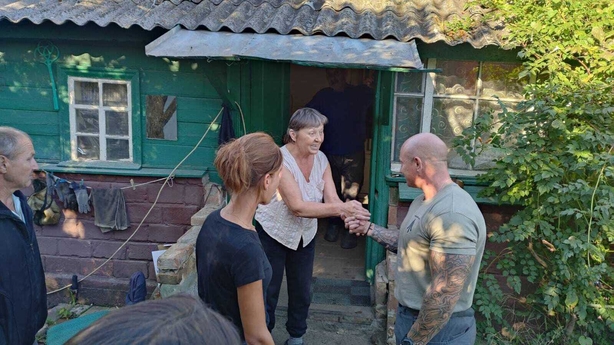 'Overwhelmed with relief'
Mr Brennan said many of the people he helped escape were overwhelmed with relief and happiness.
"It's very rewarding when you physically take these people out of an area," he said.
"Sometimes you're only 20 minutes down the road, and they will physically just break down in the back of the car.
"There's just that build-up of tension there. They've been living underground and in fear.
"When they get out and you get into a town and all of a sudden they see cars, shops open and there's electricity and it just gets too overwhelming.
"When you see people are so happy to get of somewhere, that's what you do it for.
"It's great when he can hear follow-on stories where you know, people have made it to safety."
Back home, Mr Brennan said the reality of what is happening in Ukraine is hard to comprehend, without seeing it first hand.
"When you go into these areas, it is just like Armageddon," he said.
"You will see every single building completely destroyed, roads destroyed, and villages flattened.
"There's death and destruction everywhere.
"There are far more bad stories and good stories but it's always nice to get a good story like this in the kind of horror that's going on."