Asking Ukrainian refugees to pay for part of their accommodation costs is not something that the Irish Government would consider, Minister of State Joe O'Brien has said.
It comes as a new law in Poland means that Ukrainian refugees, who have spent more than 120 days in state-run collective shelters will have to pay 50% of their accommodation costs. That amounts to 40 Polish zloty per day (about €10).
For refugees who remain in collective shelters beyond 180 days, the fee rises to 75% of the daily cost of accommodation.
The number of Ukrainian refugees living in Ireland is approaching 80,000.
Of that number, more than 58,000 receive accommodation from the State, according to the latest figures from the Department of Children, Equality, Integration, Disability and Youth.
Recent concerns by hoteliers about delayed payments for housing Ukrainian refugees, coupled with the onset of the tourist season points in one direction: a crunch in the availability of hotel accommodation for Ukrainians arriving in Ireland.
"I think it's recognised that the serviced accommodation system is unsustainable and that's why we started the modular strand. That's why we have the refurbishment strand as well," Mr O'Brien told RTÉ News.
Hotel accommodation, he said, was not "how you want a group of people to become involved in a community".
Minister O'Brien was speaking in Warsaw during a three-day visit to Poland – part of the Government's St Patrick's Day programme, the annual dispatch of Government ministers to more than 40 countries.
Minister O'Brien's portfolio includes responsibility for integration.
It was both a visit to bolster Ireland's links with Poland, but also a fact-finding visit to see what Poland has been doing to manage Europe's largest humanitarian crisis since the Second World War.
Approximately 1.5 million Ukrainian refugees are currently registered for temporary protection in Poland, according to UNHCR – more than any other EU member state.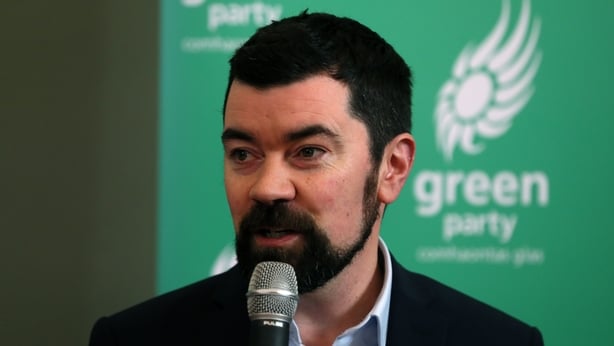 After the start of the war, Poland was quick to provide Ukrainian refugees with the right to work and access to the country's social security system.
Ireland too, offers these rights, in line with the EU's Temporary Protection Directive.
During his three-day visit, Minister O'Brien met with the mayor of Rzeszow, a city in southern Poland, which became a hub for Ukrainian refugees who arrived in Poland early in war.
He also held meetings with Poland's minister for social integration Agnieszka Scigaj, representatives of UN aid agencies and, in Warsaw, 'Ukrainian House', a foundation which works to integrate Ukrainian refugees.
One key difference between Ireland and Poland when it comes to Ukrainian refugees is in the area of education.
Ukrainian parents living in Poland are not obliged to enroll their children in Polish schools.
This has resulted in three de-facto school systems for Ukrainian children living in the country: children who attend Ukrainian schools online, those who attend local Polish schools and thirdly, children who attend both systems.
In Ireland, 91% of Ukrainian children aged 5 to 18 - almost 15,000 students - are enrolled in the Irish school system, according to the latest figures from the Department of Education.
Minister O'Brien outlined the need to integrate Ukrainian refugees in the long-term, many of whom are young and of working age.
"I think we'd be wise to start thinking about the process of constructing a pathway to permanency for Ukrainians."