Thousands of people are participating in a march in support of diversity and opposition to racism.
The 'Ireland for All' solidarity march in Dublin was organised by a coalition that includes community groups, trade unions and political parties.
Supporters assembled in Parnell Square for 1.30pm and are marching to the Custom House where there will be a rally with music and speakers.
Among the wide variety of groups taking part are United Against Racism, MASI, the National Women's Council of Ireland, TENI and several political parties.
Organisers have said there are 50,000 people taking part.
Some marchers were still passing the GPO as the front of the march reached Custom House Quay.
We need your consent to load this rte-player contentWe use rte-player to manage extra content that can set cookies on your device and collect data about your activity. Please review their details and accept them to load the content.Manage Preferences
Veteran civil rights activist Bernadette McAlliskey was at the head of the march.
She told RTÉ News that there is plenty of room in Ireland, the problem is not refugees, the problem is the way the country is organised.
There was just one counter protestor with a placard along the route.
Singer Christy Moore has told the crowd at the Ireland For All rally he is there to express his revulsion on attacks on refugees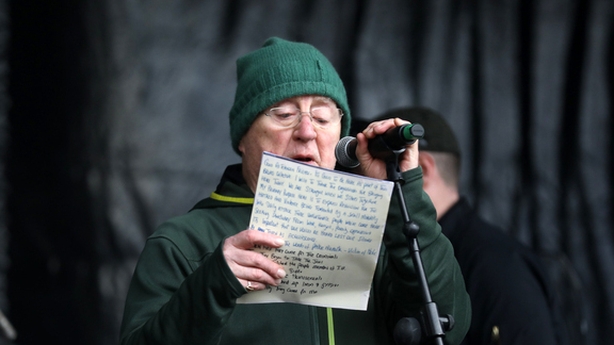 He started singing "Imagine a country where a people are free, not spaces to a gombeen economy" before finishing with "Viva lá Quinta Brigada" - a song in tribute to Irishmen who fought for the Spanish Republic.
Ms McAlliskey spoke next, saying today's demonstration is a good start but it's only the start.
She said the question that must be asked of the nation and of individuals is "Whose side are you on?".
She said one side is the side of humanity, decency and human rights and the other side is the road to Fascism.
A big crowd on Customs House Quay at the IrelandForAll rally and people still marching around from O'Connell Street. Organisers now say at least 50,000 people here pic.twitter.com/8WoaPF7To7

— Colman O'Sullivan (@colmanos) February 18, 2023
Activist and academic Ailbhe Smyth told the rally that the large turnout was important as it sent out a "huge message" to Government.
"We have come together to celebrate that fabulous rich variety and diversity that is Ireland today," she said.
"We are here to stand up against the hatred and disinformation being spewed out by far-right extremists.
"Their vile racism, transphobia and misogyny, deliberating scapegoating minorities, ratcheting up people's fears and anxieties, driving a wedge in working class communities - we will not stand for that."
An additional 'Refugees are Welcome' rally organised by the Sligo-Leitrim Labour party took place earlier.
The marches come amid rising numbers of anti-refugee and asylum seeker protests around the country in recent weeks.
Over 70,000 Ukrainian refugees arrived into the country last year, and the state has struggled to provide housing for both these new arrivals and international protection applicants from elsewhere.
Additional reporting: PA