A group of asylum seeker and refugee families have appealed for help after they were moved yesterday from the hotel they were living in to accommodation they say is completely unsuitable.
Around 20 families with young children have been moved into a disused church and adjacent building in south Dublin, which has been partitioned into cubicles with bunks.
More were due to move in today and in the coming week from the Red Cow Hotel in Dublin, where they have been living for almost a year.
The families say there is no heating in the building, just one toilet, one working shower and just one small kitchenette.
A primary school that many of their children attend has said they are devastated by how the families are being treated.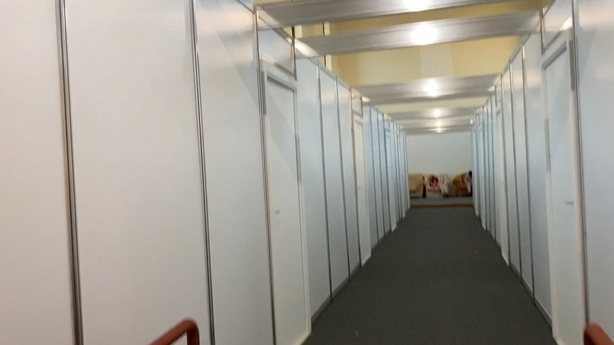 RTÉ News has seen the inside of the building, which includes a large former church that has been partitioned with temporary cubicles that do not reach up to the ceiling.
Some mothers and fathers have said that they slept in cars outside the accommodation last night because the conditions inside made it impossible to sleep.
Anna, the mother of two small children, said she slept with her family in a car last night. Pointing to the cubicle her family was allocated, she said: "My children can't sleep here. It's an unbelievable place."
"We are in a bad situation. There is a small room, no heating. We are a family with two children, one girl and a boy. It's so bad situation", said Asma from Algeria.
Her husband slept in a car outside the building last night.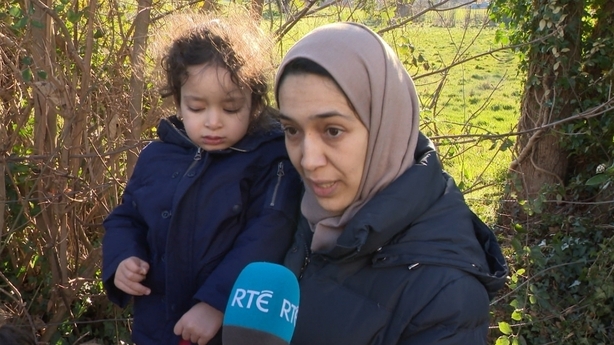 In halting English, Tamar - a mother from Georgia - attempted to explain the anguish being experienced by the families.
"Children is stressed, very stressed, everybody, adults, we are stressed. We need help with you. Thank you."
Children belonging to the families have been attending schools relatively close to the Red Cow Hotel, but they were unable to attend yesterday and today.
"I'm so angry and so cross"
Thirty-four of the children attend St James National School. The school has been told that a bus will transport the children to school next week. Home school liaison teacher Niamh Dodrill has been in touch with the families.
"There's pregnant women among those families, breastfeeding mums and small children," she said.
"I am just wondering, as human beings, where is the compassion? Where is the empathy? These are not just families, they are our families and I dread to think that if my family was in their situation that they would be treated with such a lack of empathy.
"I'm so angry and so cross."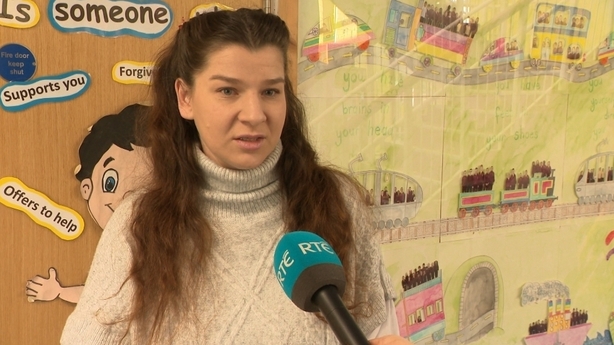 Alina, from Crimea in Ukraine, has been told that her family will be moved to the disused church building from the Red Cow Hotel next week. She is pregnant with her second child.
"We are really scared. My husband got a small car from friends two days ago so that if we don't have a place to stay, we can stay in the car," she said.
The families have appealed for support and help to move elsewhere.
They say they are grateful to Ireland but they cannot live in the conditions they have been given.
We need your consent to load this rte-player contentWe use rte-player to manage extra content that can set cookies on your device and collect data about your activity. Please review their details and accept them to load the content.Manage Preferences
Fire safety concerns at Dublin centre
Meanwhile, 148 people seeking international protection are to be moved out of a building in Clondalkin where they are currently being housed due to fire safety concerns.
Dolcain House was offered to the Department of Integration for use as emergency accommodation for international protection applicants.
The department said that the property was deemed safe by an independent inspection.
However, it said Dublin Fire Brigade is not satisfied with the current fire certifications for the building.
"After significant engagement with Dublin Fire Brigade, that office has stated that they are not satisfied with the specific fire certification arrangements that exist currently in the building to allow a continued use for residential accommodation", the department said.
It is understood the 148 residents will be moved out in the coming days.
The department said it has committed to vacating the property "as soon as is practicable, given the current crisis situation faced by the State".
It added: "The department is working intensively to source further accommodation for those currently accommodated at Dolcain House and is in consultation with the building owners to carry out the required remedial works to address the fire certification issues that have been raised."
Further international protection applicants moved into tents
Elsewhere, more international protection applicants have been moved into the tents at Knockalisheen in Meelick, Co Clare.
A total of 104 people are now living in the tents after 88 people were moved into the tents earlier this month.
A spokesperson for the Department of Children, Equality, Disability, Integration and Youth told RTÉ News that the tents are now at capacity, and no more people will be moved into them.
Last month, Minister Roderic O'Gorman said that the tents would no longer be used to house international protection applicants.
Yesterday, the minister warned that it was likely the State would not be able to offer any accommodation to international protection applicants in the coming days.
Additional reporting: Laura Fletcher, Laura Hogan