Northern Ireland Secretary Chris Heaton-Harris has said there was "still a way to go" in terms of a deal between the EU and UK government over the Northern Ireland Protocol.
Speaking in Co Down following a meeting with Tánaiste Micheál Martin, Mr Heaton-Harris said: "There has been a tiny bit of progress made in talks with the European Union.
"There is still a way to go, but we are talking in good faith, and as I stand here now there are talks going on, so let's see where they get to.
"We have another assessment next Monday where I will be with the Foreign Secretary and Maroš Šefčovič going through the progress that has been made this week."
Mr Martin said he had a "very good meeting" with Mr Heaton-Harris at Hillsborough Castle.
It was their first formal meeting in Mr Martin's capacity as Minister for Foreign Affairs.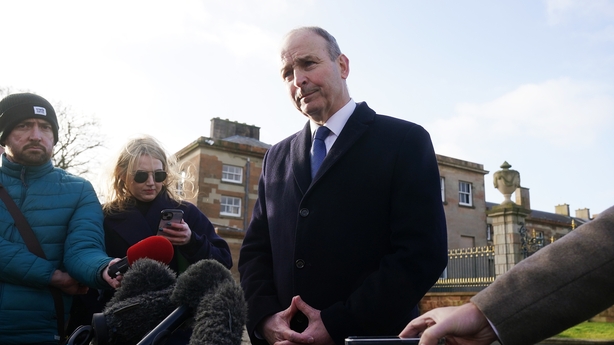 He described "substantive discussions", adding "obviously both governments remain very focused on the need to get the institutions of the Good Friday Agreement restored, particularly the assembly, the executive and the north-south bodies".
"We also discussed a range of other issues, of course the ongoing situation in relation to the talks between the European Union and the United Kingdom's government.
"Progress has been made as evidenced by the statement earlier this week on the sharing of data and we both updated each other in respect of the ongoing discussions we have had at European level with Maroš Šefčovič."
Mr Martin said he also discussed issues around the legacy of Northern Ireland's troubled past with Mr Heaton-Harris.
He said he expressed "serious concerns" around the UK government's legacy bill which is currently making its way through parliament.
"There will be ongoing contact in relation to that," he told reporters at Hillsborough Castle.
The Taoiseach was also in Northern Ireland today for a series of meetings to discuss the Northern Ireland protocol and the resumption of power-sharing at Stormont.
Leo Varadkar was due to meet party leaders and business representatives.
The Government said the presence of both men in Northern Ireland on the same day sent a strong signal.
"These two visits happening on the same day is a clear sign of the Government's commitment to resolving the difficulties around the Protocol and helping ensure that the institutions of the Good Friday Agreement can once again operate effectively across all three strands."
The visit follows yesterday's debacle at talks in Belfast involving British Foreign Secretary James Cleverly.
He had been due to meet all five parties for round table talks on the same issues.
But both Sinn Féin and the SDLP withdrew when it emerged that Sinn Féin leader Mary Lou McDonald was not being permitted to attend as head of her party's delegation.
Mr Heaton-Harris has said it would not have been wise to invite Ms McDonald to the meeting because she is a "representative of a parliament in an EU member state".
Mr Heaton-Harris said: "Sinn Féin were invited, it is a shame Michelle (O'Neill) didn't come along because it was an update on the protocol discussions.
"There are many factors which go into the thought process. One, to be quite frank, is that the UK government is negotiating with the European Union.
"We wanted to update Northern Ireland parties on that negotiation and, with the greatest of respect, Mary Lou is a representative of a parliament in an EU member state.
"That might not have been seen as a wise thing to do."
Mr Martin described the situation as "unfortunate".
It was indicated the British Foreign Secretary could not meet Ms McDonald before he had met his opposite number in Ireland.
Asked if he would have had any issue with Mr Cleverly meeting with Ms McDonald, Mr Martin said: "We certainly got no heads-up in relation to that at all, and I think it needs to be stated.
"I would have had no difficulty that Mary-Lou McDonald was at that meeting, but that's a matter for the Foreign Secretary."
Deal on NI Protocol is possible - McDonald
Sinn Féin leader Mary Lou McDonald said she told the Taoiseach that a deal on the protocol is possible.
She was speaking after Sinn Féin met Mr Varadkar for talks in Belfast.
She said there was a window to do it, but it needed to be grasped with "both hands".
"It's now on every one in political leadership and political life to grasp this opportunity to bring matters to a conclusion and to move forward together, acting in good faith."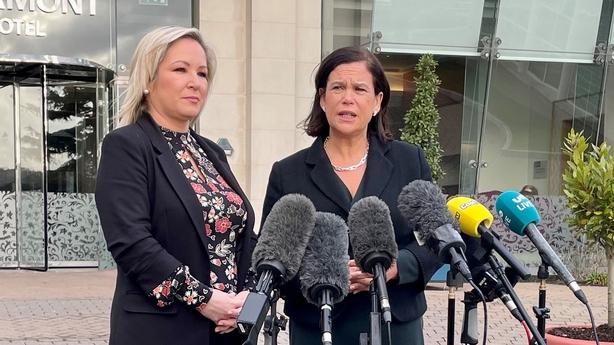 Ms McDonald would not be drawn on whether Mr Heaton-Harris had invited her to dinner yesterday and that she had declined.
She said the time for excluding people from talks was long since passed and needed to "knocked on the head once and for all".
Sinn Féin vice president and the party's leader in Northern Ireland Michelle O'Neill said "today is a new day".
"Chris Heaton Harris would be better using his energy and influence trying to restore the executive and the assembly. That's what the public have asked for."
McDonald writes to British PM over 'exclusion' from talks
Deputy McDonald said she has written to British Prime Minister Rishi Sunak following the decision to exclude her from yesterday's meeting.
Speaking on RTÉ's Morning Ireland, she said: "It was a bad move, it was a bad decision."
"I've written to the British Prime Minister to air my concerns and I can only hope that lessons will be learned and we don't have a repeat of this distraction politics which was most unhelpful.
"But we crack on today and we get some work done.
"The whole basis of progress in the North is always on the basis of mutual respect, inclusion and recognising people's electoral mandates. That's how it works. All of us who work closely in this know that.
"I would have reacted exactly the same way had another leader of another political party been excluded. It's not acceptable. It's not the way we do business."
'Not anywhere close to a deal'
DUP leader Jeffrey Donaldson said the EU and the UK government are not "anywhere close to a deal" on issues surrounding the Northern Ireland Protocol.
Speaking on BBC's Good Morning Ulster, Mr Donaldson said: "At the moment, while some progress has been made on some technical issues, there are major political issues in those negotiations that have not yet been addressed.
"I don't think we are anywhere close to a deal.
"That was clear yesterday from James Cleverly's report to the political parties that we aren't close to a deal at this stage.
"There is still a lot of ground to be covered before we get to that point."
Additional reporting: Conor Macauley