The Taoiseach has said he hopes the decision not to allow the Sinn Féin leader to attend a meeting with the British Foreign Secretary today was a "one off" and will not set a new precedent.
Leo Varadkar this evening spoke to President of the European Commission Ursula von der Leyen.
He said negotiations between the UK and the EU on the Northern Ireland Protocol are making a certain degree of progress and all sides are very keen to have time and space to continue their work.
The Taoiseach said he would get the different perspectives of parties when he visits Northern Ireland tomorrow.
It comes after nationalist parties did not attend talks in Belfast today with James Cleverly after Mary Lou McDonald was told she was not allowed in.
Both her party and the SDLP withdrew from what were meant to be all-party, round-table discussions on the Northern Ireland Protocol.
Mr Cleverly and Northern Ireland Secretary Chris Heaton-Harris had been expected to meet representatives of all the main parties in Northern Ireland.
It is understood the UK government made the case that Mr Cleverly was unable to meet Ms McDonald before meeting Micheál Martin, his opposite number in the Irish Government, due to diplomatic protocol.
In a statement, Sinn Féin said that it was informed last night that the "British government is excluding the Sinn Féin Uachtarán and party leader Mary Lou McDonald from today's meeting.
"This is a time for inclusion, dialogue and engagement. This is a time for mature and civil politics. There is no room for bad faith and petulance from the British government."
Speaking to reporters in Belfast, Ms McDonald said it was "beyond bizarre" and less than helpful that she was not invited to the talks and blamed her exclusion on "British Tory petulance".
She said: "We had a chance this morning to mark progress, to exchange views, to be constructive, to work together, to listen to each other.
"But rather than having that kind of meeting, a kind of British Tory petulance has emerged. I think that is a terrible shame.
"I really hope there will not be a repeat of an incident like this.
"The British government made its decision, they choose to exclude the leader of Sinn Féin. That is not acceptable.
"It wouldn't be acceptable if that was the approach with any leader of any political party.
"We need respect, we need inclusion, we need engagement, we need dialogue."
The SDLP said it would not attend the talks unless Ms McDonald is admitted.
Meanwhile the Government has said that there was "no communication with the Irish Government about this and we would not have had any difficulties with such a meeting going ahead."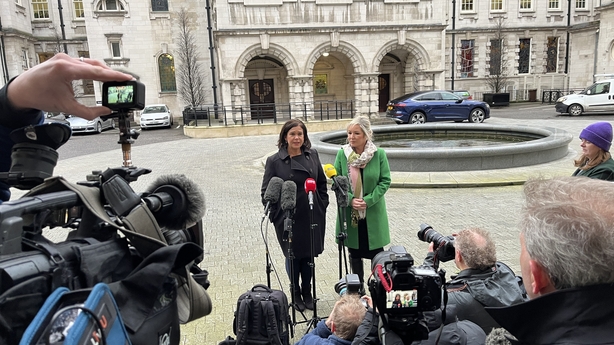 'Farcical event'
SDLP leader Colum Eastwood said the exclusion of Mary Lou McDonald from today's talks was "another farcical event organised by the British government".
Speaking on RTÉ's Drivetime, Mr Eastwood said it was "tone deaf" and lacking in understanding about how the process works.
He said Sinn Féin can send who it wants to meetings, in the same way that every other party can.
"They tried to pretend this is about Stormont representation but I don't sit in Stormont, I'm in Westminster, so is Jeffrey Donaldson and we were both invited," he said.
"This is another cock-up because they don't understand the place and they don't have anybody in there advising them on these issues."
Mr Eastwood said that while he is "no fan of Sinn Féin", it is up to the party who it sends to negotiations.
"We're just not going to have the British government telling us who we can send to meetings," he said.
"It's important that the British government begins to understand that we're hopefully moving towards a resolution between the British government and the European Union.
"This should have been a positive enough discussion today but they've blown it again."
Mr Eastwood said he has been in "countless" meetings where Ms McDonald, or Gerry Adams before her, has led for Sinn Féin.
He said it is about the principle of inclusivity in the peace process.
"The minute we give up one part of that, it'll be something else next. I just don't trust this British government."
A UK government spokesperson said: "This meeting is for Northern Ireland politicians to talk through issues around the Northern Ireland Protocol with SOSNI and the UK Foreign Secretary.
"The leader of Sinn Féin in the Assembly [Michelle O'Neill] was invited and remains invited. Her attendance is a matter for Sinn Féin but she was not excluded."
This is a time for inclusion, dialogue and engagement. There is serious and urgent work to be done. This is a time for mature and civil politics. There's no room for bad faith and petulance from the British government.

— Michelle O'Neill (@moneillsf) January 11, 2023
Mr Cleverly is the UK government's lead Brexit negotiator with the EU and was due to participate in a round table session with the five main parties and Secretary of State for Northern Ireland Chris Heaton-Harris.
DUP leader Jeffrey Donaldson said no party had been excluded from talks with Mr Cleverly.
Speaking following the meeting in Belfast, the DUP leader said he did not want to get drawn into the row over Sinn Féin withdrawing from the talks.
He said: "That is a matter between the Northern Ireland Office and Sinn Fein, and I am not going to intrude on that matter.
"My understanding is the NIO didn't exclude any party. There was an issue around the protocol of Mary Lou McDonald meeting the Foreign Secretary ahead of the Foreign Secretary meeting his counterpart in Dublin.
"That is not a matter for me. I am not going to get drawn into this.
"It is better when all parties are at the table. I want to see all parties in Northern Ireland putting their views across, particularly to the Foreign Secretary.
"I hope next time the parties will be back at the table."
Mr Donaldson also said he believed Mr Cleverly recognised that any deal on the Northern Ireland Protocol had to be acceptable to unionists.
He said: "This was an invaluable opportunity for us to put forward our concerns about the ongoing negotiations.
"They talked about getting a deal that works for everyone and works for Northern Ireland, and I think that is fundamentally important, they recognise a deal with the EU which doesn't work for unionists just isn't going to fly.
"It was good we had the opportunity to input our views on how the negotiations should go forward and on the areas that need to be addressed in the negotiations."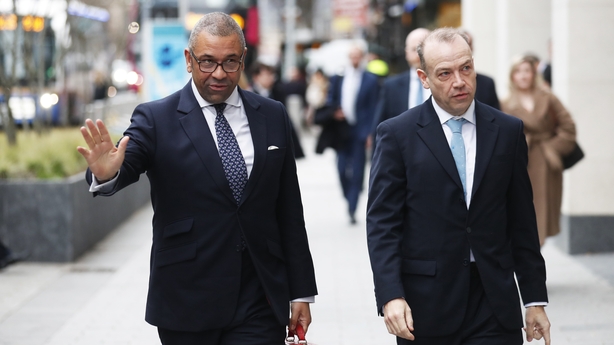 Mr Cleverly said current post Brexit trading arrangements - the Northern Ireland Protocol - were not working and needed to be addressed.
It is a set of customs and standards checks carried out at Northern Ireland ports to prevent them having to be done along the border.
"My preference is for a negotiated solution, but the UK's priority is protecting the Belfast (Good Friday) Agreement and preserving political stability in Northern Ireland," he said.
Mr Cleverly's visit follows an agreement between the EU and UK over access for EU officials to data on goods crossing between Britain and Northern Ireland, potentially limiting the requirement for checks.
Both sides said it was a potential building block to a wider agreement.
DUP opposition to the protocol, which it says creates trade barriers and changes the constitutional position of Northern Ireland, has seen it refuse to go back into power-sharing.
It means Northern Ireland has been without a functioning devolved government for almost a year.
After talks with the parties, Mr Cleverly was due to meet business leaders to talk about the operation of the protocol.
Additional reporting Conor Macauley, PA