As the 50th anniversary of Ireland's membership of the European Union dawns, a glance at the State's share of the EU's top jobs should be cause for quiet satisfaction, if not celebration.
When the Qatar corruption scandal hit the European Parliament, the views of Emily O'Reilly, the EU Ombudsman, were quickly sought.
During the Covid pandemic Emer Cooke's news conferences on vaccine approval by the European Medicines Agency were the hottest ticket.
In December Paschal Donohoe was given a second term as president of the Eurogroup, even though Ireland will now have an unprecedented two ministers (from different parties) at the eurozone table.
When investors watch for ECB interest rate hikes they hang on any utterance from the bank's chief economist Philip Lane.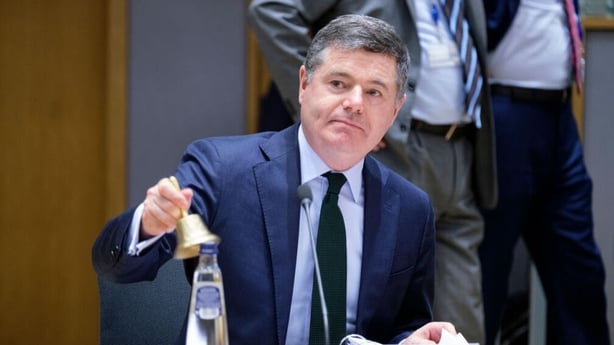 In October Cabra-born Tony Murphy was voted president of the European Court of Auditors by a clear majority; although it is not an EU institution, Siofra O'Leary was made President of the European Court of Human Rights (ECHR) in Strasbourg just a week beforehand.
In December, David O'Sullivan, a former senior Irish official within the Commission and one-time EU ambassador to the US, was appointed Europe's czar for cracking down on Russia sanctions evaders.
The Economist's July 2020 commentary, How Ireland Gets its Way - an unlikely diplomatic superpower, while sniffed at by some, was starting to look more and more prescient.
"It is in the EU where Ireland shows true diplomatic dexterity," said the Charlemagne columnist.
The argument was that not only had Ireland managed to bend the EU to the defence of its national interests in the Brexit negotiations - most critically the avoidance of a hard land border - but that post-Brexit Ireland had deftly positioned itself as a bridge builder due to its backstory, its humble origins, its small population but big wealth, its unique insights into the Anglosphere.
Ireland was simultaneously an exemplar to the new eastern European arrivals thanks to the ability to leverage EU funds, while still being a member of the Frugals (the Netherlands, Denmark, Austria, Sweden) on calling for limits to big EU spending.
"Ireland can fairly be labelled as a northern, southern, eastern or western European country," said the Economist.
Does that mean that, 50 years in, Ireland has found a settled and influential post-Brexit niche within Europe?
That depends.
Ireland is a positive member that really is progressive and always wants to move forward
The country is still an outlier in several respects: outside Schengen, outside large parts of the EU's justice and home affairs rules, including on migration; outside NATO.
We have a disproportionately high level of US FDI, meaning Ireland had outsized GDP growth during the pandemic.
Ireland has stayed on the sidelines in the debate over a price cap on gas because we are customers in the London gas market, not the European TTF benchmark in Amsterdam.
On his final day as taoiseach, and hours after his last EU summit, I asked Micheál Martin where he thought Ireland was located within Europe's power dynamic, now that Russia's invasion of Ukraine has forced a hasty rethink of the EU's security and military resilience.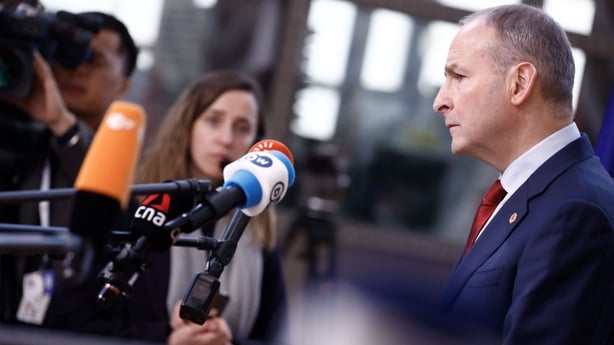 "[Ireland] is perceived as a positive member that really is progressive and always wants to move forward," he said.
"We take a constructive approach to issues as they appear. There's greater accommodation of different perspectives across the [European] Council [ie, the 27 EU leaders]. People know Ireland's position around military neutrality."
Martin said a citizens' assembly would be needed to reassess Ireland's neutrality, or non-alignment, in the light of Russia's invasion. "There will always be challenges, nothing can be taken for granted, and we can't be complacent. And we've got to fight our corner."
---
Read more:
Ireland at 50: Where we stand in the EU firmament
Ireland's past, present and future relationship with the EU
How does the EU-US relationship impact Ireland?
1973-2023: How joining the EU has changed Ireland
---
Long before Brexit, it was a truism that Ireland fought its corner rather well.
Despite the initial cold shoulder when Dublin knocked on the door in the early 1960s, Ireland became a constructive member state, benefiting from sizeable agriculture payments.
Once the European Single Market was launched, the State was uniquely positioned to attract vital inward investment. Ireland was an enviable stepping stone to the rich European market.
In the 2000s, Ireland's economic growth drew gasps of amazement, although Charlie McCreevey's enthusiasm for devil-may-care spending drew the occasional reprimand.
Ireland's low corporate tax rate annoyed France and Germany, and Mary Harney's dictum that the country was "closer to Boston than Berlin" did not go unnoticed.
The fact that Irish electorates rejected both the Nice (2001) and Lisbon (2008) treaties prompted much head-scratching in Brussels, given how much Ireland had benefitted from EU membership.
Yet, when the property bubble burst and the banking crisis hit, there was more sympathy than there was for Greece (one German official noted that Ireland had "over-succeeded"), and more admiration when Ireland emerged quickly from the Troika-imposed bailout.
In fact, the most serious friction between Ireland and the EU over the past 20 years has been related to corporate tax and US multinationals.
There was the infamous "Gallic spat" between Enda Kenny and Nicolas Sarkozy at the former taoiseach's first EU summit in 2011, when the French president demanded Ireland address its corporate tax rate in exchange for an EU bailout.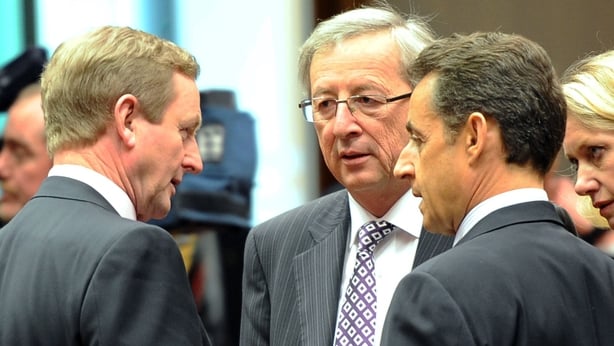 In 2016, Mr Kenny accused the European Commission of bullying Ireland over the €13 billion Apple tax case.
"I'm not sure whether the European Commission want to ingratiate themselves with more powerful countries than ours, but this is a small country," said Mr Kenny.
The Apple case was overturned (the Commission has since appealed that decision) so for now it is in abeyance. But some member states still look askance at Ireland's huge tech sector.
"There's something of a schizophrenic attitude," says a senior Irish figure.
"There is an admiration for the success we've had in attracting so many big companies and there's an understanding that it's not all due to tax: there's the political stability, there's a high level of education."
David O'Sullivan, the outgoing director general of the Institute of International and Economic Affairs (IIEA) and soon to be the EU's sanctions czar, says: "There's always an extent to which we are still tarred slightly with the Anglo-Saxon brush. We're close to America, there's the extent of US foreign direct investment, and there are some questions asked about how thoroughly we enforce GDPR rules."
Enforcing those rules increasingly falls on Ireland's data commissioner Helen Dixon because so many tech multinationals have their European headquarters in Ireland.
New legislation will add to that burden. Member states will soon be able to ask the data commissioner to take down terrorist content online because the digital platform is located in Ireland.
Similar legislation is due on e-evidence. If evidence considered essential for a criminal trial is held on a server, another member state could ask for that evidence to be released. Again, if the evidence is a Facebook entry, the burden will fall on the Irish data commissioner to respond.
"We have to live up to these obligations given that we benefit greatly from the presence of these multinationals," says one Irish official. "Member states do look now to see if we're capable of doing all of this."
Yet, at heads of government level, Ireland's closeness to the Biden Administration is an asset, as well as Dublin's ability to gauge UK thinking post-Brexit.
"Ireland is a very fundamental partner," one senior figure, who sits at the European Council table, told RTÉ News in March 2021.
"It helps me better understand the messy situation in the UK. I began to understand the culture of UK tabloids, the very harsh messages expressed, the simplification of the political debate thanks to the conversations I've had with the Taoiseach, which are very helpful.  Ireland is also very useful when it comes to a channel of communication with the United States."
It was almost a dividing line. That's now moving in a certain direction
The corporate tax issue has since been neutralised by the global - not EU - reform process, putting off for now tension over the European Commission's efforts at introducing a common corporate tax base (known as the CCCTB).
Ireland was not alone in opposing CCCTB, but there was always more attention on the Government's position.
"It was very difficult for us, the whole CCTB thing," says a senior Irish official in the European Commission. "It was almost a dividing line. That's now moving in a certain direction."
There's no doubt too that Ireland's painful bailout experience in 2011-2013 created a sense in Brussels that Dublin had taken one for the team and that, when Brexit hit in 2016, Ireland was owed as much support as possible.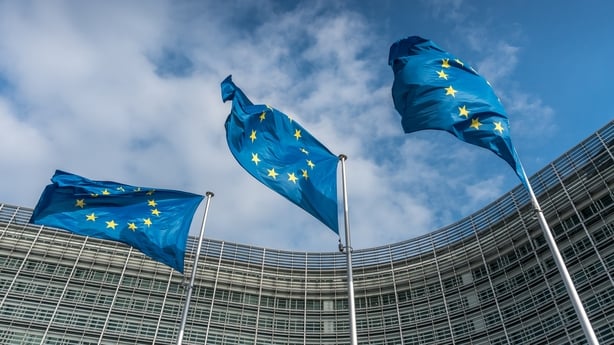 In the event, the solidarity shown by EU institutions and national capitals throughout the Brexit negotiations was rock solid, much to the chagrin of British officials who wasted no time in trying to peel some member states away from the Irish position.
Yet Brexit meant Ireland losing a key ally at ministerial meetings in Brussels. The UK took a strong position on taxation and the internal market, and Ireland could hide behind that position without drawing too much attention.
With Britain gone Dublin has been seeking out new allies and expanding the network of embassies (Ireland is now the only member state with an embassy in every other member state).
"Right across the EU agenda we have positions, we're in groups, we have alliances," says a senior Irish figure. "We're not by any means an outlier or semi-detached."
In 2018, Ireland joined the New Hanseatic League alongside the Netherlands, Denmark, Estonia, Lithuania, Latvia, Finland and Sweden. Sometimes dubbed the "bad weather club", this was a grouping of countries emphasising balanced budgets and caution in EU spending.
Economic and Monetary Union should be strengthened without transferring new powers to Brussels so as to keep citizens on board during times of crisis.
"That means no European budget, no EU economics minister and no major eurozone reforms," wrote Rem Kortweg, senior research fellow at the Clingendael Institute in the Netheralands.
"The Eight's recipe for a strong EU is that countries should stick to (and implement) existing agreements. In Brussels the letter was seen as a shot across the bow of [Emmanuel] Macron's European ambitions."
Despite this Ireland co-signed another letter, this time with Macron, in March 2020 when Club Med (Italy, France, Spain, Portugal, Greece) urged the EU to borrow and spend big to recover from the Covid pandemic.
"Yes, we will be an EU budget net contributor," says Brigid Laffan, a veteran Irish expert on Europe and incoming president of the European Policy Centre (EPC). "Yes we will be a northern member state on that Hanseatic line. But we shouldn't only be there, and only be identified with that pretty singular Dutch frugal approach."
Ireland has strengthened ties with Berlin to the extent that the new German coalition involving the Social Democrats, the Liberal FDP and the Greens, wrote into their programme for government a specific reference to the UK needing to abide by the Northern Ireland Protocol.
While Ireland has always been close to France on agriculture and fisheries, Dublin has sought to strengthen those bonds on the basis that France is now - post Brexit - our closest EU neighbour by geography.
One area where Ireland is playing a surprisingly prominent role is Ukraine.
Despite the state's squeamishness about providing lethal aid to Kyiv, Dublin has been a strong supporter of sanctions against Russia and was one of only two western EU member states to sign a letter in March 2022 alongside 10 eastern and central European member states calling for Ukraine to be given early candidate status for EU accession (a European Movement Ireland Red C poll in September showed that 65% of Irish voters agreed).
Ireland has taken in 63,000 Ukrainian refugees compared to France - over ten times the Irish population - which has taken in 100,000 refugees.
The Government believes it is striking the right balance in terms of participation in EU security and defence policy, including membership of PESCO, the EU framework which allows individual member states to cooperate on defence. It is an issue where Sinn Féin can project a strong difference, but there may be indications the dial is shifting slightly among voters.
The Red C poll in 2020 showed that 49% of Irish voters believed that Ireland should be part of increased EU security and defence cooperation, compared to 31pc opposed, but that had increased to 54% in 2021, compared to 27% opposed (this was before the Russian invasion of Ukraine).
The Sinn Féin 2020 manifesto pledges to take Ireland out of PESCO and EU Battlegroups, the multinational, military units, composed of roughly 1500 personnel and which form part of the EU's rapid reaction capacity to respond to emerging crises (operational since 2007 but never used).
Ultimately we want to be neutral, but we don't have any capabilities to actually police our own neutrality
The war in Ukraine is upending assumptions about European security and there will be a robust debate in the coming years about whether the EU has to deepen its own security response. The debate is most sharply focused on whether a stronger European capability risks duplicating NATO, or whether Europe can rely on the US as the ultimate guarantor of continental peace.
While the pseudo-negotiations between Irish fishing organisations and the Russian authorities over military exercises in the Atlantic provoked a lot of whimsical comedy on social media, it underscored a much more serious challenge given the strong suspicion that Russia was using the naval drills to map undersea cables.
"We are not ourselves militarily significant enough to really become the focus of attention at this point," says David O'Sullivan. "Ultimately we want to be neutral, but we don't have any capabilities to actually police our own neutrality. We don't want to be part of an alliance, but who ultimately would be our partner if there was a conflict? There are some difficult questions for us there. There will be more developments at European level in the security and defense area, and our slightly prudish approach is going to be tested."
Another test could be on migration, which continues to be a serious challenge at EU level, with a 70% increase this year in irregular migration into the EU following the pandemic.
"If you take climate adaptation, water, food, sea levels rising," says the senior Irish official in the European Commission, "the level of migration that we're going to see within a generation will be different. The idea of Ireland having its own 'exceptionalism' - there are policies where we will have to make up our minds: are we part of things or not?"
How the EU equips itself for ongoing geopolitical conflict - or another pandemic - is also the subject of a sharp debate about having a broader industrial policy that will make Europe less reliant on vulnerable supply chains, and where Europe can compete with a more protectionist US, given the heavy green tech subsidies of Joe Biden's Inflation Reduction Act.
Ireland is prominent among the free traders and liberalisers of the EU, another position which will be tested in that debate.
A Sinn Féin-led government could dislodge Ireland from the post-Brexit role it has forged in Europe, and it is likely that the party's position on Europe will come under much sharper scrutiny as the next election approaches.
Yet Europe never features as a burning election issue. Brexit may have softened the impact of British tabloids and how they shape the Irish debate on Europe, yet Ireland only has two full-time correspondents in Brussels (RTÉ and the Irish Times). Denmark, with a slightly bigger population, has 14 EU correspondents.
The next decade will be dominated by climate change (the government now sees Ireland as a climate leader, despite the problem of agricultural emissions), security and enlargement, with the EU aiming to bring six Western Balkan countries into the fold, and ultimately Ukraine, Moldova and Georgia.
The EU will be at the limit of its ability to function so treaty change is almost inevitable, and that may well return an EU referendum to the Irish political space.
"Public knowledge about the EU is still relatively weak in Ireland," says Brigid Laffan, "what people know, the basic civic knowledge of how the system works. We're a referendum country, and whenever Ireland has a referendum, the Irish electorate does a crash course on the EU once again."
Ireland may not be alone in that. Russia's war in Ukraine has graphically brought into Irish living rooms stark questions about the European Union, its role, its defence and its destiny. The crash course may have started.