Fifty years ago, on 1 January 1973, Ireland formally joined the European Economic Community, which today is the European Union.
Following two blocked attempts to join the EEC by then French President General Charles de Gaulle in 1963 and 1967, fresh negotiations began again.
And on 22 January 1972, the Treaty of Accession was signed in Brussels by then taoiseach Jack Lynch, with Britain and Denmark also signing.
A referendum held in May 1972 confirmed Ireland's entry into the European community, with 83% of Irish people voting in favour of membership.
While not without its challenges, becoming an EU member has economically and socially transformed life on the island of Ireland.
Yet many of us who have been born in the last 50 years only know Ireland within the EU context.
Economy
Ireland was a tiny, isolated market. And it was poor. Joining the EEC and the single market, coupled with Ireland's low corporate tax rate at the time, made it more attractive to large multinational companies and foreign direct investment, leading to our country now being highly dependent on high tech industry.
Economic Historian Dr Ciarán Casey, author of The Irish Department of Finance 1959-99, said the negative side of joining and dropping all trade barriers was that Ireland's indigenous manufacturers such as textiles, clothing, footwear and car assembly all collapsed. But we got lucky.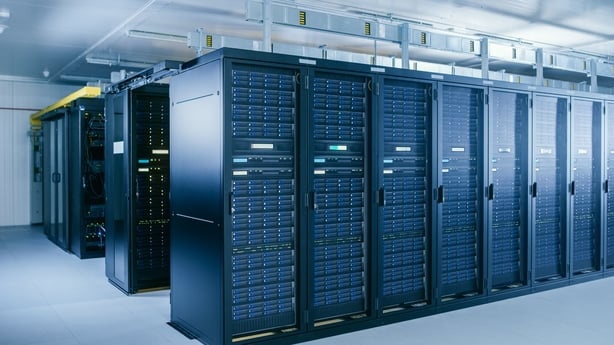 "No one really anticipated the foreign direct investment boom in the 1990s. If that hadn't happened, the ESRI was projecting double digit unemployment by the turn of the Millennium. They were projecting a return to mass immigration, and it wasn't a spike, this was going to be something that we were going to have to deal with for a very long time. The economy had only sustained about a million jobs for decades that hadn't gone up and there was a 40–50-year period where that had gone up. It was really only the FDI boom that kind of came along and changed the structure of the economy," he explained.
Dr Casey believes Ireland's membership and the ensuing economic development is the biggest thing that's happened since Ireland's independence.
"Irish people, I think, don't fully appreciate how weird and positive that the economic story has been within a generation," he said.
Gender
In the early 1970s just 27% of women were working or available to work compared to 77% now.
A marriage bar was in place that required single women to resign from their jobs once they got married. It applied to public sector jobs but extended to some in the private sector.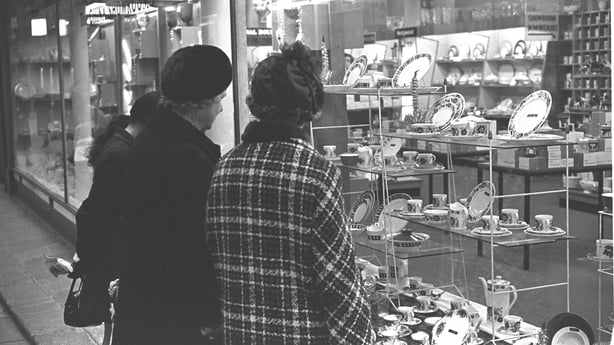 Dr Miriam Nyhan Grey has been curating a commemorative exhibit: 'Into Europe, Ireland and the EU 1973 to 2023'. In the context of her research, she's been reflecting gender equality and whether the leaps and bounds that have been made over the last 50 years for Irish women would have been achieved had we not entered nor agreed to EU integration in the way that we did.
"Irish women were discriminated against significantly in the workplace, there was also that marriage bar in place. That restriction was removed as a direct consequence of joining the EU," said Dr Nyhan.
However, she concluded that not everything is perfect and gaps still exist. "There's much still to improve upon for Irish women and their families. European integration has been a seismic accelerator of gender equality," she said.
---
Read more:
Ireland at 50: Where we stand in the EU firmament
Ireland's past, present and future relationship with the EU
How does the EU-US relationship impact Ireland?
1973-2023: How joining the EU has changed Ireland
---
Neutrality
In the 60s and 70s, founding EEC members had doubts over Ireland's neutrality in terms of plans for a common defence.
Fifty years on, there are new challenges as Europe is under increasing pressure to increase its defences following Russia's invasion of Ukraine.
In the 1970s the European Commission told the neutral states to redefine neutrality and call it military neutrality, which just means you're not part of a military alliance like NATO or the Western European Union, according to Dr Karen Devine, lecturer in European Union policies and politics at DCU.
"Most Irish MEP's have always said that they will support European integration up to the limit of military alliance and a future European army.
"One of the concerns Éamon de Valera had at the time for Ireland was when NATO membership, was basically offered by the American government. De Valera was very wary of it, and he said it wouldn't be prudent for us to get involved in military alliances because small states don't have a say over whether war is waged or not," said Dr Devine.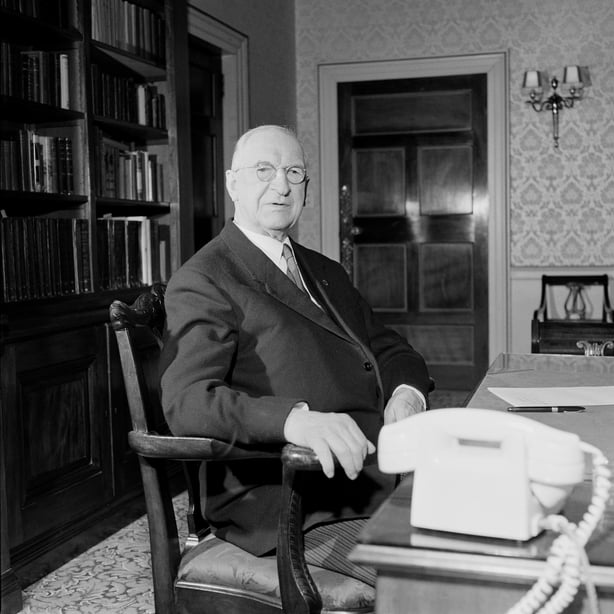 The Department Foreign Affairs says, "Ireland's traditional policy of military neutrality is well understood by EU partners and codified in the Protocol attached to the Lisbon Treaty".
Speaking in Washington on St Patrick's day, then Taoiseach Micheál Martin, said "we're not politically neutral and we're not morally neutral and as the world changes our position has to evolve in my view with that change."
While Sinn Féin wants Ireland's neutrality to be enshrined in the Constitution following a referendum.
Agriculture
Joining the EEC enabled the dairy and meat processing sectors to expand very significantly into the sectors that we see today. The Common Agricultural Policy (CAP) is the longest-running and evolving EU policy, aiming to provide affordable, safe and high-quality food for EU citizens and to ensure a fair standard of living for farmers.
"Unquestionably it's been of benefit to farmers, the problems we had before joining are no longer there.
"Ireland was a very poor country with very many poor farmers," according to Professor Cathal O'Donoghue Chair of Social Public Policy and co-director of the Ag Science Programme in NUI Galway.
"In many of those lean years in Ireland, we got very significant transfers into the country. We are now a richer country. We're making transfers back in the other direction. We've transformed a sector that was very small, mainly often domestic focused into something that is a major global business. Irish-owned multinationals are selling all over the world, feeding very many people. And that transformation really was completely facilitated by our membership of the EEC," Professor O'Donoghue said.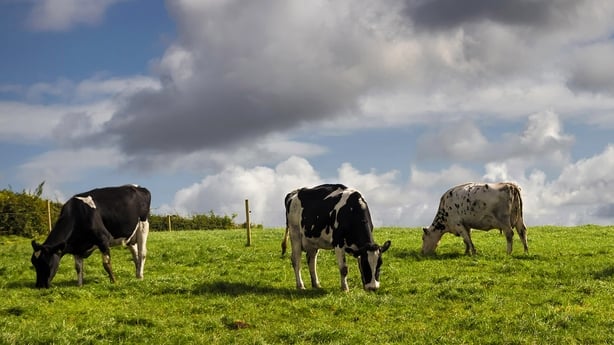 But it's not all positive. The success of the CAP has brought its own problems. And with the EU focusing on climate targets, there are concerns over demonising agriculture and its impact on the environment.
"Although we are producing food with a lower environmental footprint per animal than we were 20 years ago, the increase in the number of animals, which is 900,000 since 2011, is dominating that improvement," he said.
With emissions, pollution and biodiversity priority EU objectives, farmers and activists will need to be included and at the centre of debate for emissions reductions and supports.
Fisheries
EU fishing quotas and most recently challenges posed by Brexit have hit the industry hard with representatives warning of a third of the industry being wiped out and urging the Irish Government and EU for more support and a fairer deal.
Independent TD Thomas Pringle raised the issue in the Dail addressing President of the European Commission Ursula Von Der Leyen. As a representative of the fishing community in Ireland Mr Pringle said the 50th anniversary of Ireland joining the EU was "a sad commemoration, because that was the start of the decline of our fishing industries".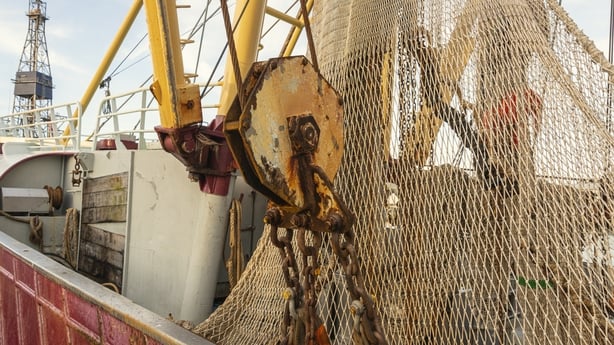 MEP for the Midlands-North-West Colm Markey acknowledges Ireland is failing to get its fair share of opportunities but that membership is beneficial for fisheries.
"First thing, we wouldn't have access to markets to sell the fish that we are selling into Europe. Secondly we would find it very, very difficult to patrol our own waters and just exclude everybody. Even countries that are outside the EU, they still have arrangements where EU fishermen fish in those waters," he said.
Mr Markey remarked that rather than looking back Ireland needs to look forward to where the opportunities are in terms of negotiations to ensure it gets its fair share.
Enviroment
Fifty years ago climate goals weren't top of our agenda, but membership drove environmental improvements. Grace O'Sullivan, spokesperson for the marine and MEP for Ireland South said the whole issue of raw sewage going directly into our waters was quite common in the 1980s.
"I remember seeing raw faeces on the beach in Tramore as I was walking along the beach, and it wasn't that unusual," she said.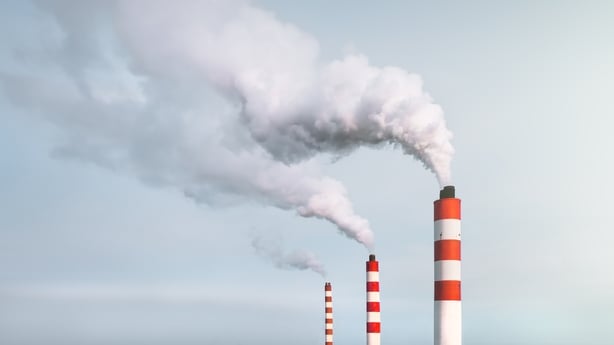 She believes European legislation has improved our water quality, but we're still lagging behind on water and other targets especially in relation to the EU green deal.
"There are very specific targets in that deal that we have to reach, and they're binding targets so there's no getting away from it. We're good to commit but then it's to achieve, is the problem", said Ms O'Sullivan.
Brexit
When our nearest neighbour and pre-EU largest trading partner Britain left the European Union it created a difficult and stressful time as hauliers and traders tried to navigated EU-UK red tape.
While the EU backed Ireland to avoid a hard border on the island, the creation of the Northern Ireland Protocol has been the root of political and economic uncertainty including stalemate at Stormont.
Ray Bassett, former senior official at the Department of Foreign Affairs, believes Ireland could have done more to facilitate Britain in the negotiations.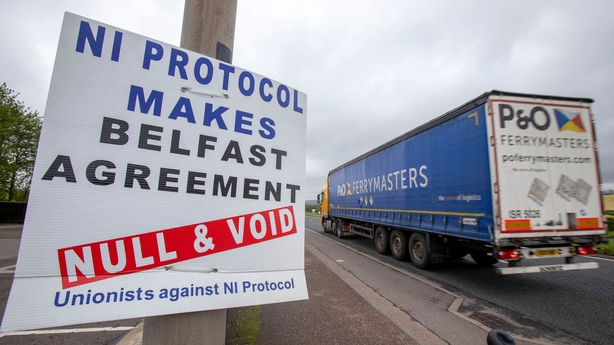 "In my view, Ireland needed to act as a bridge between London and Brussels. Unfortunately, I think we took a very hawkish position on the European side and I don't think that was in our interests, I think it had a detrimental effect," according to Mr Bassett.
He also believes there should be more debate around Ireland's position remaining in the EU.
"We need to look at the long term trends, whether globalisation and other factors are changing. The real attraction for Ireland in the EU is the single market, which has transformed the country. It was American investment that made this country rich and they are here because of the single market. We should concentrate on that because sometimes we get caught up on the peripheral to show ourselves as almost in favour of the European federal state," said Mr Bassett.
Idenity
Whether people in Ireland see themselves as Irish, European or both continues to be considered here and in the EU. On 1 January 2022, Irish achieved full status as an official language of the European Union. As a full official language, all documents published by the EU are translated into Irish.
Through her research into Ireland and the EU over the past five decades, Dr Miriam Nyhan Grey has been exploring identity and symbolism, including the nervousness or the reticence of some of the elder statesman back in the early 1970s who saw Irish integration into the EU as the loss of sovereignty and all that was hard fought.
Everyday symbols now include the EU flag hanging prominently beside the Tricolour in many places across the country and the euro coin that symbolises Ireland and Europe on each side.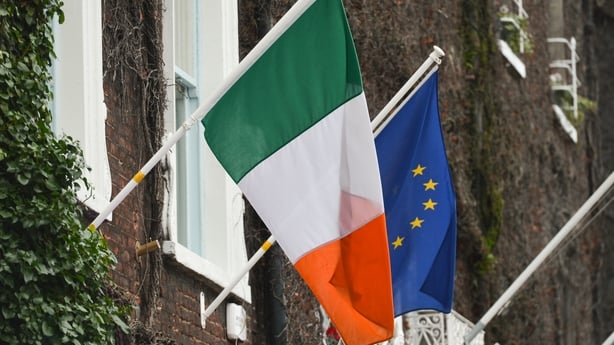 Dr Nyhan Grey is interested in how nuanced and complex Irish people are in being capable of carrying around multiple identities and engage with them in everyday occurrences.
"I'd love to have an opportunity to talk to the people who had those concerns 50 years ago to see what they think of this journey that we've been on, because on balance, and it has been very positive.
"It's been a very interesting journey of identity and symbolism, and sensibilities of Irishness and other senses of identity that have kind of complicated the stereotype and the old historical relationships we had for example with our nearest neighbour in Britain. It's all very interesting to think about,"said Dr Nyhan Grey.