A diplomatic charm offensive, topped off with a U2 concert and Riverdance show for UN ambassadors in New York, helped secure Ireland's seat on the Security Council from 2020-2022, which comes to an end this week.
On the day Ireland won its seat, Taoiseach Leo Varadkar said Ireland had a "clear and tangible ambition to play a central role in contributing to international peace and security."
That ambition ran up against enormous global challenges: new wars in Europe and Africa, ongoing conflict and humanitarian crises across the Middle East and Asia, and climate and pandemic-related disasters worldwide.
Over this darkening tableau of human tragedy, loomed the inability of the UN's most senior decision-making body (made up of the five permanent members and ten rotating ones) to live up to its primary purpose of maintaining global peace and security.
At his last appearance as Minister of Foreign Affairs during Ireland's tenure on the Council - in the hours following the death of the Irish peacekeeper, Private Seán Rooney, in Lebanon - Simon Coveney said that it had been, at times, "deeply frustrating" and the Council had "unfortunately failed more than it succeeded."
But there were also successes, he added.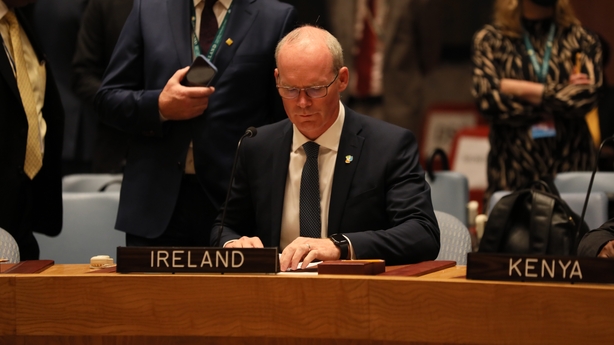 Among them, he listed "ensuring humanitarian access is part of sanctions in the future, ensuring that we continue to get aid into places like northwestern Syria, ensuring we can shine a light on humanitarian abuses we've seen in places like Ethiopia, Yemen, Syria", he said, "and ensuring we can focus diplomatic efforts on trying to bring an end to Russian aggression in Ukraine and the appalling conditions and brutality that civilians are living through."
Throughout its two years on the Security Council, Ireland is seen as having struck out on its own, pursuing a largely independent UN diplomacy - deemed unusual for an elected member, especially one from the European Union.
Its independence impressed some UN diplomats, upset others and, at times, did both simultaneously.
Ireland's persistent attempts to keep the war in Ethiopia - between government forces and the Tigrayan People's Liberation Front - on the Council's agenda, won plaudits from the new Biden-appointed United States mission, which was busy repairing its UN engagement post-Trump.
The UK praised Ireland's "leadership" on the issue while France, called it "courageous and brave" especially as Ireland sacrificed its bi-lateral relationship with Ethiopia, a leading recipient of Irish Aid, to keep a spotlight on the atrocities and the unfolding humanitarian crisis – otherwise largely unseen under a government-enforced information blackout.
"Ireland showed it was ready to get its hands dirty dealing with the details of a specific crisis on the Council's agenda," said Richard Gowan, UN director for the International Crisis Group and a long time Security Council watcher, something that elected members of the Council generally "try to avoid."
In retaliation, Ethiopia kicked four Irish diplomats out of the capital, Addis Ababa, in late 2021.
And in a terse letter sent to the Department of Foreign Affairs in October this year, the Ethiopian Foreign Minister, Demeke Mekonnen said Ireland had failed to cease its "hostility and attacks" and questioned whether there was any future for diplomacy between the two countries.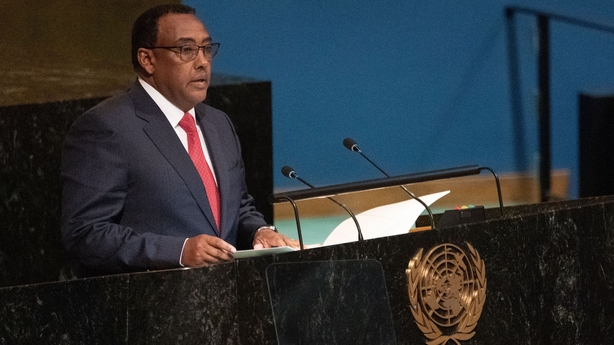 The conflict in Ethiopia is estimated to have claimed hundreds of thousands of lives.
"If you had a more unified Council willing to move in 2020 or 2021, we could have had a different outcome," said Richard Gowan. "It will come to be seen as a stain on the Council's reputation equal to that on its inability to act on Ukraine," he said.
"Ireland deserves credit for at least trying to get Council action on it," he said.
In Ireland's dealings with what has become known as the Global South – the developing countries of Africa, Latin America, and Asia - it appealed to a shared experience of struggle against colonisation and oppression.
Some European diplomats found that approach occasionally at odds with EU demands for greater commitment from former colonised nations, on issues like human rights and political corruption.
But it was over an Irish drive, in tandem with Niger, for a resolution to recognise climate change as a threat to international peace and security, that Ireland and France fell out.
"Pushing so hard to have a resolution on climate and security when they knew that Russia would veto it, was really a bad decision," said Alexandre Olmedo, deputy political counsellor, permanent mission of France at the UN.
"It displays the division of the Council on a file like this and makes it more difficult to revive it in the following months," he said, but added that the disagreement ultimately did not affect their co-operation.
India, another elected Council member, voted against the initiative while 113 other UN countries supported it.
Ireland was seen to hew closely to its stated foreign policy goals in its work to place women's voices at the heart of peace and security issues, in fighting for humanitarian access in conflict zones, in its support for Palestinians, and in condemning Russian aggression in Ukraine.
But critics say the Government which promised to "advocate fearlessly for what Ireland believes in" failed to confront China over human rights abuses in the north-western region of Xinjiang.
"I feel disappointment and a degree of shame," said Dr David O'Brien, an Irish academic and Uyghur expert, based at Ruhr University.
"Ireland campaigned for a seat on the Council by stressing its promotion and protection of human rights and fundamental freedoms, yet in the time that it has sat on the Security Council, one country it sits alongside - the People's Republic of China - has been accused by the UN itself of carrying out the most serious human rights abuses – torture, sexual abuse, detention of perhaps over a million people without trial, simply for their ethnicity," he said.
"When faced with perhaps the most serious human rights issue in the world today, Ireland remained essentially silent." he said.
On challenging China over human rights, Irish diplomats have said that they do not engage in "megaphone diplomacy" but do raise concerns behind closed doors on a bilateral level, as well as alongside other countries in other UN forums.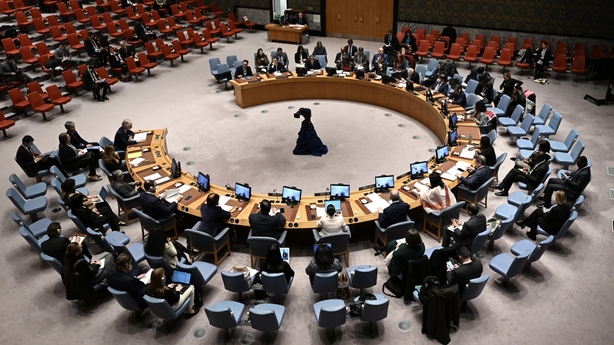 China, along with Russia, the United States, France and the UK hold a veto on the Security Council and therefore most of the power - a system which many UN diplomats, including the Irish mission, agree is way overdue for reform but is unlikely to change any time soon.
This was Ireland's fourth term on the Council. Each time, it has been faced with a major global crisis. In 1962, the Cuban Missile crisis brought the world to the brink of nuclear conflict. The Falkland's War broke out during Ireland's second stint in 1981-1982 and the attacks on 9/11 happened in their third term, 2001-2002.
This time, Russia's war in Ukraine, ongoing conflict in Yemen and Syria and deepening great power rivalry, have again led some to question the relevance of the Security Council.
But others believe the world would be worse off without it.
"The Irish mission has made the best of a bad job in most cases," said Richard Gowan.
"The United Nations is the trashcan of international diplomacy – it's where you get the problems that no one else wants to respond to and the way the UN responds to those problems is suboptimal. But without that safety net, you'd have a lot more crises," he said.
"You join the Council to stop the further fragmentation of global diplomacy and Ireland has played its part," he said.