The Minister for Foreign Affairs has said he does not accept assurances from Hezbollah that it was not involved in an attack in which a 24-year-old Irish soldier serving with the UN peacekeeping mission in Lebanon was killed and another seriously wounded.
They had been part of a convoy travelling to Beirut when it came under attack shortly after 9pm Irish time last night.
Speaking to RTÉ's News Six One, Simon Coveney said: "We don't accept any assurances until we have a full investigation concluded to establish the full truth.
"I am not going to read anything into any statements for now, but simply to say that we owe it to the Defence Forces, to people who serve in uniform abroad as peacekeepers and in particular to the family, who are dealing with extraordinary loss right now, to establish the truth.
"And we have already a clear commitment from the Lebanese side for full cooperation with that investigation and one of the things I will be raising with the Secretary General of the UN is to get an assurance from him that the full resources of the UN will also be focussed on establishing the truth in the context of the UN investigation that needs to happen."
The soldier who died has been named as 24-year-old Private Seán Rooney, who was a native of Newtowncunningham, Co Donegal.
"We owe it to his family and to him to ensure we have a very comprehensive investigation to fully understand what happened here," Mr Coveney said.
He said that there will be three separate investigations; one will be conducted by Ireland, one by the United Nations and one will be held by Lebanon.
Private Rooney joined the Defence Forces in March 2019, and his home unit was the 27 Infantry Battalion in Dundalk.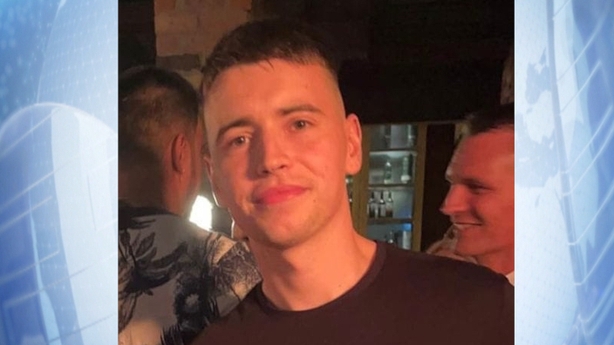 The Defence Forces said four of those on board the convoy of two armoured vehicles carrying eight personnel, who were part of the 121st Infantry Battalion with UNIFIL, were taken to Raee Hospital, near Sidon, around 43km from Beirut.
Private Rooney was pronounced dead on arrival at the hospital, while the other peacekeeper - named as 23-year-old Private Shane Kearney - is in a serious condition and has undergone surgery.
The other two wounded soldiers are being treated for minor injuries.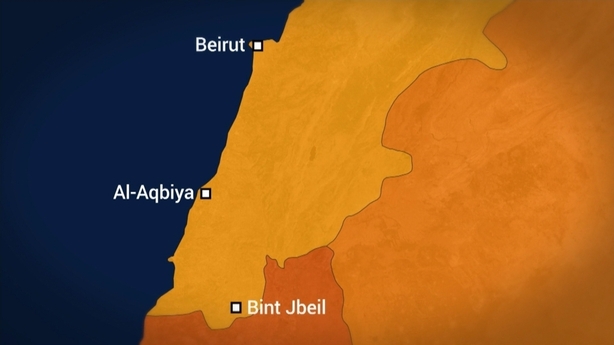 Private Kearney, who is from Killeagh in Co Cork, joined the Defence Forces in October 2018 and his home Unit is 1 Cavalry Squadron in Collins Barracks Cork.
He previously served overseas with the 117 Infantry Battalion UNIFIL.
Around 300 people attended a prayer service for Shane Kearney this evening at St John the Baptist Church in Killeagh.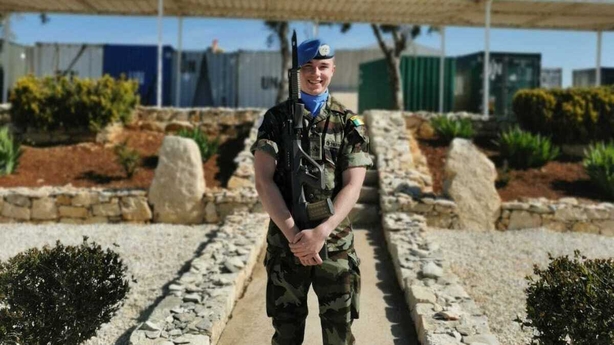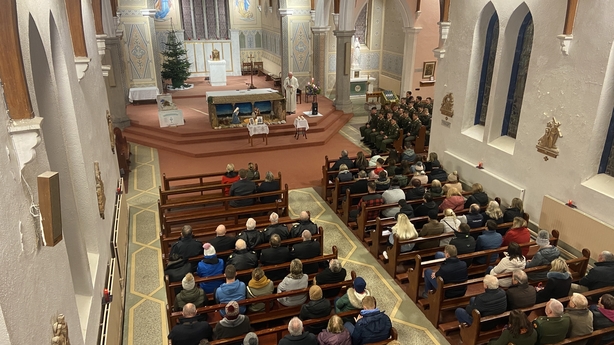 All three injured soldiers were later transferred to the UN-managed hospital in Hammoud.
The remaining four personnel from the convoy were not injured.
We need your consent to load this rte-player contentWe use rte-player to manage extra content that can set cookies on your device and collect data about your activity. Please review their details and accept them to load the content.Manage Preferences
---
Read more:
President mourns life lost 'serving the United Nations'
Irish peacekeeping ties with Lebanon span over 60 years
Route taken a familiar stretch of road for Irish peacekeepers
Examination of events that led to peacekeeper's death
---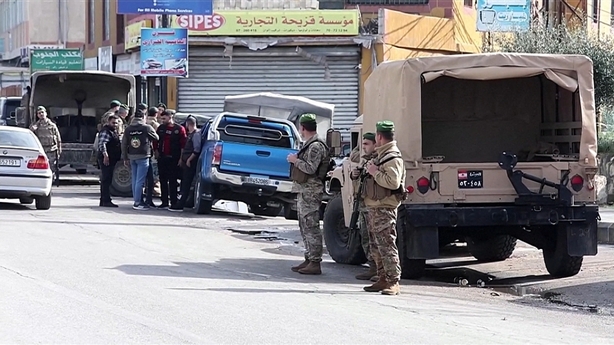 A senior Hezbollah official said an "unintentional incident" had led to the peacekeeper's death and that the armed group was not involved.
Wafiq Safa said his party offered its condolences "after the unintentional incident that took place between the residents of Al-Aqbiya and individuals from the Irish unit," and urged the party not be "inserted" into the incident.
Taoiseach Micheál Martin has said he is deeply shocked and saddened at the loss of life of an Irish peacekeeper in Lebanon | Read more: https://t.co/91tgEdpPcz pic.twitter.com/fceS0GrQTq

— RTÉ News (@rtenews) December 15, 2022
Lebanon's caretaker premier Najib Mikati expressed his deep regret over the incident and called for an investigation, urging all parties to "show wisdom and patience".
The Lebanese army also offered its condolences but did not give additional details on the incident.
A 'dark and tough' night
Chief of Staff of Óglaigh na hÉireann Lieutenant General Seán Clancy said Private Rooney's death "deeply wounds the organisation as a whole".
He said it has been a dark and tough night for Private Rooney's family, and that Private Kearney remains in a critical condition.
Speaking on RTÉ's Morning Ireland, Lt Gen Clancy said the investigation into the incident will have a multi-faceted approach as the peacekeepers were operating on foreign soil.
He said he expects that the Lebanese authorities along with UN will carry out their own investigations and "of course we have to protect the national interest here and the national investigation will appropriately lead into a court of inquiry at the end of the day."
He said there is " inherent risk" on peacekeeping operations.
"We all accept that ... I don't think it is a time or period at this early stage to speak about reviews. We have operated in the Lebanon for many decades. It has been over 20 years since we had a fatality. It is still too soon."
He said there are 333 people that deployed with the 121st battalion and said he spoke to the battalion commander this morning, along with other members of the Defence Forces and the team in Ireland, and they are satisfied that everyone is safe and accounted for.
Lt Gen Clancy said they have ensured all the families of the peacekeepers involved in last night's incident have the necessary support around them.
He said the peacekeepers were part of the battalion deployed at the beginning of November who were at the start of their tour of duty and were on a standard administrative run last night as two of the personnel were returning home on special compassionate leave as members of their extended family had died.
Convoy attacked during 'standard administrative run'
The Minister for Defence said Ireland and the UN will conduct investigations into the attack.
Speaking on the same programme, he said the incident occurred during a "standard administrative run" that he himself has been on during his trips to the UN peacekeeping camp in Lebanon.
"Essentially what happened, we think, was two armoured personnel vehicles were travelling from our main camp in southern Lebanon to Beirut. It was a standard administrative run, as it's called in military terms.
"And the two armoured vehicles effectively got separated. One of them got surrounded by a hostile mob - I think that's the only way you could describe them - and shots were fired and unfortunately one of our peacekeepers was killed."
He said the three injured soldiers are being supported by the Defence Officers medical officer, the chaplain and other senior officers.
Minister for Defence Simon Coveney has spoken of his sadness and shock at the death of an Irish peacekeeper who died after his convoy came under attack in Lebanon. He says a full investigation into the attack must now follow | Read more: https://t.co/fGNtER1S2I pic.twitter.com/Ui7hOg8p8z

— RTÉ News (@rtenews) December 15, 2022
"I've been to UNIFIL (United Nations Interim Force in Lebanon) three times, I think, in the last two years.
"I would have, of course, met a lot of these young men before they left... before they headed off on this mission - smart, bright, motivated, well-trained soldiers."
The minister is in New York at a UN Security Council meeting and said he will discuss the incident later with UN Secretary General Antonio Guterres.
Mr Coveney said the focus today is on supporting the families of those who are caught up in the attack.
He said it is "just shocking" for this to happen at this time of year, just before Christmas, and shocking to ever be "somebody who is serving their country overseas as a peacekeeper to be effectively attacked by a mob which seems to be what happened and to be shot and killed".
Mr Coveney said UNIFIL has been "a very safe mission" over the last two decades, and while there had been some tension in the area in recent times, "this was not expected".
He said it will be a security decision made on the ground regarding the movements of peacekeepers from southern Lebanon to Beirut.
He said 340 personnel are currently in UNIFIL and it is a mission that they know "very, very well" going back to 1978, adding that there have been over 30,000 tours of duty and more than half of serving personnel in the Defence Forces have been to Lebanon at some point in their careers.
Senator Tom Clonan said the road where the attack happened in Lebanon is a well-known route for peacekeepers.
"The population know the Irish, so this is really, very, very shocking. And it sounds like a completely unprovoked attack on innocent Irish peacekeepers trying to go about their business, trying to help the people of South Lebanon." the retired Army captain added.
In a statement this morning, UNIFIL said the incident occurred near the village of Al-Aqbiya, just outside its area of operations in south Lebanon.
It said that currently details are sparse and conflicting, and it is coordinating with the Lebanese Armed Forces and an investigation is under way to determine exactly what happened.
UNIFIL offered its "deepest condolences to the friends, family and colleagues of the peacekeeper who died. We are hopeful for a full and fast recovery for those injured.
"Our thoughts are also with the local civilians who may have been injured or frightened in the incident."
President Michael D Higgins said it was with the "deepest sorrow" that he was informed of the soldier's death, who he said, lost his life serving the people of Ireland, the UN and "all those wishing for peace in our shared world".