Polymer and metal samples developed in a lab at Dublin City University (DCU) will be launched to the moon tomorrow aboard a new lunar rover to study the way moon dust sticks to different surfaces.
The samples were produced in the School of Chemical Sciences and were affixed to the wheel of the Rashid Lunar Rover.
Moon dust is very sharp, dry, fine and difficult to reproduce on Earth.
It can interfere with electronics and can stick to everything from astronauts' boots to gloves, suits, cords and tools.
The aim of the mission is to study the adhesion of the dust onto different surfaces using a high-resolution camera to gain an understanding on how it can be reduced.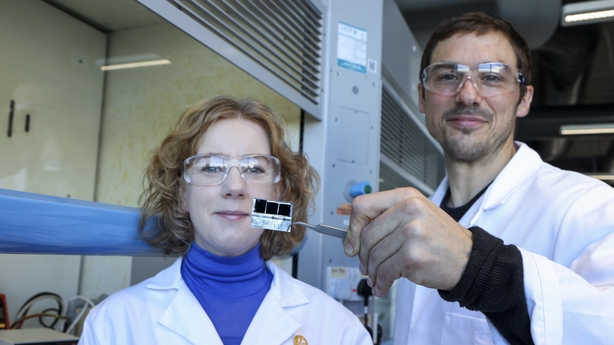 Eight sample surfaces, a combination of polymer and metal samples with micro and nano-scale patterns on their surface, as well as unpatterned control samples, were prepared for the lunar rover in the labs at DCU last year with the help of funding from both Science Foundation Ireland and the Irish Research Council.
The samples were set to launch to the moon aboard a SpaceX Falcon 9 rocket today from Cape Canaveral Space Force Station in Florida.
However, the launch has been delayed by 24 hours.
Standing down from launch of ispace's HAKUTO-R Mission 1 to allow for additional pre-flight checkouts; now targeting Thursday, December 1 at 3:37 a.m. ET for liftoff

— SpaceX (@SpaceX) November 30, 2022
"This project will help us to understand how we can solve the sticky problem of moon dust for future human or robot explorers on the moon," Dr Susan Kelleher said.
"Working with these types of materials teaches us even more about developing new surfaces that can kill bacteria, which will have applications here on Earth, for example, in healthcare settings and in the International Space Station too," she added.
Speaking on RTÉ's Morning Ireland, Dr Kelleher said they have been working with the United Arab Emirates Space Centre alongside the European Space Agency to produce these samples.
She said that moon dust "is a big problem on the on the moon, because it gets into electronics. This can get into gaskets and brake seals.
"It's very sharp and dry, and so it's actually named as one of NASA's top ten problems, if we're going to go to the moon, or use the moon as a launch pad for further space exploration."
Dr Kelleher said there are two types of materials going into space, "very smooth samples going up of a plastic and a metal, as well as surfaces that have patterns of microscopic bumps or trenches on them.
"We know that these types of surfaces can stop water from binding or from bacteria adhering to them, and so we're hoping these types of surfaces can also stop these very sticky and small particles of moon dust from building up on the surfaces as well."