Pope Francis has appointed the Bishop of Down and Connor Noel Treanor as Apostolic Nuncio to the European Union.
Bishop Treanor, who said he was honoured by the appointment, will continue to govern as Apostolic Administrator of the Diocese of Down and Connor, until he takes up appointment in Brussels in January.
An announcement will be made regarding the pastoral care and governance of the diocese on his departure, pending the appointment of a successor.
Expressing gratitude to the people of Down and Connor, he said it had been a privilege and a blessing to have been a bishop with them and for them.
"I have enjoyed the friendship of Church leaders, clergy and parishioners of other Christian churches and representatives of other world faiths. Their commitment to the ongoing work of encounter and dialogue has made such a significant contribution to the pathway of conflict resolution and peace in Northern Ireland."
He said his appointment as Apostolic Nuncio to the European Union has come at a time when the world and the EU, in particular, face great challenges.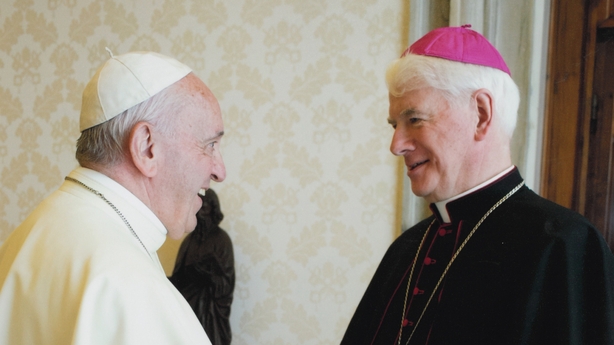 "In the midst of war, political and financial instability, conflict and societal change, diplomacy plays a key role in facilitating peace, understanding and goodwill among peoples and nations.
"I especially invite you to pray for and stand in solidarity with all those who work for peace and the resolution of conflict, protecting human rights and addressing issues of humanitarian need in Europe and throughout the world," he said.
Bishop Treanor was born on Christmas Day in 1950 in Monaghan town.
He grew up in the parish of Tyholland, where he attended Leitrim National School and Saint Brigid's National School before completing his early education at Saint Mary's Christian Brothers School, Monaghan.
He pursued his third level education at Saint Patrick's College, Maynooth and in Rome.
He was ordained a priest in 1976 for service in the diocese of Clogher in Saint Macartan's Cathedral, Monaghan.
There, he served as curate and hospital chaplain in Monaghan town and in Enniskillen, as Director of Adult Education and in 1986 as Coordinator the Diocesan Assembly of Clergy.
He was a member of the Council for European Affairs of the Irish Bishops' Conference.
In 2008, he was ordained a Bishop in Saint Peter's Cathedral, Belfast.
At the March 2018 plenary meeting of COMECE he was elected one of its Vice-Presidents and since October 2018 he has served as President of Justice and Peace Europe.