RTÉ Crime Correspondent Paul Reynolds was at the Special Criminal Court in Dublin this week where covert garda recordings were played of conversations between Gerard 'The Monk' Hutch and former Sinn Féin councillor Jonathan Dowdall.
Hutch has pleaded not guilty to the murder of David Bryne. Dowdall pleaded guilty to helping a gang commit the murder and is serving four years in prison.
The conversation
Gerard Hutch, the man known as The Monk, and the former Sinn Féin councillor Jonathan Dowdall had a lot to say about the murder of the Kinahan gangster David Byrne at the Regency Hotel on 5 February 2016, the murder which escalated the ongoing Hutch-Kinahan feud which has so far led to the murder of 18 people in Ireland and Spain.
Hutch himself has been a victim of the feud.
His brother Eddie, who was known as Neddy, and his nephew Gareth were both shot dead within months of Mr Byrne's murder.
Hutch spoke about both men during his trip to Northern Ireland on 7 March 2016 which the Special Criminal Court heard had been arranged to meet with dissident republicans in Strabane, Co Tyrone.
The Garda's National Surveillance Unit put a tracking device on Dowdall's SUV and listening devices inside.
The recordings begin with the song "Keeping Your Head Up" by the English singer Birdy which is playing on the radio before the two men launch into ten hours of conversation.
They cover a wide variety of issues including from celebrities to politics to organised crime; Sinn Féin, the IRA, dissident republicans, the Kinahan Organised Crime Group, the death of the Supreme Court Judge Adrian Hardiman, Adele and one of Hutch's favourite singers Imelda May, whom Dowdall described as "mad as a bleeding brush".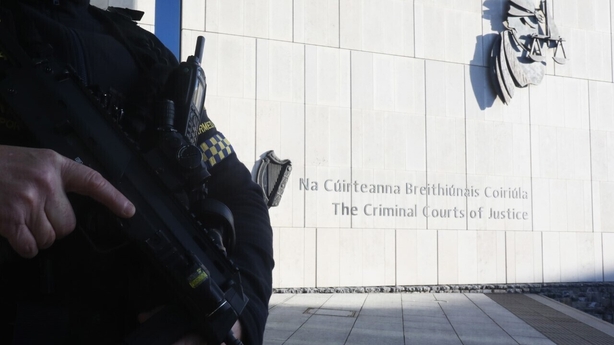 The meeting
Hutch, the court heard, wanted the "Contos", understood to be reference to the Continuity IRA, to meet senior figures in the Kinahan Organised Crime Group to mediate in the ongoing feud.
Hutch and Dowdall can be heard on the recordings speaking about a "peaceful process" when they had crossed the border into Northern Ireland and were approaching Lisburn town centre.
Hutch said he wanted to "see what these are willing to do".
"It's terrible to see Union Jacks flying in Ireland," Dowdall said.
We hear that Hutch and Dowdall meet three men in a lane.
Dowdall isn't very happy with the meeting afterwards.
It was too short and too public and he says he would have preferred to have had it in a hotel or apartment.
However a man with a Northern accent can be heard on the recordings after the meeting, assuring Hutch of the support and security of "the Northern command".
"There's no grey area," he says, "they're looking after you, they're looking after your family."
On the way home Hutch says he believes Daniel Kinahan will meet the dissidents.
"I'd say he'll meet them in London," Hutch says but he also appears to be concerned that the dissidents might end up doing a deal with the Kinahans too.
"You wouldn't know with them, ya know they could be playin' both sides of the coin," he says.
"No, they're not gonna do that Gerard," Dowdall says, "they're gonna put this to bed on both sides."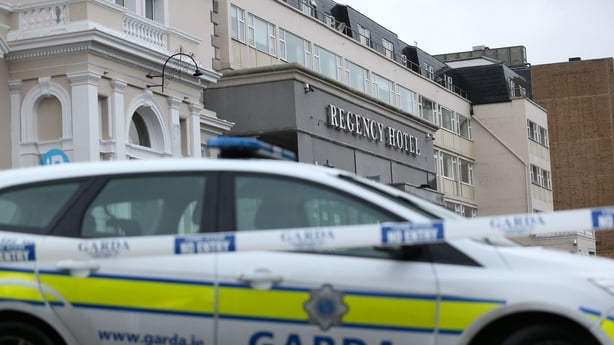 The guns and a bomb
There is also talk between the two men in the car which the prosecution says refers to the three assault rifles or "yokes" used in the Regency murder.
Hutch wanted to give them to the dissident republicans as a present.
He is heard telling Dowdall that "these three yokes….we're throwin' them up to them either way….. throw them up there to them as a present".
He also said he had pushed someone to quote "get them outta the village".
Buckingham Village in Dublin's north inner city is where the prosecution claims the hit team met up on the morning of the murder David Byrne.
Hutch was also concerned about the "yokes" being traced because he says "twelve months' time, there's two RUC men dead there and them things are ballistically traced".
"The best move you did was," Dowdall says to Hutch, "I know it's a small thing, I don't know if you thought of it Gerard at the time.
"I certainly didn't, but the best thing that happened was the particular yokes that was used. That in itself made some f***in' statement."
"Ah massive statement", Hutch replied "anyone with cop on would know immediately that cops don't use them."
Hutch is correct, the gardaí don't use AK47 assault rifles.
Dowdall was also recorded talking about the components for a bomb including a detonator.
He can be heard saying: "you can get a det", "the electrical pulse that goes into that makes a chemical reaction and that's what sets it off" and "the det that goes into the plastic, so ya still need my mechanism".
"Just a ball of ….putty", Hutch says, "where you get that coil?" and "what about the rubber stuff?"
Dowdall says: "It would attack part of the car's surface, it would take the whole bottom of the car out of it".
He also said it could blow up a restaurant.
The murder investigation and the million dollar man
The two men also speak about the criminal investigation into the murder of David Byrne and don't express much confidence in the gardaí.
Hutch said he didn't think the gardaí knew who was involved and dismissed reports in the paper as "speculation".
Dowdall says that the newspapers don't have a "f***in' clue about the Regency".
"I don't think the police know what is being portrayed in the paper but they're saying we know who the six people are," he says.
"They don't know," Hutch replies.
"Sure the f***in six people don't even know. No one f***n knows.
"The people that were there themselves don't f****in' know," apart from, "the man and woman".
Photos from the day show a man dressed as a woman and the late dissident republican Kevin Murray from Strabane both carrying guns.
"The cops are going around like headless chickens," Hutch also said, "loads of f****-ups have after been made."
"Both men laugh after Hutch calls himself 'the million dollar man'"
They move on to the effect that the attack on the boxing weigh-in at the Regency Hotel had on Daniel Kinahan, the gunmen's target that day.
"Daniel looks in a f****ing heap in the photographs I've seen of him in the paper," Hutch says.
"Gerard let's be honest. You're used to pressure from the cops", Dowdall replies.
"I'd be like that if some c*** came in with an AK47 and I got out by the skin of my f***ing teeth," Hutch says.
"If he wasn't in an awful way, I'd say he's totally disturbed."
Dowdall tells Hutch to be careful because they believed Daniel Kinahan was coming home.
Kinahan lived in Spain at the time, but came home a few weeks earlier for the funeral of Kinahan gangster David Byrne.
"I think the best thing that happened was that Byrne funeral, that took it completely away," Dowdall says.
"Well it makes them f***in showing them what they really are, ya know," Hutch replies.
They talked about the reported bounty that had been put on Hutch's head as a result of the feud.
"I don't know? A million quid? Is that what they said is on ya now?", Dowdall asks Hutch.
"Yeah that's what was said in the paper," Hutch replies.
And then he laughs and both men laugh after Hutch calls himself "the million dollar man".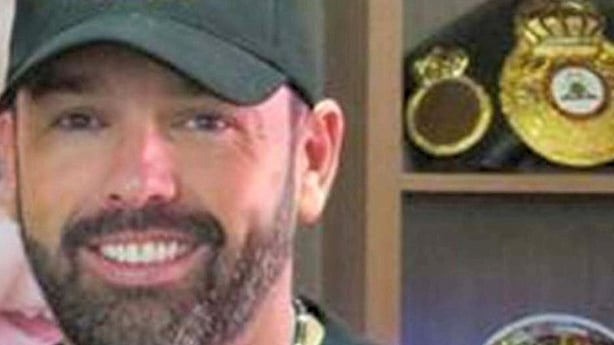 'The biggest gang in Europe'
On the way back to Dublin after the meeting with the dissident republicans, Hutch says he wants to meet the Kinahans to arrange a ceasefire.
"It'll suit Kinahan," he says, "Get a meeting. Sit down. We'll have peace. I'd want them standing at it.
"We'll have to. It's the best option or go to war."
The IRA had been asked to mediate but Hutch said he wasn't going to approach the Kinahans because he didn't want to show "a weak hand" and he couldn't get involved with them because with the Kinahan's he said, "the messenger gets it."
"There's too many of them" Dowdall said, "them Kinahans are a big f***ing army."
"I'd like it put to bed and I'd like to be able to go out and get these assassins," Hutch says referring to the gunmen.
"I don't want anyone else getting injured, just stay a-f***ing-live in the meantime."
While both Hutch and Dowdall agreed that neither Daniel Kinahan nor Liam Byrne as gang leaders could be harmed, Hutch said that those who had carried out the shootings would remain targets.
"The c***t who done Neddy have to f**king go," Hutch said referring to his brother Eddie who was shot dead at his home in Dublin three days after the Regency murder.
Dowdall asks Hutch about the growth of the Kinahan Organised Crime Group.
"How did they get so strong or so big when they were two brothers and a father and the two brothers weren't f***in' criminals as the rest of the young fellas that came up?"
"They used the rest of the young fellas," Hutch replies. "Daniel was a wide enough twist and do this and do that and everyone was full of promises and stuff like that ya know, and they made a few quid but they start makin' big money about two years ago."
"It seems to me that they're just blinded by greed and they're willing to overlook everything for the money," Dowdall says.
"It's a bit of power as well, not just the money, it's just the bleedin' power as well," Hutch replies.
"They want to be the biggest gang in Europe, the Columbians and all - and everyone come to them".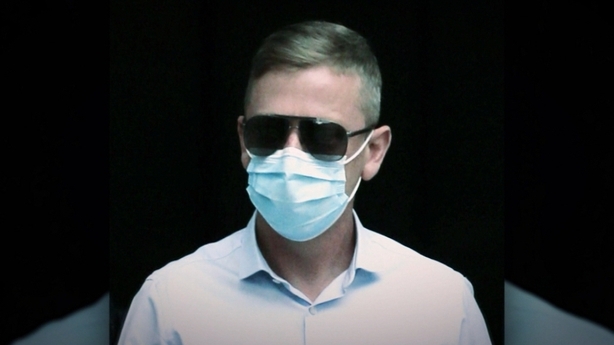 Sinn Féin, Politics and the IRA
Dowdall and Hutch talk about politics, Sinn Féin, the IRA, dissident republicans, the late Real IRA leader Alan Ryan and his brother Vincent who was shot dead in the feud.
Dowdall talked about how Sinn Féin would be "stupid" not to go into coalition.
"They can't sit back and throw their toys out of the pram," he says.
Hutch agrees. "You have to go with what's in the best interests of the country, not what's in the interest of your party," he says.
"It's easy for Sinn Féin to sit back like Labour and say that's wrong," Dowdall says.
Dowdall also says that the TD Eoin O Broin is "very good" and refers to his partner who's a member of Seanad Éireann, only he doesn't use the word partner; "his bird is yur wan Lynn Boylan".
Dowdall said that O Broin seemed to be able to act more independently than any of the other Sinn Féin representatives and that "he was the one that made a stand".
Dowdall, who was elected to Dublin City Council in May 2014, but resigned in February 2015 also talked about an incident where he says he was called in by a man in Sinn Féin who was accompanied by another man who had been convicted of offences in the North.
Dowdall said that man was quiet while the other man asked questions.
Dowdall said that he was asked about a situation that had developed and that the Sinn Féin man told him that they had to be concerned in case things about Dowdall and the incident appeared in the media.
Dowdall also criticised his local TD and party leader Mary Lou McDonald for not attending Eddie (Neddy) Hutch's funeral, Gerard Hutch's murdered brother.
"She didn't attend the innocent man's funeral," he said.
"She was on the telly the night Neddy got shot and she branded everyone as scumbags. She said they're all scumbags."
"But ya's were good enough to use Gerard for votes, ya's were good enough to use for money."
Dowdall also said on the secret Garda recordings played in court that Mary Lou McDonald should have stated it was untrue that "Gerard Hutch, so called Monk, is involved in drugs".
"They try to keep away from dodgy subjects at a dodgy time," Hutch replied referencing Thomas 'Slab' Murphy as a case in point.
"They were in enough sh*t with the f***in' Special Criminal Court and Slab Murphy", he said.
Thomas 'Slab' Murphy was convicted of tax evasion and jailed by the Special Criminal Court.
Hutch also said the convicted Garda killer and IRA man Pearse McAuley was a friend of his and that he and Pearse "go back a bit".
McAuley was part of the gang that shot dead Detective Garda Jerry McCabe in 1996 and was released from jail earlier this year after serving a sentence for stabbing his ex-wife, the Sinn Féin TD Pauline Tully, thirteen times.
"Pearse said all along if you ever needed," Dowdall said to Hutch, "Pearse would ring them and all if you want Gerard."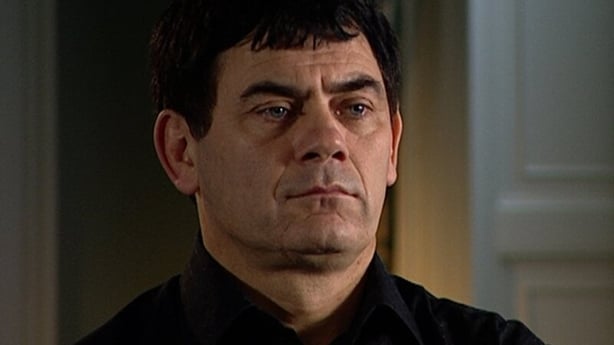 Bugging
There is an irony in that as the Hutch and Dowdall's conversation was being listened to by the gardaí, they talked about bugs, whether or not Hutch's home could be bugged and if Hutch has any kind of device to check for bugs.
"Have you got one of those bug yokes?," Dowdall asks Hutch.
"I haven't got one," Hutch replies.
"Would you have a use for one?," Dowdall asks, "Would you not be weary (wary) of them putting them in?"
They talk about the possibility of the gardaí having bugged Hutch's home.
"What way do you think they'd have it if they have the house bugged?," Hutch asks, "Would it be a battery for a watch or something?"
"One way you'd do it Gerard," Dowdall tells him, "you wouldn't need somebody that really knows what they're doing, is turn off all the power in your house at the fuse board...... so they'd have to go off magnetism or something."
"If I had a yoke to check bugs," Hutch says, "you'd want a man to come with it. I'd say they have a lot of places bugged."
Legal argument
The playing in court of the recordings from the bug in Dowdall's SUV has now concluded but there remains a doubt this weekend over whether or not the conversations of the two men can be used by the prosecution.
The court was told that 420 hours of conversations were recorded but over the three days the three judges only listened to ten hours from 7 March 2016.
Hutch's Defence Counsel is challenging the admissibility of the recordings that have been played in court.
Senior Counsel Brendan Grehan submitted that the authorisation for the bug was unlawfully issued, the use of the bug was illegal, the material gathered from it is inadmissible and Gerard Hutch's constitutional right to privacy was breached.
He also said the recordings made in Northern Ireland cannot be used in the trial.
"The use of the bug outside the State is not permitted by the act," he said, "no judge would countenance it and the fruits of the poison tree doctrine does not permit that to happen."
The application is being opposed by the State.
Gerard Hutch, 59, who lives at the Paddocks in Clontarf in Dublin denies a charge of murdering the Kinahan gangster David Byrne.
The three judges will ultimately decide whether or not what he and Dowdall said on that car journey to the North and back can be used as evidence in the trial.