Founding member of the 221+ group Lorraine Walsh has said some women are finding it difficult to access medical care if they are members of the advocacy group.
Speaking on RTÉ's Morning Ireland, she said a number of women revealed that when trying to secure another consultant.
Ms Walsh said when a member of the group called an office, she was asked if she is a member of 221+ and then was told, unfortunately, that there is no space for new patients.
Another woman was told her consultant will no longer see her now.
She said: "It is troubling because these women do need continued care, and any of the women that are recovered, they're still going to need some follow-up care depending on their situation and so it's troubling for them that they don't know where to turn to now for that support."
She said that when the women found out about what happened in the CervicalCheck controversy and that information was withheld from them, there was a lot of very difficult conversations with clinicians and at the time a lot of relationships did break down because of that.
Ms Walsh said: "So, it was one of the reasons why the tribunal included a restoration of trust process, which unfortunately has never come to anything because the problem being that the attitudes within the HSE and within CervicalCheck really have not changed.
"While a lot of things have changed on paper, attitudes haven't changed. So, that is really disappointing and cultural change is so difficult, it's not something that can be changed overnight."
The Taoiseach has said that a denial of healthcare to any person would be "contrary to medical ethics" and would be a "very, very serious issue".
Micheál Martin said the 221+ group had achieved a lot in terms of "progressive reform of the CervicalCheck screening programme".
"It goes to the very heart of the conduct of medicine and would be a shocking situation if that is indeed the case", he added.
President of the Medical Council Dr Suzanne Crowe has said she would be "very worried" if women are being denied treatment by a consultant on the basis of their membership of the 221+ group.
Speaking to RTÉ's Drivetime, Dr Crowe said: "The Medical Council would be very troubled by any report that would reflect a practice like that, because all patients, no matter what their background, should be respected.
"They must be respected by medical practitioners."
She said the Medical Council is not currently investigating the matter as it has not received an official complaint.
When asked if the Medical Council could take this action without waiting for a complaint, Dr Crowe said: "Yes, I think we could. It's not something that we generally do.
"We would normally wait for a complaint to come in against an individual practitioner, because under our statutory basis we investigate complaints against individual named practitioners, not against particular institutions."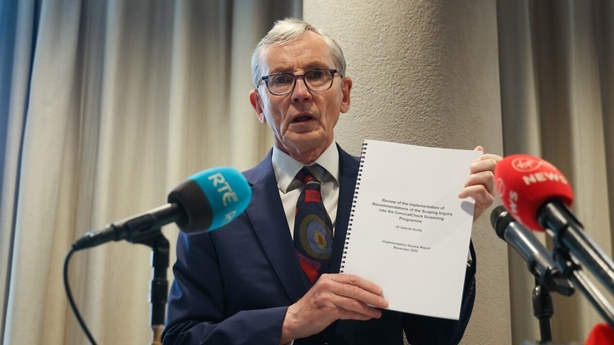 Yesterday, the final Scally review of the implementation of his inquiry recommendations found that substantial progress has been made on the 50 recommendations.
At the publication of his 39-page report in Dublin, Dr Gabriel Scally said there are areas that remain where improvement has lagged behind what might reasonably be expected.
Dr Scally said there was a need for a duty of candour on health professionals, there was an absence of a complaints system and an overreliance on the judicial system as a means of solving problems arising in clinical care.
Ms Walsh said that she has always trusted Dr Scally.
"I still trust in what he says. He says that he had sent his team to the lab in the US and that they're very happy with the quality assurance process that's in place," she added.
"The lab that's been used is accredited, which obviously other labs they have been using before weren't accredited and weren't being quality assured. So, they are great steps forward and to acknowledge that huge work and huge progress has been made over the last four years.
"And we do have a much better CervicalCheck programme now, but there's still work there to be done in in relation to change," she said.
Another founding member of the 221+ group said he has not heard anything from the Minister for Health since the publication of Dr Scally's final report yesterday.
Speaking on RTÉ's Today with Claire Byrne, Stephen Teap said the minister's office should give direction to the HSE.
I don't see any changes happening to the patient safety bill by the end of this year, he said, but a number of amendments are needed to make the bill fit for purpose.
Mr Teap said the CervicalCheck programme has improved as a result of Dr Scally's recommendations and added that he hoped the improvements in screening and the introduction of HPV testing will save more women's lives.
However, he said many women, including his wife Irene who died from cervical cancer in 2017, were failed by the programme.
Mr Teap also added that he is aware of some very poor treatment that members of the 221+ group have received.
We need your consent to load this rte-player contentWe use rte-player to manage extra content that can set cookies on your device and collect data about your activity. Please review their details and accept them to load the content.Manage Preferences
A solicitor specialising in medical negligence said that telling people the truth is what has led to the improvements in CervicalCheck over the last four years.
Cian O'Carroll said that while interval cancers can be occasions of negligence "in most cases they're not, and so there is a system in place whereby you look at the degree of the mistake, the degree of the error, and you determine then if there was a wrong done to the patient."
Speaking on the same programme, he said the Health Service Executive feels that if women are told the truth about outcomes in their care and mistakes that have been made in their historic care, "that presumably they will take some form of legal action and that this will be a problem for the health service".
Mr O'Carroll added that "in part that's what the audit used to do that was cancelled within CervicalCheck when Vicky Phelan's case came to light."
He said if that audit "wasn't there in the past, even though the screening community says it presents a threat to it, if that audit hadn't been there, Vicky Phelan would never have known about the mistake in her case, there would never have been an investigation into CervicalCheck and we would never have had the improvements that have been made.
"So, which is the greater danger? The danger of secrecy and ignoring mistakes and problems within your system, or the danger of telling people the truth about what's happened? And I would certainly be in favour of telling people the truth, because that is in part what has led to the improvements in CervicalCheck over the last four years."
In a statement to RTÉ's News at One, the Medical Council said that it supports Prof Scally's call for systems that support good communications, compassion and open disclosure in our health services.
It said that trust must be at the absolute core of the relationship between the patient and doctor.
The Council said that all patients, no matter their background, must be respected and listened to by their doctors.
The statement added that there are extremely limited grounds for a doctor to refuse to treat a patient, membership in a patient advocacy organisation is not one.