The final Scally review of the implementation of his inquiry recommendations has found that substantial progress has been made on the 50 recommendations.
At the publication of his 39-page report in Dublin today, Dr Gabriel Scally said there are areas that remain where improvement has lagged behind what might reasonably be expected.
Dr Scally said there was a need for a duty of candour on health professionals, there was an absence of a complaints system and an over reliance on the judicial system as a means of solving problems arising in clinical care.
He welcomed the plan to have screening at the Coombe Hospital, but given the cyber attack on the hospital in December 2021 it was important to have a back-up laboratory screening system.
Dr Scally said that all screening was now being done at one accredited lab in New Jersey in the US.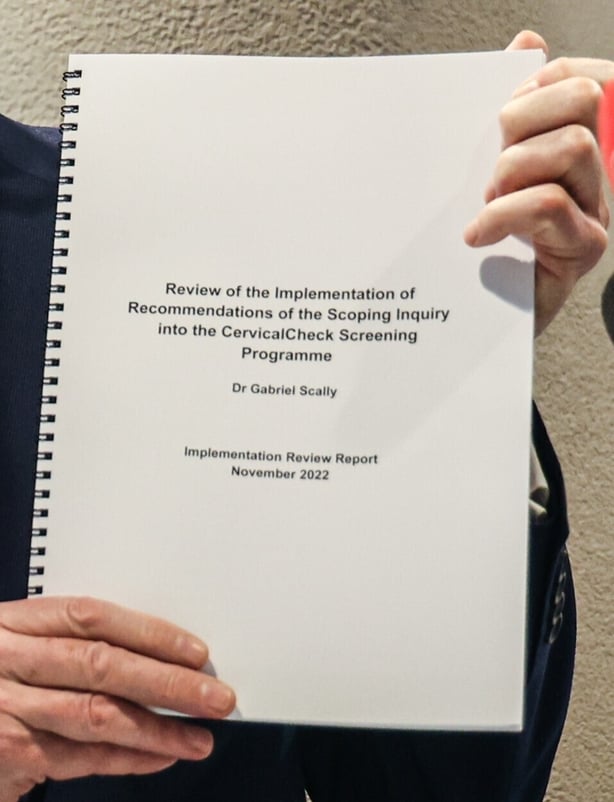 ---
The 50 recommendations of the Scally Review
There must be open disclosure, says Scally
---
Dr Scally said there must be open disclosure and there must be a responsibility for all health professionals to be open and honest when a mistake is made.
He said he is disappointed that it remains seen as a discretionary matter by the Irish Medical Board and that this must be tackled.
Dr Scally said failure of the system to provide a proper mechanism for dealing with patient complaints in an open and honest manner results in patients going to court.
He said patients who are wronged want to know the truth and to hear an apology from a person who was involved in their care.
Patients also want to know that mistakes made with their care will not be repeated, he said.
Dr Scally said he never expected his recommendations to be easy or quick to implement, but said he was very impressed that the creation of the national screening advisory committee got up and running so quickly and how open it is with the publication of its minutes etc.
Speaking to RTÉ's Drivetime, Dr Scally this evening, Dr Scally said he believes women can now have confidence in the cervical screening programme.
He said the Government and the Department of Health have done "a lot of work" to make women's health issues centre stage.
"Too many of the scandals in Irish healthcare have been around Irish health and it mustn't happen again, women's health must be given the serious attention it deserves," he said.
Meanwhile, Minister for Health Stephen Donnelly has welcomed Dr Scally's review.
In a statement, he said that Dr Scally's work was "noteworthy for his commitment to involving patients and for his determination in ensuring that their voices are heard".
The minister said: "I'd like to acknowledge Dr Scally's concerns around open disclosure. Honesty and transparency are vital in healthcare and should be embedded in the culture of the health service. Patients and carers have the right to know when mistakes are made, what the consequences are, or may be, and what action has been taken not only to correct mistakes but to prevent similar occurrences in the future."
In 2018, Dr Scally published his report into the CervicalCheck controversy and made 50 recommendations for change.
Last January, Mr Donnelly asked Dr Scally to conduct a final progress report of the implementation of his recommendations.
One of the key issues was his call for a statutory duty of candour on healthcare professionals and the organisations where they work.
He also said that a decision not to disclose should only be available in very limited and well-defined and explicit circumstances like capacity.
Dr Scally recommended that every proposal not to disclose must be subject to external scrutiny, with a minimum of two independent advocates.
'The best way of honouring Vicky is by implementing the recommendations of the scoping inquiry'

Dr Gabriel Scally paid tribute to Vicky Phelan at the publication of a review into changes made in the wake of the CervicalCheck controversy | Read more: https://t.co/maOupIeE02 pic.twitter.com/DNQsVQ3Bei

— RTÉ News (@rtenews) November 23, 2022
Following the recent death of Vicky Phelan, whose case broke open the controversy, Taoiseach Micheál Martin said he would like to see the Patient Safety Bill concluded by the end of the year.
It is due to introduce mandatory open disclosure.
The Health Service Executive has raised some concerns about the application of mandatory open disclosure to screening services.
It told the Minister for Health earlier this year that it could have negative consequences for screening services.
The HSE has said that it will be disclosing discordance but that it should not be put in law as a patient safety incident, as it is an adverse event that is unanticipated and unintended, as defined under the draft legislation.
The HSE is in favour of disclosing discordances, only not defined as major events, when discordances are anticipated and integral parts of all screening programmes.
The case was made that interval cancers occur and are a recognised part of screening programmes but that this does not necessarily mean there has been a mistake, or negligence by clinicians.
The 221+ patient support group has said that the Patient Safety Bill is not fit for purpose.
Lorraine Walsh said that under it, for an adverse event to take place, in 12 out of 13 events the patient would have to lose their life for a disclosure to take place.
In its response to the latest Scally Report, the group said they wanted to see screening return in Ireland with a properly resourced laboratory.