The Polish foreign ministry has said that an explosion that killed two people near the Ukraine border was caused by a Russian-made missile that landed in the area at 3.40pm local time.
Poland has decided to increase surveillance of its airspace, Prime Minister Mateusz Morawiecki said, as he confirmed that Poland was studying the possibility of requesting consultations under Article 4 of the NATO military alliance treaty.
The Polish government is raising the readiness of military units after two people were killed in an explosion in eastern Poland, near the border with Ukraine, government spokesman Piotr Muller said earlier.
He was speaking after an emergency meeting of the Polish government, which was called in the wake of the blast in the village of Przewodow.
Mr Muller also said the government is verifying if they need to activate NATO Article 4, which allows for consultation between members "whenever, in the opinion of any of them, the territorial integrity, political independence or security of any of the parties is threatened".
NATO ambassadors are to meet tomorrow at the request of Poland to consult on Article 4, according to two European diplomats.
NATO General Secretary Jens Stoltenberg has said that the organisation is monitoring the situation and allies are closely consulting.
He added that it is "important all facts established" after he spoke to Polish President Andrzej Duda about the explosion.
Mr Duda also spoke to US President Joe Biden and other NATO leaders in the wake of the incident.
Hungary's Prime Minister Viktor Orban convened a defence council meeting after the reports, while Latvian Prime Minister Krisjanis Karins has called an emergency meeting for tomorrow morning.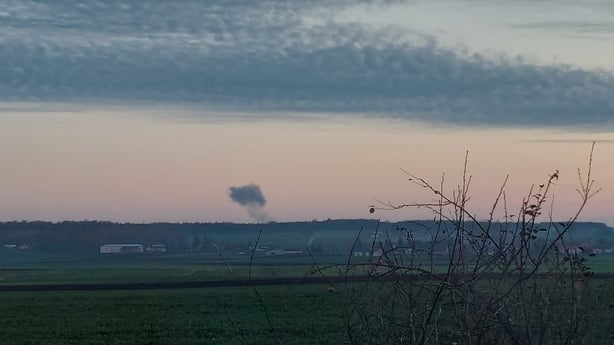 Russia was pounding cities across Ukraine with missiles today, in attacks the Ukrainian government said were the heaviest wave of missile strikes in nearly nine months of war.
In the past debris from Russian strikes has fallen in Moldova, which also borders Ukraine.
A strike on Polish territory would mark a significant escalation in the Ukraine conflict.
Article 5 of NATO's founding treaty requires member states to come to each other's aid in case of an attack on one.
Russia's defence ministry has denied reports that Russian missiles hit Polish territory, describing them as a "deliberate provocation".
It added in a statement: "No strikes on targets near the Ukrainian-Polish state border were made by Russian means of destruction."
Wreckage reportedly found at the scene "has nothing to do with Russian weapons", it said.
The Pentagon has said that it could not confirm reports that Russian missiles have crossed into Poland near the Ukraine border. Two people died in an explosion in a village in eastern Poland, according to firefighters there | https://t.co/NjqssNB7zx pic.twitter.com/qKC37BrWvP


— RTÉ News (@rtenews) November 15, 2022
The Pentagon said it could not confirm the early reports that Russian missiles had strayed into Poland, adding that it was "looking into" the incident.
The White House also said it cannot confirm reports and is working with the Polish government to gather more information, while the US State Department said the reports are "incredibly concerning".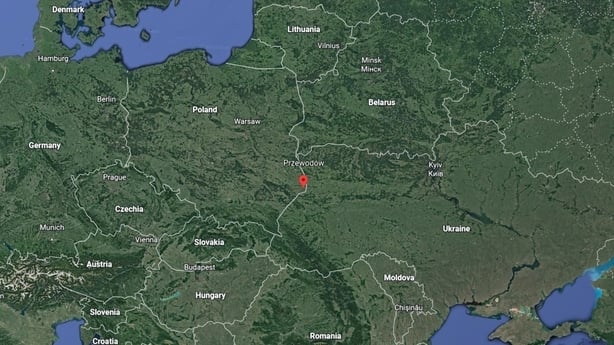 Ukrainian President Volodymyr Zelensky said Russian missiles had struck Poland.
He said Ukraine has long warned that Russian actions were not limited to Ukraine and he added that Ukraine will always support Poland.
Shocked by the news of a missile or other ammunition having killed people on Polish territory.
My condolences to the families.

We stand with Poland.

I am in contact with Polish authorities, members of the European Council and other allies.@AndrzejDuda @MorawieckiM

— Charles Michel (@CharlesMichel) November 15, 2022
Charles Michel, the president of the European Council, has said he is in contact with Polish authorities and that the European Union stands with Poland.
He said he would propose a coordination meeting tomorrow between EU leaders attending the G20 summit in Indonesia.
The President of Lithuania, a NATO member, said this evening that "every inch of NATO territory" must be defended.
"Concerning news from Poland tonight on at least two explosions. Keeping a close contact with our Polish friends. Lithuania stands in strong solidarity with Poland. Every inch of NATO territory must be defended!" President Gitanas Nauseda tweeted.
Latvian Deputy Prime Minister Artis Pabriks claimed the missiles that landed in Poland were fired by the Russian regime.
Officials from Germany, The Netherlands, Belgium, Norway, Slovakia and Estonia - also members of the NATO defence alliance - said they were trying to find out more information.
"This is a very serious incident but much remains unclear," Norwegian Foreign Minister Anniken Huitfeldt said, according to Norwegian news agency NTB.
"Firefighters are on the spot, it's not clear what has happened," said Lukasz Kucy, an officer on duty at a nearby firefighters' post.