Russia has launched strikes on cities and energy facilities across Ukraine today, killing at least one person and causing widespread power outages in what Kyiv said was the heaviest wave of missile strikes in nearly nine months of war.
Missiles rained down on cities including the capital Kyiv, Lviv and Rivne in the west, Kharkiv in the northeast, Kryvyi Rih and Poltava in the centre, Odesa and Mikolaiv in the south and Zhytomyr in the north.
A body was pulled out of a residential building that was hit and set ablaze in central Kyiv, and a senior presidential official said the power situation was "critical" after heavy damage to energy infrastructure.
Ukrainian President Volodymyr Zelensky said that Russian strikes triggered automatic shutdowns at two nuclear power plants.
"As a result of the strikes, several nuclear reactors at two plants were automatically disabled. These consequences were calculated, and the enemy knew exactly what it was doing," Mr Zelensky said in an address to the nation.
Mr Zelensky also said that power was restored to eight million Ukraine consumers after blackouts across the country following the latest wave of Russian strikes.
"About 10 million Ukrainians were disconnected after the terrorist attack. Supply to eight million consumers has already been restored. Power engineers and repairmen will work all night," Mr Zelensky wrote on Twitter.
Presidential officials said earlier that more than seven million households had been left without electricity after the attacks that targeted Ukraine's power grid.
The presidency later reported that more and more regions and cities were back online following successful completion of repair work.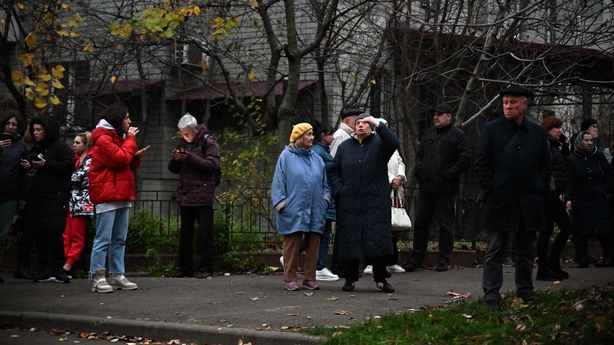 "This is the most massive shelling of the power system since the beginning of the war," Energy Minister German Galushchenko said.
Air force spokesperson Yuiy Ihnat said more than 100 missiles had been fired at Ukraine, surpassing the 84 fired by Russia on 10 October in what were previously the heaviest air strikes.
The country's biggest mobile phone provider warned of possible signal outages, and the transport system suffered disruptions in several areas.
---
---
In the capital, a five-storey apartment block was left smouldering after being hit by what residents said appeared to be shot-down missile parts. Rescue workers and medics were quickly on the scene.
"I was in the apartment during the air raid warning. I saw a bright light in my window, and understood that something was coming. Then I heard the sound, as it was nearing," said Oleksandra, 22, who lives in the apartment block.
"I saw from my window as the rocket was flying, a bright fire, and the sound of something flying very close by. I immediately went outside… I saw people were running out of our building and that there was smoke.
"The last flat I lived in was also hit," she added. "Thankfully I was abroad at the time."
The attacks followed days after a humiliating retreat by Russian forces from the southern city of Kherson and coincided with a summit of the Group of 20 nations in Bali that was dominated by discussion of the war in Ukraine.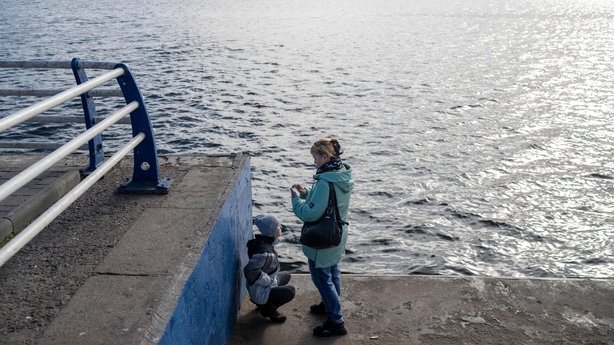 "This is what Russia has to say on the issue of peace talks," Foreign Minister Dmytro Kuleba wrote on Twitter. "Stop proposing Ukraine to accept Russian ultimatums! This terror can only be stopped with the strength of our weapons & principles."
The White House said Russia's missile strikes on Ukraine, some of which hit residential buildings in Kyiv, will increase the concerns among the G20 countries over the impact around the world of the war.
"Russia again threatens those lives and destroys Ukraine's critical infrastructure. These Russian strikes will serve to only deepen the concerns among the G20 about the destabilising impact of Putin's war," said White House National Security Adviser Jake Sullivan.
The war was a central focus of the G20 summit, where Western leaders denounced Moscow. Russia is a member and Ukraine is not, but Russian President Vladimir Putin stayed home.
Speaking to the summit, President Zelensky described a peace proposal in which Russia would withdraw all its forces, free all prisoners and reaffirm Ukraine's territorial integrity, all longstanding demands.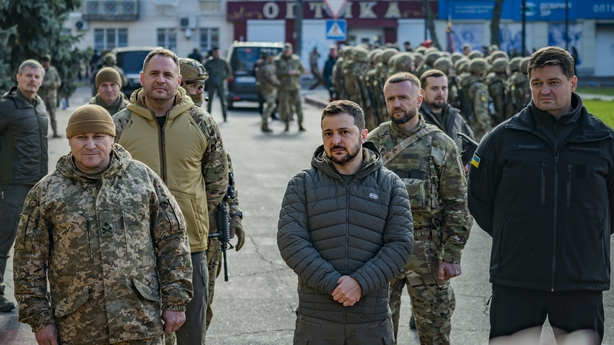 He proposed indefinitely extending a programme to safeguard Ukrainian grain exports to help feed poor countries, expanding it to the port of Mykolaiv, newly beyond reach of Russian guns after the Kherson advance.
Western countries pushed for a summit declaration that would condemn the war, despite Russia's opposition and a lack of unanimity.
Diplomats circulated a 16-page draft that said: "Most members strongly condemned the war in Ukraine and stressed it is causing immense human suffering and exacerbating existing fragilities in the global economy."
Foreign Minister Sergei Lavrov, Russia's delegation head in Mr Putin's absence, accused the West of trying to politicise the declaration.