Concerns have been raised about ongoing cancellations of spina bifida and scoliosis surgeries.
According to a consultant, scheduled care at Temple Street children's hospital, except for urgent surgeries, has been cancelled over the past two weeks.
Paediatric orthopaedic surgeon Connor Greene said "children are suffering" because they cannot continue to provide care on the Temple Street hospital site.
He said the clinical team at the hospital are doing an excellent job but they are struggling and have to "firefight" for sick children.
Mr Greene said the longer a child with scoliosis and spina bifida waits for surgery the more complex it becomes and he said families of children with these conditions who are waiting for operations need "honesty".
He said: "My job is to look after children and not to fight for resources, so as well as being frustrating it's a distraction.
We need your consent to load this rte-player contentWe use rte-player to manage extra content that can set cookies on your device and collect data about your activity. Please review their details and accept them to load the content.Manage Preferences
"I should be in an operating room or in a clinic or doing research, that's my job.
"But it is impossible to look at children waiting at home for surgery. It is impossible not to see the disappointment and the tears and the loss of income that all of this is causing to families."
He said there has been a surge in respiratory illnesses among children at the hospital.
However, he said there still would have been problems continuing elective surgeries because medical staff do not have the resources to provide the care at the hospital.
Eight-year-old Brianna Phelan from Kilkenny has been waiting over three years for spina bifida surgery and her procedure was cancelled at Temple Street hospital for a second time in September.
Brianna has now been forced to wear a halo traction to keep her spine straight as she waits for surgery.
Her mother Triona said: "It's hard to live like this, she is sitting in this chair for 12 hours a day sitting just in this chair.
"Then if I need to take her out I have to ring someone to help me take her back out of it so it's hard, it's hard."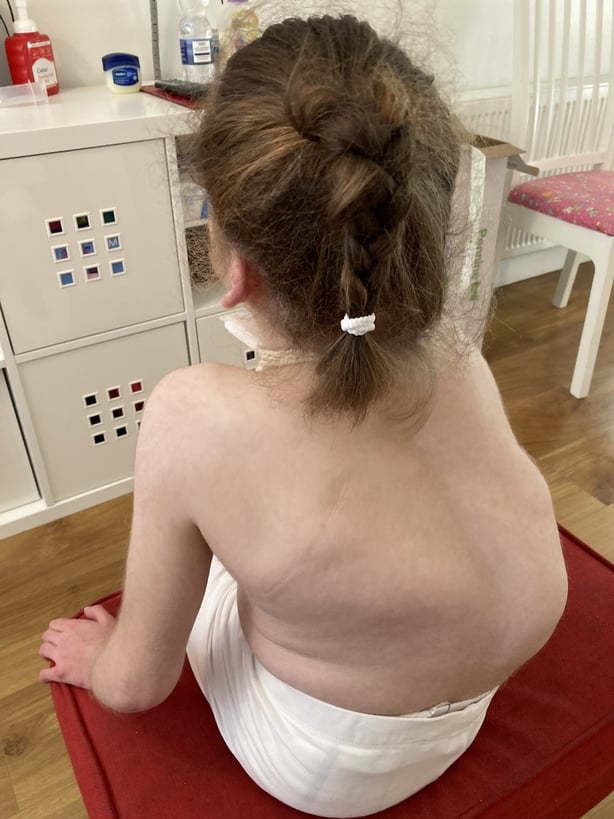 Miley McKee, 12, from Greystones in Co Wicklow has been waiting for scoliosis surgery since August 2020.
It was cancelled at Children's Health Ireland (CHI) Crumlin in the past few weeks due to a lack of post-op nursing care.
Her spine now has a 100-degree curve and her mother Anne said she is in constant pain.
"We are running pain relief around the clock and it effects her every way, she rubs her legs all the time, it wakes her during the night and she needs her operation done," Anne said.
"On the 13th of October we got the news that they cannot nurse Miley post operatively and that is because she has a tracheotomy."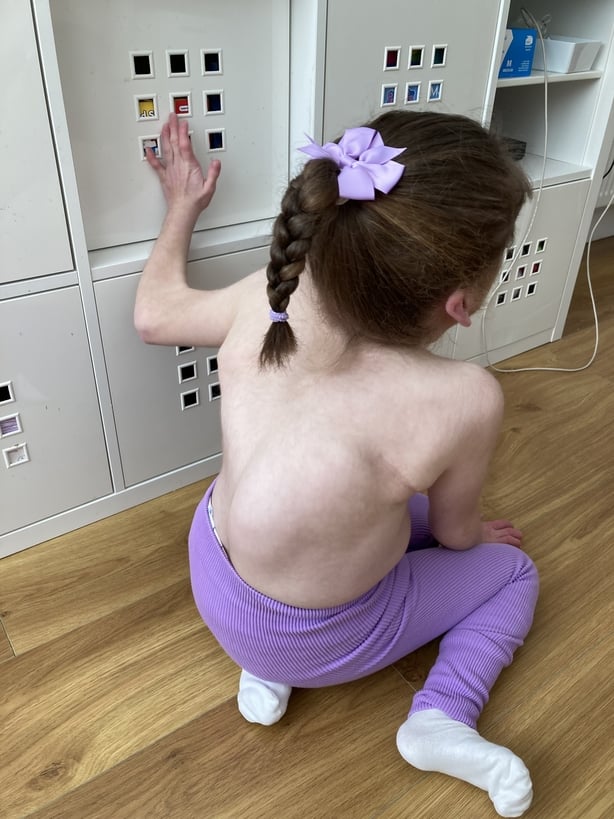 Mr Greene said €1.4m was allocated to the National Orthopaedic Hospital Cappagh out of the €19m announced in February by Minister for Health Stephen Donnelly.
He said that 61 spina bifida surgeries have been carried out at this hospital since.
However, he said this has not happened at CHI Temple Street because the resources were never increased.
He said Temple Street is in control in terms of the acute care and the children who are sick and coming to hospital will be looked after.
"The crisis is on the scheduled care site because we have to look after sick children but again another winter has come and we have no plan to continue elective care," Mr Greene added.
"So for the next number of months elective care will suffer."
Concerns have been raised about ongoing cancellations of spina bifida and scoliosis surgeries. According to a consultant, scheduled care at Temple Street children's hospital, except for urgent surgeries, has been cancelled in the past two weeks | Read more https://t.co/6y4GRbBlWm pic.twitter.com/eYk4EtZTyw

— RTÉ News (@rtenews) November 11, 2022
Amanda Coughlan-Santry, co-lead of the Spina Bifida and Hydrocephalus Paediatric Advocacy group said that "it is disgraceful that any clinician has to make a decision on how to best treat a child based on lack or resources rather than what is clinically best indicated for their patient".
"Our continued support remains with our suffering children, their courageous families and the dedicated staff who are working in abhorrent conditions," Ms Coughlan-Santry said.
"We will continue to push for better for all and we urge government to demand accountability for these children's care."
'Very frustrated'
Mr Greene said he is very frustrated and is not sure where the problem is when it comes to resources.
He said: "Minister Donnelly is extremely supportive so I don't know where the problem is.
"And yet the resources that everyone wants to give to Cappagh and Temple Street aren't being put in there."
Responding, Minister Donnelly said there has been a "vast amount of work" between Temple Street, Crumlin and Cappagh hospitals and they are hitting their targets in Cappagh.
The minister said: "I had a meeting with the clinicians in Cappagh and in CHI recently and what we are seeing is a significant increase in the numbers of surgeries and in the numbers of procedures."
However, he said that they are not seeing as many children as they want to yet as there has been a big surge in respiratory syncytial virus (RSV), which has made children sick.
Minister Donnelly said this had reduced capacity in CHI to do as many planned procedures that it wants to do.
He said the hope had been by the end of the year there would be no children waiting for more than four months for scoliosis and spina bifida surgery.
However, he said CHI said that due to reasons, including an unexpected high level of additional referrals, it will be a few more months until they get to that figure of no children waiting more than four months.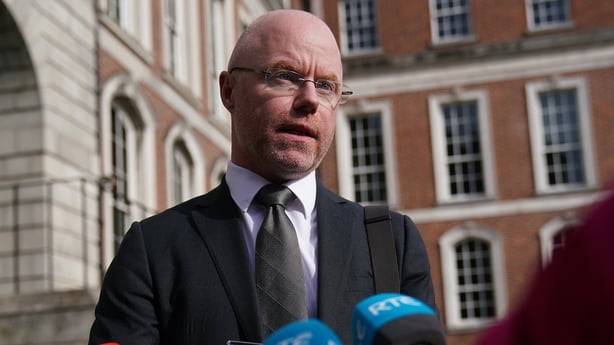 The minister said that €19m was announced in February and that money he said was for various projects in different hospitals including Cappagh.
Minister Donnelly said that in the Budget for next year this has turned into "permanent funding" for paediatric orthopaedics.
He said that money was allocated partly for a fifth operation theatre in Temple Street, which will come at the beginning of next year.
The minister said a new magnetic resonance imaging (MRI) and a significant expansion in beds would also come on stream next year.
"All of the meetings I'm having with CHI and with Cappagh are showing that the money is being spent and critically what that means more and more children are getting the services that they need which is ultimately all that matters," Minister Donnelly said.
Elective and routine inpatient admissions reduced
In a statement, Children's Health Ireland said "due to pressure on our hospital capacity, planned elective and routine inpatient admissions have been reduced" and it said this will continue over winter.
CHI apologised to patients and their families whose children have had or may have to have their procedures postponed at short notice.
It said they are making every effort to ensure patients are looked after and will reschedule these admissions as soon as possible.
CHI said that orthopaedic services, including scoliosis surgery, have been adversely affected by the recent surge in emergency admissions.
It said an increase in referrals, or new additions to the waiting list of 30% this year means that the impact of increased activity is not visible when looking at total patients waiting.
It said all operating theatres in CHI are open, however they are not being fully utilised due to the lack of beds available as a result of the recent surge in emergency activity.
Latest figures obtained by Sinn Féin show the number of children waiting for scoliosis surgery at the end of September this year was 238.
The number of children with spina bifida waiting for surgery at the end of September was 75.
Sinn Féin's health spokesperson David Cullinane said that the cancellation of surgeries is "inexcusable".
Speaking to RTÉ's Six One News, he said: "There is no excuse and I would say to the Minister for Health, stop making excuses and deliver.
"If I was the Minister for Health, I would not stand over those promises made and not being met."
He described the situation as "heartbreaking".
"We've been talking about this issue for eight years, and it is heartbreaking for the families.
"I don't believe it's beyond us to have a healthcare system where children with scoliosis and spina bifida get access to primary care," he added.