The closure of hundreds of Early Childcare Providers is "unwarranted", Minister for Children, Equality, Disability, Integration and Youth Roderic O'Gorman has said.
Around 500 ECCE providers closed today in protest at a lack of funding. Crowds of ECCE providers protested outside the Dáil this morning.
They believe that a new funding system introduced two months ago means that facilities which only offer the ECCE programme are losing out.
The ECCE programme is two years' worth of Government-funded pre-school education available to all children.
ECCE and childcare providers are threatening to start rolling closures in the coming weeks to protest the Government's funding of the sector.
The Federation of Early Childhood Providers said 500 of its members will close ECCE childcare services today, as a result of funding and policy issues inadequately addressed in Budget 2023.
We need your consent to load this rte-player contentWe use rte-player to manage extra content that can set cookies on your device and collect data about your activity. Please review their details and accept them to load the content.Manage Preferences
Members of the FECP will also gather in towns across the country, and outside Leinster House to protest what they say are unviable conditions for their members to operate within the ECCE programme.
Speaking on RTÉ's Morning Ireland, Minister O'Gorman described the closures as "disappointing" after, he said, the Government prioritised the childcare sector, with further investment announced in Budget 2023.
He said the Government is spending €259 million in childcare core funding, and this year's core funding represents a €13 million increase to the ECCE only services.
Minister O'Gorman called on the members of the Federation of Early Childhood Providers (FECP) to withdraw the threat of the second day of closures later this month.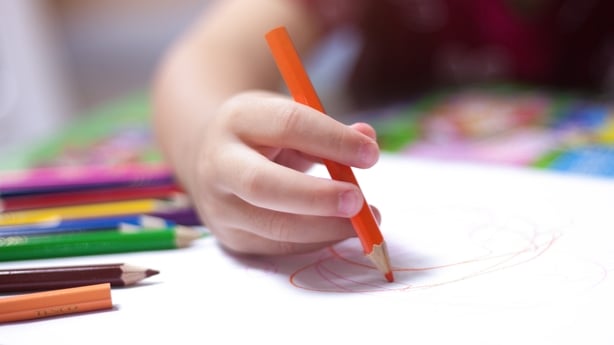 In September, the Government launched a new funding model for childcare operators, which included a new €221 million Core Funding scheme, in addition to the ECCE programme and the National Childcare Scheme.
However, the federation said the new core funding model for the sector has seen smaller providers lose Higher Capitation and support payments.
They say this loss of funds, coupled with the rising energy costs and rent pressures, leaves many ECCE services seriously considering closing their doors.
Smaller independent providers, especially those catering specifically for the State-subsidised ECCE scheme are most disadvantaged, according to FECP Chairperson Elaine Dunne.
Affected parents have been notified of closures locally and protests will be taking place in several towns and cities across the country.
Chairperson of the FECP Elaine Dunne said over 80 providers have had to shut their doors this year, and more will have to close if there is no change to the amount of Government funding offered.
Speaking on the same programme, Ms Dunne said 62 closed in 2021, 77 in 2020 and 77 in 2019.
She said the sector has always been underfunded and they cannot "sit back now and allow these services to be closed down permanently".
"Last year our rural future document committed Government to supporting services in rural Ireland, including childcare," she said.
"But that's not happening. They're closing them down."
A 'demeaning' model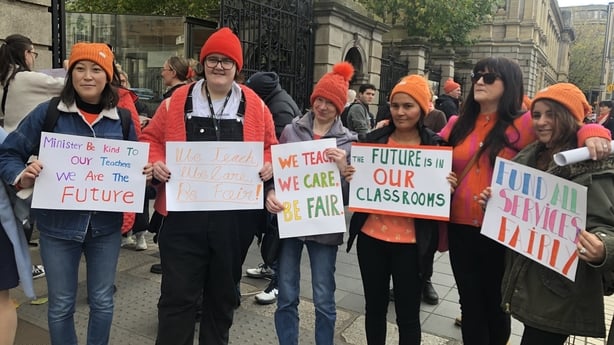 Lindsay McCCabe described her future as a childcare provider as "pretty bleak".
She runs Bright Sparks Montessori in Malahide, Co Dublin and says that her accountant has advised her to consider changing careers.
"I've been open 13 years, and he said this is the most dire situation we've been in to date," Ms McCabe said.
She added that she has lost thousands of euro this year due to the change in the funding model.
She said her service is "graduate-led" by staff who studied for four years.
However, she described the current funding model as "demeaning".
Caroline Borden travelled all the way from Inishowen in Donegal to attend the protest today.
Working in childcare for 20 years, Ms Borden said that providers are no overburdened by paperwork and rules.
She said that Government "make it sound really good that they're giving millions and millions into it, but that's not being given to providers, it's going to parents".
She said that an extra €7 would help providers.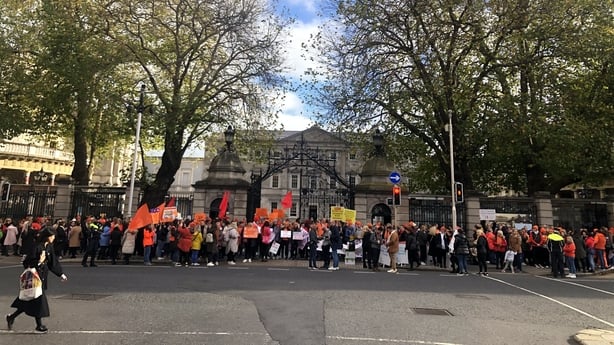 Geraldine Delahunt has run Wigwams childcare in The Curragh, Co Kildare for the last 20 years.
She has 42 children in her service, including seven with additional needs, and says she had to hire extra staff to meet the needs of the children.
She provides ECCE and other services.
"Extra money from core funding hasn't given me any impact at all. I had to take on extra staff," she said.
Ms Delahunt said the €69 capitation fee has not changed in more than seven years, and that there is now a "huge shortfall", especially for ECCE services.
"I have nine staff, I'm only getting paid by the Government for six of them. I work at night in social care, and another job, in order to fund my childcare service," she said.
Fiona Tracey Bowe of Cherry Blossom Montessori in Castleknock also attended the protest.
Her service provides ECCE for 44 children.
"We're struggling, it's really hard. We signed up for core funding but it's not enough," she said.
"I haven't taken a wage in our last two payrolls to make sure our teachers are looked after. It's really hard."
Additional reporting: Laura Hogan