Dublin Fire Brigade has urged people to avoid Halloween bonfires tonight where possible, and has said its hopeful that with stockpiled material already removed and bad weather due, there will be fewer fires than normal.
By 9.20pm, the fire brigade responded to 270 call outs, saying roughly 156 of them have been Halloween-related. No major incidents have been reported.
Firefighters have already attended numerous fires overnight and over the bank holiday weekend, and have dealt with stockpiled bonfire material that has been set alight.
The service has warned that stockpiled bonfire material set alight can spread quickly, and has urged people to note that local authorities can collect such material for free if they see any in their area.
Ahead of this evening's festivities, gardaí seized a large quantity of fireworks following a search of a house in the Dublin 22 area.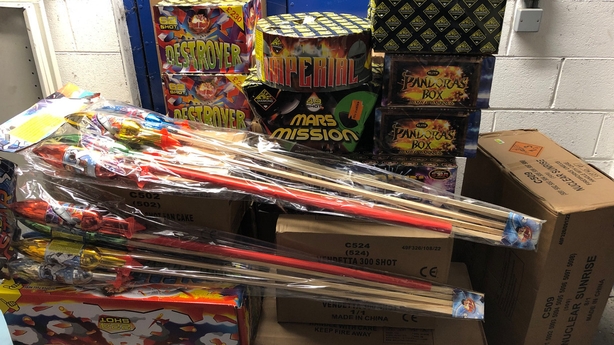 In addition, more than €8,000 in cash was also seized.
Speaking on RTÉ's News At One, Assistant Chief Fire Officer Greg O'Dwyer said the service has been removing stockpiled material for the last number of weeks.
"Members of the public and business owners have been very good by contacting the numbers on websites, and they're still going around yesterday and today removing stockpiles," he said.
He added: "We would hope some of them will be off altogether and a lot of them will be a lot smaller as a result of the stockpiled material being taken away."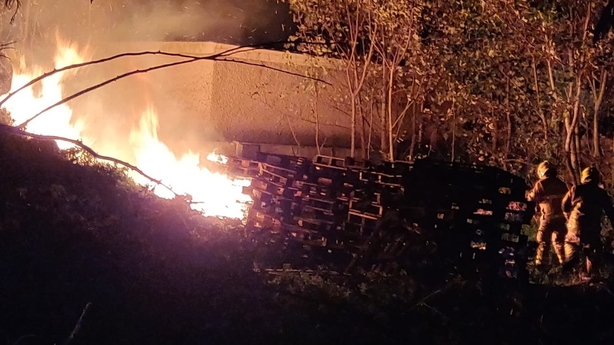 Mr O'Dwyer also urged business owners not to use Halloween as an excuse to offload any unwanted material, which could be used in bonfires.
1800 hrs and first call of the night for B Watch as they start their night duty.

Our firefighters are Mums and Dad's too. We want everyone to have a fun and safe #Halloween.#SafeAtSamhain pic.twitter.com/a7sB4rfuzr

— Dublin Fire Boogade 👻🎃 (@DubFireBrigade) October 31, 2022
Lissadel Road in Drimnagh is temporarily blocked as firefighters extinguish a bonfire in the middle of the road. We hope to be clear soon. @DCCTraffic pic.twitter.com/yLd3i9EkyT

— Dublin Fire Boogade 👻🎃 (@DubFireBrigade) October 31, 2022
"Unfortunately, some people use Halloween as an opportunity to leave material such as excess pallets outside their premises so kids can come along and take them for bonfires," he said.
He added: "So we're asking them not to do that, to lock up everything, take everything in from the yard and work with local authorities, so this material doesn't get used for inappropriate behaviour."
Garda O'Brien and Gibney from the special Events Office in Fitzgibbon Street seizing bonfire material as part of Operation Tombola earlier today #KeepingPeopleSafe pic.twitter.com/hrPSfo5kaW

— Garda Info (@gardainfo) October 31, 2022
Mr O'Dwyer said while the service has had to put out a number of fires already, they have thankfully not had to deal with anything "major".
He advised that should people find themselves at a bonfire this evening, they should stand well back, and not throw any items onto it.
"Don't throw anything onto the fire. Some people throw aerosols or fireworks onto the fire and these can be projected from the fire itself very violently and cause life-changing injuries," he said.
He added: "We'd also advise that given a lot of young people will be dressed up in Halloween costumes, make sure that these are CE approved, that are fire-safe.
"Some of these cheaper costumes are very flammable, so if you go anywhere near a fire at all they can melt or catch fire."
Cork City Fire Service is also appealing to the public to exercise caution this Halloween.
Bonfires traditionally are not a problem in Cork at this time of the year, but the fire service is concerned about illegal fireworks which could cause serious injuries "as their quality is unknown and they could have short fuses which can cause harm."
Speaking this evening, Assistant Chief Fire Officer David Spillett issued an appeal for caution adding that they have seen "some horrible injuries from fireworks and illegal bonfires over the years".
Halloween family events being held across Dublin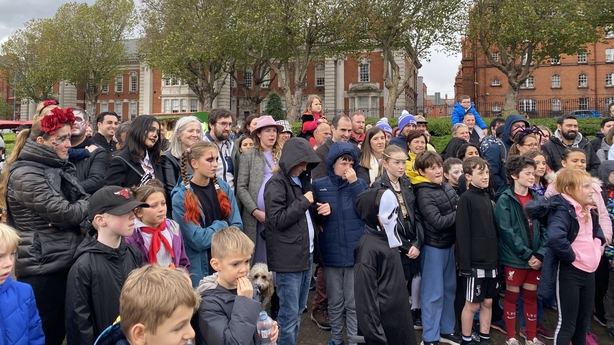 Dublin City Council has held more than 60 family friendly events across the capital for this year's Halloween.
The council has worked closely with community groups to keep children and young people entertained in safe and secure spaces.
St Patrick's Park, near Bull Alley in the heart of the Liberties, was the venue for the Bram Stoker Festival with a "spooktacular" programme of events.
Ghoulish creatures and zombies crawled out of their crypts to celebrate a bigger, scarier Halloween than has been seen in recent years.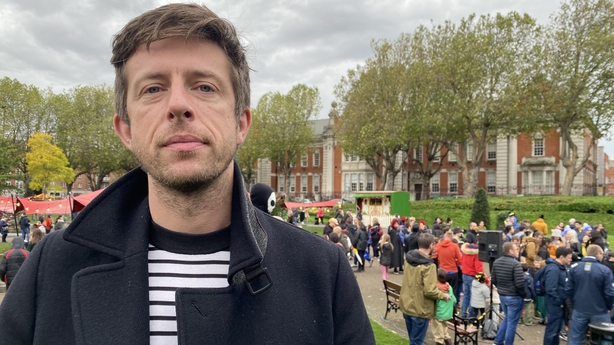 They have missed the annual ritual due to the Covid-19 pandemic and are embracing the festive fun with free pop-up performances, face painting, fancy dress competitions carousels and carnival stalls.
"These events have been organised in collaboration with Dublin City Council and are back with a bang," said Tom Lawlor is Co-Director of the Bram Stoker Festival.
"Everybody has missed the Halloween festival activities so much and it's great to see families out enjoying these fun and safe family events."
Additional reporting: Teresa Mannion and Jennie O'Sullivan