The Environmental Protection Agency has said just 51% of Ireland's sewage is being treated to EU standards to protect the environment.
The European average for compliance on sewage treatment is 90%.
The agency has warned that poorly treated sewage is harming the quality of the country's rivers, lakes and coastal waters and Ireland is failing to meet EU directives on wastewater treatment.
The European Union's Water Framework Directive requires Ireland to protect and enhance its waters to reach a ''good status'' and prevent any deterioration to the existing status of water quality.
The agency has pinpointed a list of 91 priority areas for Irish Water to make improvements but said 38 locations should be prioritised to prevent wastewater discharges from harming rivers, lakes, estuaries and coastal waters.
In its annual report on Urban wastewater treatment for 2021, the EPA said 32 towns and villages are still discharging raw sewage into the environment every day.
Avoca, Co Wicklow, Newport, Co Mayo, Kilkee, Co Clare and Ballycotton, Co Cork are among the 32 towns mentioned in the report.
The agency acknowledged that works to eliminate raw sewage flowing into seas and rivers in those towns have started or are due to start by 2024.
It also said that recent investments made by Irish Water have improved water quality.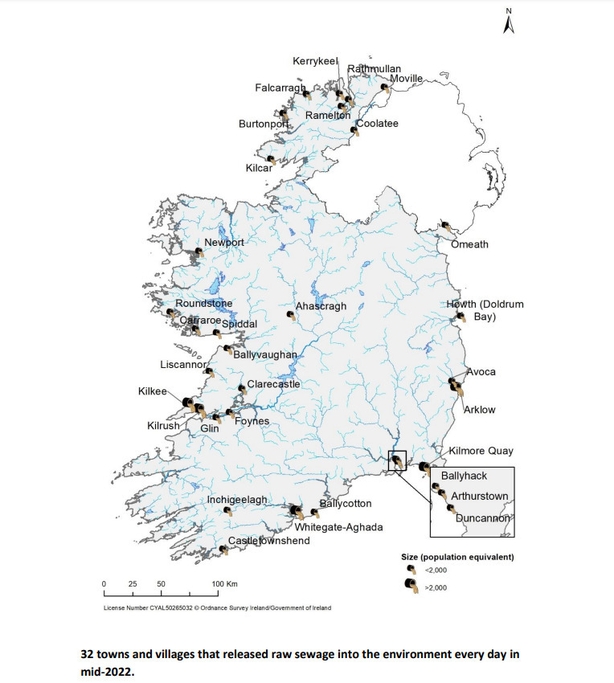 EPA Director Dr Tom Ryan said: "This report shows that targeting investment at the priority areas identified by the EPA is delivering improvements in water quality, and the elimination of raw sewage discharges from Cobh and Castletownbere in Cork are good examples of progress.''
Officials say the equivalent of two Olympic size swimming pools of raw sewage every day has now been eliminated in Cork Harbour due to recent improvements in water waste infrastructure.
However, the agency warned a major investment is needed over the next two decades to bring all treatment systems across the country up to the required standard to protect the environment and public health.
The EPA said Irish Water has no clear plan to improve treatment in one-third or 27 priority areas where wastewater discharges are impacting rivers, lakes and coastal waters.
In total there are 38 areas across Ireland where sewage is having an impact on the environment including Dunleer, Co Louth, Athenry, Co Galway and Portarlington, Co Laois.
Locations of concern identified in the report include Dunleer, Milford, Co Donegal, Cork City, Kilmihil, Co Clare and Athenry.
Some of these areas have no waste treatment plans or resources secured to build new facilities which officials have described as worrying.
EPA officials say it takes on average between five and seven years to get waste treatment projects built and it will take several years and a multi-billion euro investment to get all treatment systems up to standard.
The EPA also identified 12 large towns and cities not treating sewage to EU standards, including Clonakilty, Lahinch, and Malahide.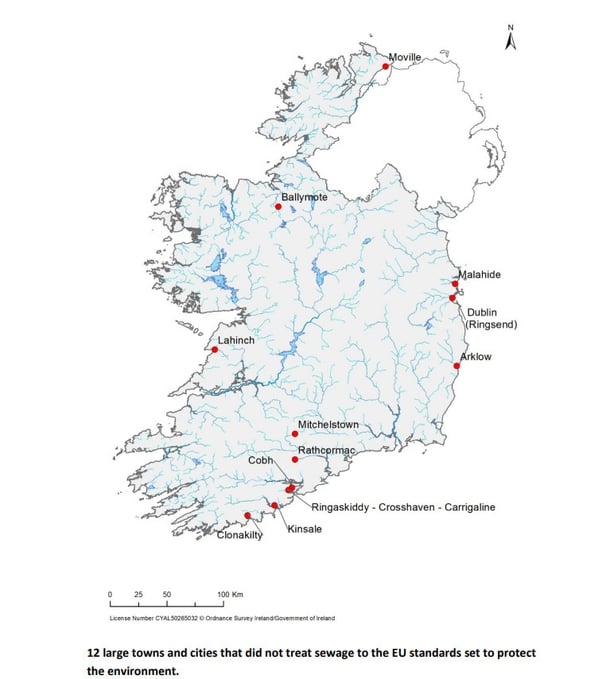 Almost half of the country's sewage is generated in these 12 areas.
The report said Ireland's largest treatment plant in Ringsend in Dublin is overloaded and is consistently failing to treat sewage to the required standards.
Irish Water said it has invested more than €500m in upgrading the Ringsend Wastewater Treatment Plant which will deliver the capacity to treat the wastewater for a population equivalent of 2.4 million people.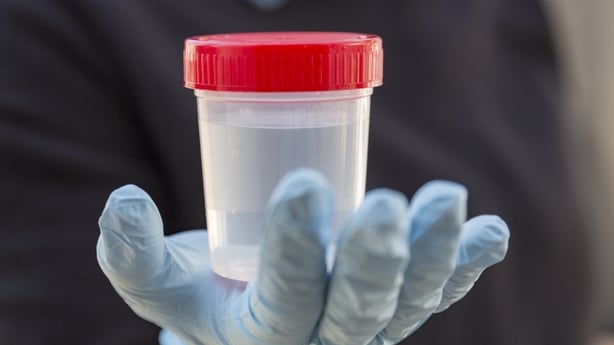 The utility's Wastewater Delivery Manager Michael Tinsley said the EPA report recognises the progress being made with sewage treatment and 14 more plants will be completed by 2025.
Speaking on RTÉ's Morning Ireland, he said detailed plans have been given to the EPA for two-thirds of the locations identified as priority and plans are being worked on for the other areas but have not yet been given to the EPA.
He said by next year the plant at Ringsend will be fully compliant with the urban wastewater treatment directive.
Mr Tinsley said the highest level of investment in wastewater was made by Irish Water in 2021 and that level of investment needs to continue "for at least a decade to address all these issues."
He said as soon as Irish Water has a credible plan with dates for other locations, it will be shared with the EPA and the public.
"One of the EPA's other criticisms of us is that dates we have given have changed and have been pushed out, and I suppose we've learned our lesson from that, and we want to make sure that we're confident of the dates and confident of our plans before we share them because I guess if we keep changing our dates we lose a level of credibility."
Delivering wastewater infrastructure is complicated around planning and licensing, Mr Tinsley said.
Mr Tinsley said: "[The problems] are a result of decades of underinvestment in our infrastructure. Irish Water was established in 2014, one of the priorities for us is to address the deficits in our wastewater and water infrastructure. We're doing that.
"This year alone, Irish Water is investing €1 billion across the different types of infrastructure and €367m of that is in wastewater.
"We can't fix all the problems overnight, but we can assure the EPA and we can assure your listeners that we are working through that on a sustained basis."
Public health
The EPA warned there are consequences to public health and the serious impact of pollution due to raw sewage flowing into rivers, lakes and seas.
Officials say it depletes the level of oxygen in rivers and affects aquatic life with knock-on effects for the fishing and tourism sectors. It also leads to a deterioration in water quality.
The EPA's Programme Manager Noel Byrne said: "Sixteen years after the final deadline to comply, half of Ireland's sewage is still not treated to the standards set to protect the environment.
"It is particularly concerning to see some towns such as Ballymote in Sligo failing in 2021, despite having the necessary treatment infrastructure and meeting the standards in 2020."
He added: "This highlights the need for improved vigilance and oversight by Irish Water to make sure treatment infrastructure is always operated at its optimum."
Speaking on RTÉ's Morning Ireland, Mr Byrne said the report shows that while there has been some improvement in sewage treatment due to investment, poorly treated sewage "continues to harm" the quality of Irish rivers, lakes and coastal waters.
"These issues then are creating risks for our environment and public health, which is really unacceptable," he said.
Mr Byrne said the Ringsend plant in Dublin accounts for 40% of the national wastewater load, and the EPA has highlighted the facility as a key national piece of infrastructure that needs to meet the standards.
"Once we get Ringsend to come into compliance here we see our standards moving from 51% up to 90%," he said.
"But in addition to Ringsend, there's a further 90 priority areas where the EPA has identified that sewage discharges are impacting on the quality of water and improvements are needed there.
"And for those areas, Irish Water has provided plans for two-thirds of those, which is really positive.
Mr Byrne said the EPA is calling for Irish Water to put in place plans in place for areas that have not met the standards and no solutions are yet in place.
There is "a lot of work to do" in this area, he said.
"It is going to take us a couple of decades to take Ireland Inc. to get to that point and Irish water has that job to do."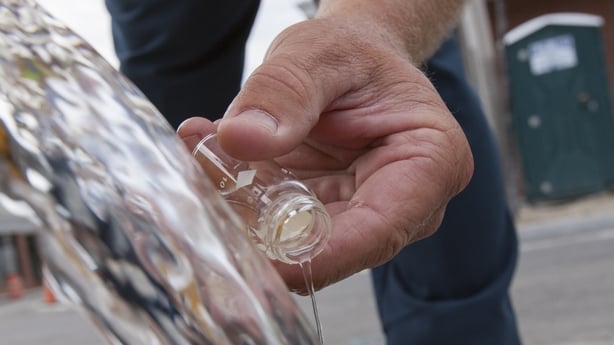 The EPA has urged Irish Water to devise plans and allocate resources to 27 priority locations for its next investment plan, which covers the period 2025-2029.
Irish Water said €367m has been invested in wastewater infrastructure in 2021, the highest ever in a single year.
Twenty-one towns have new wastewater plants and contracts have been signed to build new plants in 14 locations.
Irish Water's Infrastructure Delivery Director Brian Sheehan said: ''We have seen the impact of these improvements in areas such as Shannon, Co Clare and Cork City where we completed upgrades in 2021.
"Local residents and businesses are already seeing the benefits of this investment in cleaner waters, improved natural environment and increased opportunities for housing and economic development."
Irish Water also said that since 2014, 60% of raw sewage discharges by volume have been eliminated through targeted investment in new sewerage infrastructure.
The organisation said it is on target to eliminate nearly all of the remainder by 2025.
It said up to 93% of plants comply with the Urban Wastewater Treatment Directive, up from 81% in 2015.
'Top priority'
Minister of State for Heritage Malcolm Noonan has said the Government sees water quality as a "top priority to resolve".
Speaking to RTÉ's News at One, Mr Noonan said: "From our perspective, we want to ensure that Irish Water continues to be fully funded, not just into the next number of years, but decades and beyond.
"We have a lot of catch up to do. We're looking at historical underfunding of water service provision and wastewater treatment and I think we see this as our top priority to resolve."
He said that it is critical that plans to tackle the issue are brought forward.
"I think a lot of communities are frustrated and certainly from our perspective, from a Government perspective, Irish water is well funded by the government, €1.56 billion.
"I think there is a plan. I think the critical thing is that those plans were brought forward.
"For the 32 areas discharging raw sewage that were listed in the EPA report, work is either ongoing or to start in the next two years, so that gives some comfort to places like Ballycotton."
Social Democrats' Catherine Murphy has raised concerns about findings of an EPA report stating Ireland is not meeting EU wastewater directives. Green Party leader Eamon Ryan says responses are being prioritised | Read more: https://t.co/ceCOtLiM63 pic.twitter.com/KEuqKMQnmQ

— RTÉ News (@rtenews) October 20, 2022
'Very concerning'
Social Democrats co-leader Catherine Murphy has told the Dáil that the report is "very concerning."
She said the ongoing failures at the Ringsend wastewater treatment plant were leading to the destruction one of the capital's most treasured resources.
The North Kildare TD cited a report which suggested one-in-five people who went in the water in Dublin Bay got sick.
Ms Murphy said it was also deeply worrying that the EPA had identified 38 areas where work needs to be undertaken, but Irish Water does not have a "clear plan" for 27 of them.
She said another concerning feature was that places where work has been completed, like at Clonakilty in west Cork, were still failing to meet standards.
In reply, Environment Minister Eamon Ryan said Deputy Murphy was "right" to draw attention to a "critically important issue".
He said the Government recognised the problem and had allocated €1.6 billion next year to address key challenges.
He said he had visited Ringsend, work was being done and would be completed.
Minister Ryan said the problems of eight large urban wastewater systems had been before the European Court of Justice for failure to abide by EU Directives and they had to be targeted first.
He said two had already been resolved, four would be resolved between 2023 and 2025 and the remaining two would be sorted by the end of the decade.