A poet and songwriter has reflected on the viral success of her 'Love/Hate Letter to Dublin' saying it is "shameful" her words have resonated with so many young people in Ireland.
Alice Kiernan's poem about her frustration with the city she loves has amassed over half a million views on TikTok.
The poem contrasts everything Ms Kiernan loves about living in Dublin; from the people and the pubs to the sea and the general buzz around town, with the ways she feels she is being "squeezed out" financially with the cost-of-living crisis.
"Lately, I've felt that Dublin is squeezing me out, hungry for my money, my friends, my job and my house," the poem reads.
Comments have flooded in on TikTok from all over Ireland and beyond, with people saying they feel the same way.
"It's weird for me when people congratulate me on the TikTok doing well. I wrote it from a feeling I thought I was feeling on my own, a really isolating feeling, a really depressing feeling, and it's not the best thing in the world when so many people are relating to that feeling," she said.
"Even though it was nice to know I wasn't alone and that people were feeling the same way, I think it's shameful that so many people feel the way I feel about Ireland. So many people love it here and want to live here."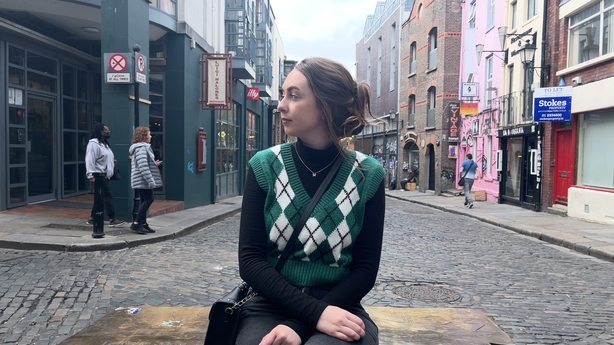 Ms Kiernan, 26, moved to Dublin five years ago from her family home in Co Meath and she says she expected money to be tight back then when she was new in her job. She did not, however, expect to be still feeling "that same pinch" now.
"To be working for five years and still feel the same struggle, that's really hard for me to accept and for a lot of people, we've been trying to make it work and we feel like we've not done enough and that it's our fault because we did something wrong... But when it's rent and electricity and gas prices going up, there's nothing you can do."
Financial anxiety is a huge issue for Ms Kiernan and her friends. "When I meet my friends it's all we talk about, I'm never in a group of people and we're not talking about this, whether it's someone getting their rent put up, or they're getting kicked out of their house, or in general with the costs of getting a second hand car and the price of petrol, it's a topic of conversation all the time.
"For a lot of us too we're not all fully working from home so there's still this anchor keeping you here, whether it's friends or a job, and for a lot of people, moving back home just isn't an option. It could be too far away or there's a family dynamic that makes moving home not an option for a lot of people."
Ahead of the Budget, Ms Kiernan said young people want to feel like they're being listened to. "With the statistics that 70% of young people are thinking about moving abroad, when the Government hears that, does that not scare them?
"A lot of young people are looking for a reason to stay or at least knowing they're getting heard. What are you doing to keep us here? Show us you care; show us you want us here."
Of her five years renting in Dublin, Ms Kiernan says the only time her rent wasn't increased was during the rent freeze of the pandemic. "It was so easy to bring in rent freezes in 2020, it boggles my mind that rent freezes haven't been brought in again. Rents are going to keep going up forever unless you freeze them. It's terrifying nothing is being done about that... Like cap everything, literally, it would make such a difference to people."