The passing of Queen Elizabeth II will perhaps be mourned most acutely by unionists in Northern Ireland.
They regarded themselves as her most loyal subjects and view the British monarchy as the glue that binds together a United Kingdom that appears to be increasingly under threat.
Queen Elizabeth's life spanned all but five of the years that Northern Ireland has existed and the vast majority of its people have lived under just one monarch.
When the queen made her historic visit to the Republic of Ireland in May 2011, every move was carefully planned for its symbolic value.
The four-day trip was designed to promote reconciliation and encourage healing.
For unionists and loyalists north of the border, the queen herself was a powerful and permanent symbol of the union of the United Kingdom to which they pledge allegiance; she was the embodiment of that union.
For many, her death will trigger anxiety and fear about the constitutional future of Northern Ireland, as well as a deep sense of loss.
Some will fear that the demise of the queen could also potentially signal the demise of the union over which she reigned for 70 years.
It comes at a time when the union is under threat from nationalists in Scotland as well as Ireland, with Sinn Féin and others escalating calls for a border poll.
Add to that mix the fact that the latest Census figures for Northern Ireland are expected to reveal a Catholic and nationalist majority for the first time.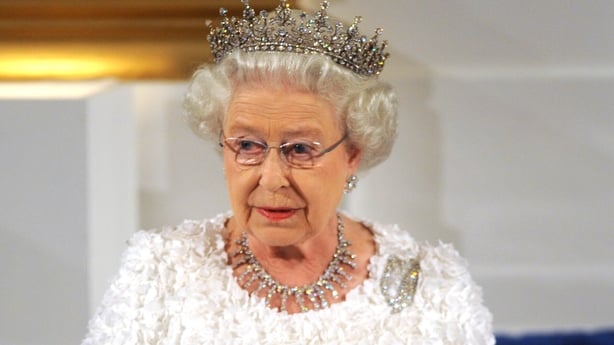 It was in April 1934 that the then prime minister of Northern Ireland, James Craig, described Stormont as "a Protestant parliament and a Protestant state".
But when published the Census figures are expected to confirm that is no longer the case and that, for the first time since it was founded 100 years ago, the majority of people living in Northern Ireland are not Protestant.
At a time when unionists feel under growing threat and in need of certainty and stability, the death of the queen is likely to fuel their fears.
She was a constant, a sort of comfort blanket, a symbol of enduring stability, but now that is gone.
Unionists and admirers south of the border will also mourn the loss of a British monarch who took political risks by reaching out in a way that most on the island thought unthinkable.
---
Read more: Shadow and Shelter: State visit of President Higgins to the UK
---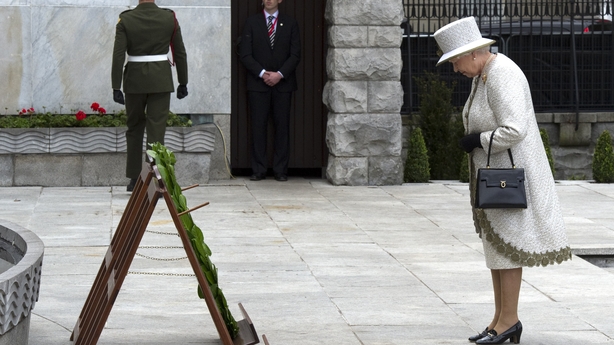 'A Uachtaráin agus a chairde'
It was Mary McAleese who hosted the then 85-year-old Queen Elizabeth during that historic first visit in May 2011.
On the very first afternoon, she laid a wreath at the monuments to those involved in the 1916 Rebellion.
Her solemn silent bow, which surprised many observers, was laden with symbolism.
Day two included time at the National War Memorial Gardens in Island Bridge, Dublin.
The queen and her husband, the late Prince Philip, also travelled to Croke Park, headquarters of the GAA, where 14 civilians were shot dead by Crown Forces in 1920 during the War of Independence.
Where powerful, silent symbolism characterised the early engagements, the greatest impact was Queen Elizabeth's choice of words at a State banquet in Dublin Castle - "A Úachtaráin agus a chairde..."
President Mary McAleese looked surprised and responded "wow" as the queen began a speech carefully crafted to reach out and encourage healing in a centuries-old rift.
"To all those who have suffered as a consequence of our troubled past, I extend my sincere thoughts and deep sympathy," the queen said.
"With the benefit of historical hindsight, we can all see things which we would wish had been done differently or not at all."
Those actions and words would have concerned many unionists and loyalists in Northern Ireland, but there was no public outcry, but a quiet acceptance: the queen's longevity and popularity insulated her from the kind of criticism that senior British politicians may have faced in similar circumstances.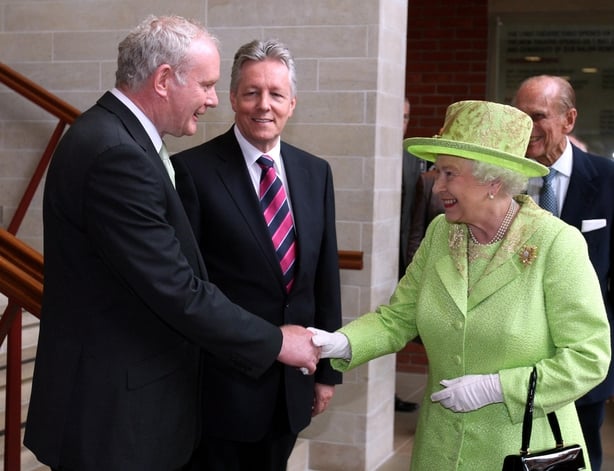 Powerful symbolism was also on display the following year when during a visit to Belfast in June 2012, the queen shook hands with Martin McGuinness, Stormont's Deputy First Minister and former senior commander within the IRA, the organisation that killed her cousin Lord Mountbatten and three others in Co Sligo in 1979.
That outreach between Buckingham Palace and the republican movement continued in April 2014 when the queen hosted a state banquet at Windsor Castle, with President Michael D Higgins the guest of honour.
Others on the guest list included Mr McGuinness, who had declined an invitation to the State banquet in Dublin three years earlier.
Those encounters angered many unionists, as well as republicans, but again, any criticism was mooted.
However, there was often a cynicism within political unionism about visits by the queen and other members of the royal family as they often preceded what they viewed as compromises to nationalism.
"There was a view that the royals were used to calm people down, to prepare the way for something unpalatable, and there was often a nervousness when a visit took place because the question was, what's coming tomorrow?," recalls one senior unionist political observer.
Now, the queen's successor will face many challenges.
One of them will be trying to comfort, reassure and assuage the fears of Northern Ireland's unionists and loyalists at a time of such constitutional uncertainty.