The Taoiseach said he accepts Minister Stephen Donnelly's explanation for failing to register a property with the Residential Tenancies Board.
Mr Donnelly said today that he should have renewed the tenancy on his property with the RTB.
"I missed it. It was my fault, it was a mistake," he acknowledged this morning.
The minister said he had thought everything was in order, but checked it after the controversy over the property interests of former Minister of State Robert Troy.
Mr Donnelly said he paid a fine of €100 when he updated the tenancy with the RTB recently.
Speaking to the media in Dublin, he insisted that to the best of his knowledge all the facts about the issue have now emerged.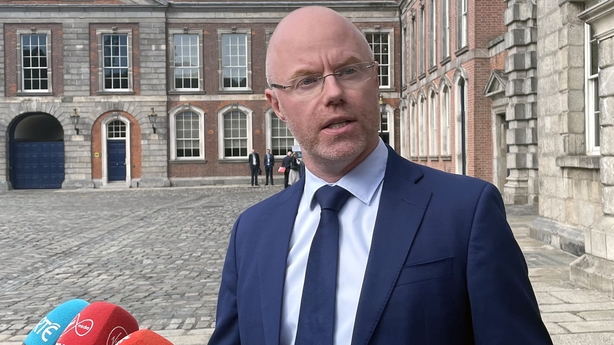 Taoiseach Micheál Martin said Mr Donnelly had explained "this oversight".
"It should have been registered with the RTB but it had been registered in a previous time," Mr Martin said.
"It is a long tenancy and it has been declared so it seems to me on the face of it to be a genuine oversight and I accept the minister's explanation for that."
The Health Minister's rental property had also been unregistered with the RTB for a period in 2015.
Tonight a spokesperson for Minister Stephen Donnelly said: "This is a matter of public record.
"It was reported in the national media (Sunday Times) at the time that there was a delay with the Sandyford property. That delay was three months."
Mr Martin said other political parties have had similar oversights.
"Last week, we had a Sinn Féin TD, for example, who hadn't a particular property registered either," he added.
Mr Martin said that can happen and perspective is needed to assess and judge situations such as this.
He said if people are contributing to Dáil Éireann and they have a particular interest they should declare that interest.
The Taoiseach said Mr Donnelly's property had been declared publicly and "that is the important point".
"It shouldn't have happened. The responsibility is mine." Minister for Health @DonnellyStephen said he should have renewed the tenancy on his property with the Residential Tenancies Board | Read more: https://t.co/LfwbBekEVk pic.twitter.com/XniBpDu21P

— RTÉ News (@rtenews) September 1, 2022
When queried about Minister Donnelly advocating for preferential treatment for specific property owners, he said he was not aware of the context of the Dáil debate and he said there can be genuine motivations when people bring forward proposals and amendments to legislation.
"I haven't seen that debate and I want to see the context of it before I comment further," he said.
Mr Martin also said he thinks Mr Donnelly "will be satisfied to make a statement in the Dáil".
Meanwhile, Sinn Fein's spokesperson for housing urged the minister to promptly clarify whether he has any other "skeletons in the closet".
Eoin Ó Broin warned that a failure to do so could see the minister meet the same fate as Mr Troy, who resigned last week.
Describing himself as an "accidental landlord", Mr Donnelly today defended his previous calls in the Dáil for "accidental landlords" to pay less tax on their rental income.
He noted that his properties were on the Dáil's Register of Members' Interests.
However, Mr Ó Broin said that Mr Donnelly should have declared on the floor of the Dáil that he was an "accidental landlord" when he was making those calls for better tax treatment for that group.
---
Read more:
Stephen Donnelly admits failure to renew tenancy registration with RTB
---
The three Coalition leaders have all expressed their confidence in the minister.
A spokesperson for Tánaiste Leo Varadkar said he had confidence in the minister, a position echoed by Green Party leader Eamon Ryan.
Minister for Higher Education Simon Harris said this was an error on the part of Minister Donnelly, but that he had provided a clear explanation on the matter.
He said: "I take Minister Donnelly at his word on this, that this was an oversight, an error on his part, that shouldn't have happened.
"It is important that, obviously, people comply in this regard. He shares that view, this was an error, I think he's explained the situation today."
However, Social Democrats co-leader Catherine Murphy said it is "alarming" that Mr Donnelly was "so lax about his obligation to register a tenancy with the RTB for such a sustained period of time".
In a statement, she said the RTB has the "option to sanction those who fail to register tenancies, but this controversy has highlighted that this rarely happens.
"In fact, the RTB has levied just two fines for failures to register a tenancy in the past three years.
"The question must now be asked of the RTB, what is the point in sanctions that are never applied?"
The Labour Party said it is a "significant oversight" by Mr Donnelly at a time of "rapidly rising rents, record levels of homelessness and Housing for All failing".
A spokesperson said it is concerning that there "is such a cavalier attitude about the rights of renters at the heart of government", and called on Mr Donnelly to make a statement in the Dáil when it returns to explain how the oversight occurred.
The party also called on the Government to commit to passing Labour's renters' rights bill.
Additional reporting Paul Cunningham, Sinead Hussey