When the 25% emissions reduction target was set for the agricultural sector, there was a view among many farmers that it was too much, and needed delivery too soon.
Some feel that they are being squeezed more than other sectors, but most recognise that there is a need to reduce emissions and improve sustainability.
To that end, the farm research and advisory agency, Teagasc, organised a showcase event at its facility in Johnstown Castle, Co Wexford.
"Farming for a Better Future" featured technologies which can be adopted right away, alongside others still in development.
We need your consent to load this rte-player contentWe use rte-player to manage extra content that can set cookies on your device and collect data about your activity. Please review their details and accept them to load the content.Manage Preferences
Prof Frank O'Mara, Director of Teagasc, urged farmers to get stuck in.
"It's really critical", he emphasised. "We have over 130,000 farmers in the country, and everybody is going to have to do something if we are going to achieve these targets".
"Most of the technologies we talk about are relatively easy to adopt, and farmers will actually save money," Prof O'Mara added.
"That's what we are trying to get across to farmers; find the thing you can do within your farming system, that will contribute to your business as well as reducing your emissions," he said.
New technologies
Among the technologies featured at the event was Low Emission Slurry Spreading, better know as LESS.
Using animal slurry means that expensive chemical fertiliser does not have to be purchased, saving money straight away.
For many years, slurry was spread on fields using methods that flung it in into the air and covered all the grass.
LESS is completely different, using pipes to dribble slurry directly onto the soil, or even inject it into the soil.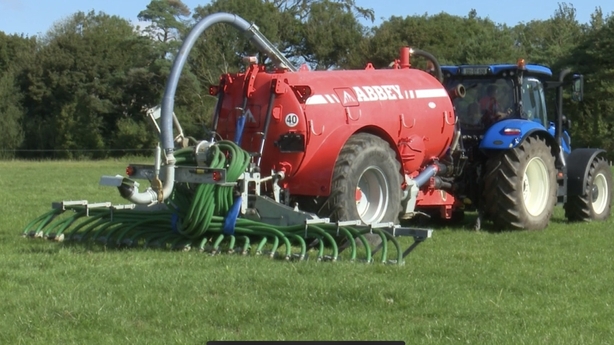 Dr Dominika Krol is a research officer with Teagasc.
"The LESS methods deposit slurry close to the ground, they reduce emissions, they improve nitrogen use from the slurry," she said.
"They also reduce odour and contamination of the grass," she noted, "which means animals can graze those swards earlier. There's a whole host of benefits."
Sward management is another important tool for farmers who want to improve sustainability.
Grassy meadows which are free of other plants have traditionally been the desired pastures for farm animals.
However, now fields of grass mixed with clover and other edible plants are proving popular, as they can draw nutrients and moisture from deeper soil. This helps to improve soil quality, and - in the case of clover - can even draw nitrogen into the ground from the air.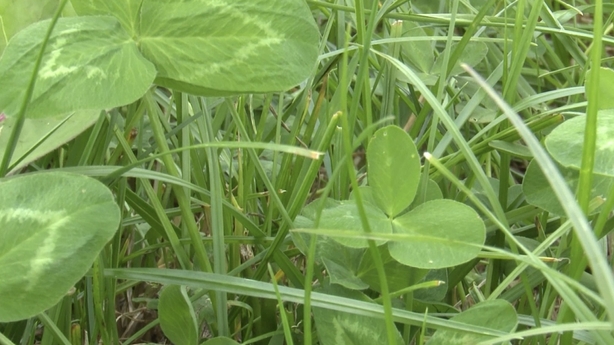 "Clover is a beneficial species that fixes nitrogen from the air," Conor Bracken, a postdoctoral researcher with Teagasc, revealed.
"It provides free nitrogen to support soil fertility that helps to grow your pasture to feed your livestock," he said. "It very beneficial because it helps reduce your reliance on expensive chemical fertiliser."
Another simple solution which reduces the need for chemical fertiliser is to spread lime or lime dust on land, and so free up nitrogen in the soil.
"The grass naturally grows because there is nitrogen in the ground," Teagasc's Conor Mulligan said.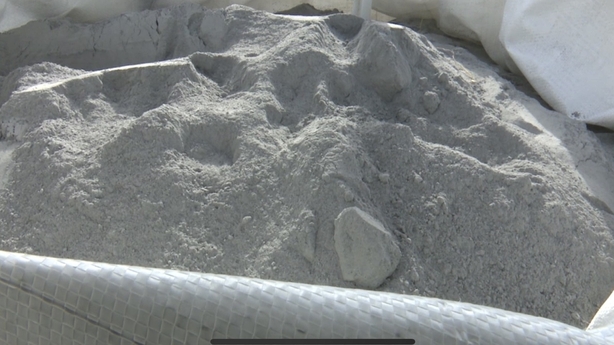 "By applying lime, it brings up the PH (reduces acidity) and that leads to more microbial activity in the ground, more nitrogen release and then extra grass growth."
Lime can be purchased at quarries around the country.
Teagasc is also urging farmers to improve overall animal health and genetics in order to breed ruminants that emit less methane, and also get to slaughtering age earlier, reducing their methane lifespan.
Extending the outdoor grazing season is another recommendation, while methane reducing feed supplements - which have been used successfully for indoor farm systems - are being adapted for outdoor use.