Within weeks of a meeting, held at the Gresham Hotel in Dublin in February 1922 to establish the Civic Guards, former IRA men from around the country were piling off trains and other modes of transport in the capital.
In the haste to establish a new Irish and independent police force, Michael Collins had issued instructions to IRA commanders to send their best and most trusted to Dublin. Quickly.
At least some of the men in their tweed caps apparently believed they were joining the army. It was not until they reached the RDS in Ballsbridge, where an apparently squalid training centre had been established, that they realised they were joining the nascent police force.
A problem quickly arose. Of the first 1,500 recruits, 96% of them were former IRA and proTreaty men, many from farming and labouring backgrounds. And 22% of them were from Cork, Kerry and Mayo.
The officers who would train and command them at the RDS, and later in Kildare, had different backgrounds, however.
They were former members of the RIC, men trusted by the first Garda Commissioner Michael Staines and Collins to be loyal and sympathetic to the ideals of the new State, but regarded by their new recruits as the same enemy they had fought during the War of Independence.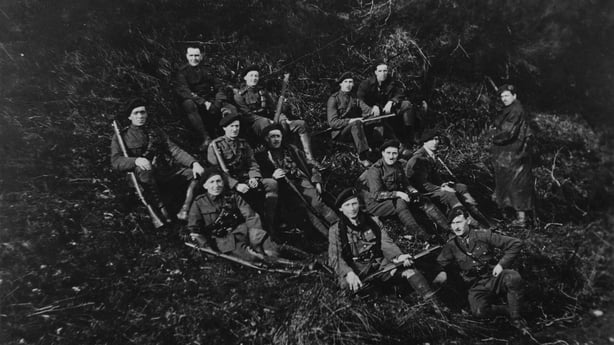 Because of the backgrounds and training of the RIC men, Staines appointed many of them to the most senior jobs in the Civic Guards, according to Dr Liam Mc Niffe, author of A History of An Garda Síochána.
By the time these former enemies reached their training base in Kildare, the resentment of the IRA men could no longer be contained. A mutiny broke out and the resignations of at least five named officers was demanded.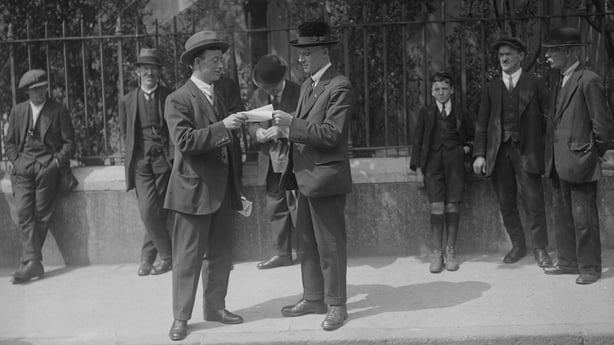 The presence in Kildare of a Deputy Commissioner Kearney had particularly enraged the mutineers, said Dr Mc Niffe.
Kearney was a former RIC District Inspector and was present during the arrest of Roger Casement on Banna Strand in 1916, as Casement attempted to land guns and ammunition for the Easter Rising.
What those calling for his resignation did not know, however, was that Kearney had befriended Casement. Nor did they know that an IRA intelligence officer had reported on Kearney's pro-republican support during the War of Independence.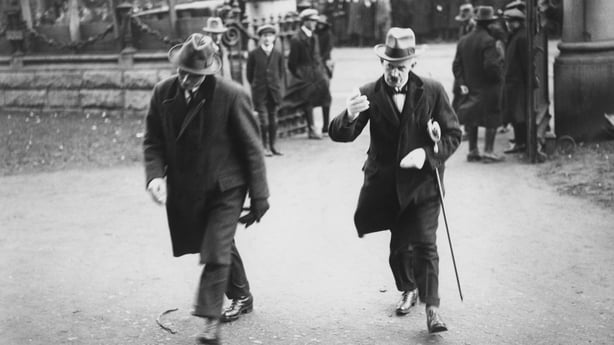 Collins intervened in the mutiny after six weeks and, characteristically, told the men they could either stay and accept the authority of their officers, or leave. A sweetener of six weeks' back pay was also offered and the mutiny soon subsided.
According to Dr Mc Niffe, a commission of inquiry into the mutiny made the recommendation that the new force be unarmed and non-political.
It was a recommendation readily accepted by the government to ensure such a mutiny by armed policemen might not reoccur, but also to ensure the new force would be more acceptable to local communities.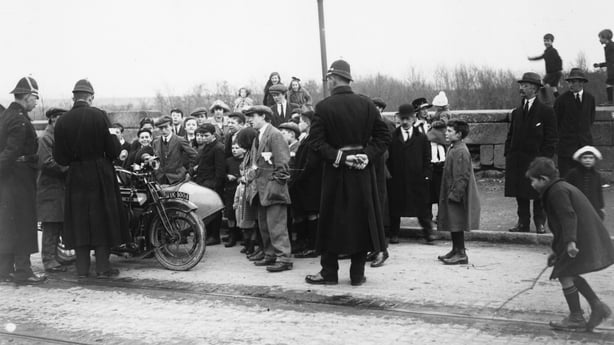 Eoin O'Duffy, who replaced Michael Staines as commissioner after the mutiny, had a very specific notion of the kind of man that would make an ideal guard.
According to Dr John Reynolds, garda historian, O'Duffy saw the ideal candidate as having a knowledge of the Irish language, being physically fit and having an interest in sport. An aversion to drink was also a key attribute.
"A Celtic ideal", is how Dr Reynolds describes the O'Duffy philosophy.
Perhaps not surprisingly, O'Duffy, a former IRA man later dismissed by Éamon de Valera when he came to power in 1932, went on to found the Blue Shirt fascist movement and led like-minded men to fight on the side of Franco during the Spanish Civil War.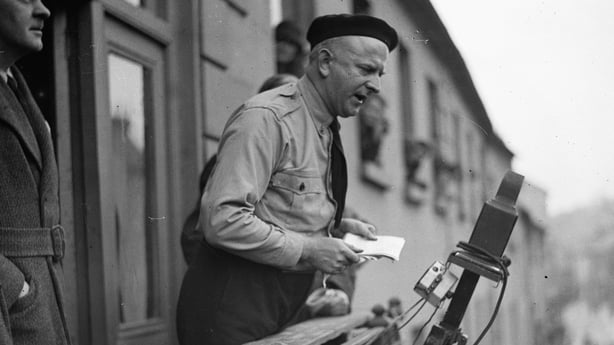 Thus these men - trained by former RIC officers - began their journeys to postings at former RIC barracks around the country to take up more or less the same role as the RIC itself.
Much of the work involved collecting agricultural statistics, intervening in land disputes and dealing with petty crime. The illegal distillation of poitín also took up much of their time.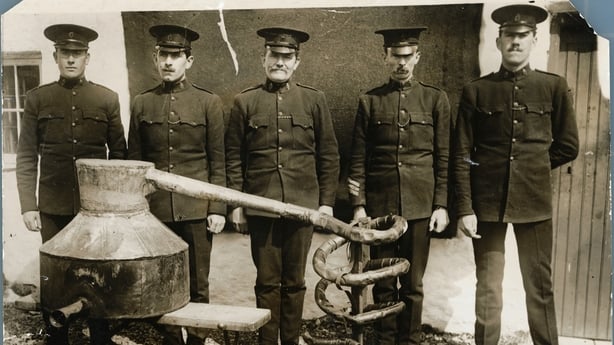 Some stations were attacked by anti-Treaty IRA groups and some policemen were killed, but slowly and surely the Civic Guards came to establish themselves as part of a society that was beginning to normalise after almost a decade of war and turbulence.
The guards had a harsh and demanding regime. The hours were arduous. Marrying a local woman in a town where they were stationed required a move on their part to another part of the country (to ensure impartiality), permission had to be sought to marry and there was not much leave.
As the police force later settled into what we now know as An Garda Síochána, so named in August 1923, life became less eventful.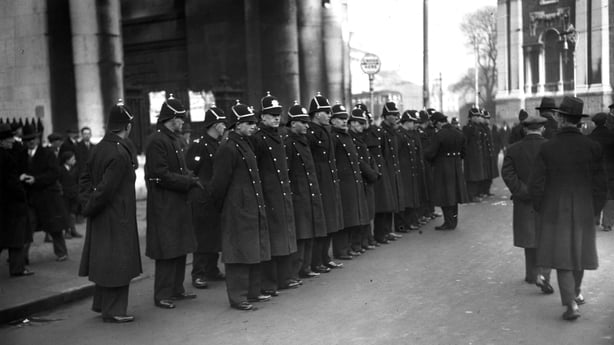 As one former member, Charlie Clarke, later recalled of his service: "Murders were as rare as elephants in this country."
He spoke of mundane challenges such as ensuring people had licences for their dogs - for each dog at that - and ensuring no one rode a bicycle without a light.
World War II, or The Emergency as it was called in southern Ireland, did see some drama. The police had to enforce the Aliens Act, which required non-Irish people to report to police stations, and to manage the local defence force - a sort of Irish Dad's Army.
In the 1950's and 60s, a height requirement of 5'9" was mandatory.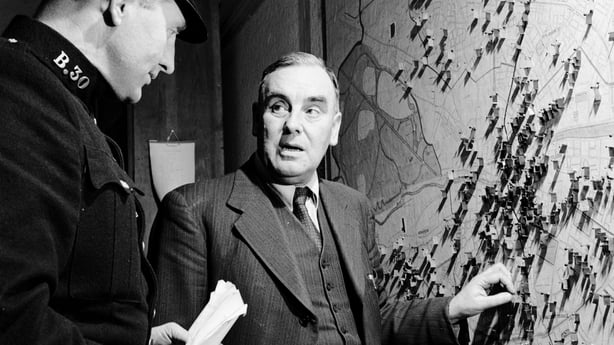 Also in the 1950s, a debate began about having women as members of the force and in 1959 the first 12 women competed their training. They wore skirts, were called 'banghardaí' and all of them were 5'7" in height.
They lived in dormitories and had rather more limited duties than men, most of them dealing with administration and cases involving women and children.
Because of the marriage bar that existed across the civil service at the time, they had to resign as soon as they married.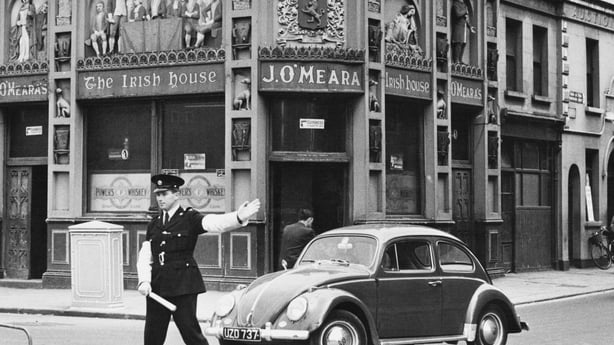 Today, there are some 15,000 members of An Garda Síochána with 20 different nationalities represented. About one third of them are women.
And, 100 years after its foundation, there is a group called G-Force - representing LGBT members - who can now march in Pride parades - in uniform and led by their commissioner.
Those who marched into Dublin Castle behind Commissioner Michael Staines on 27 August 1922 were told by him that the force would "succeed, not by the force of arms, or numbers, but on their moral authority as servants of the people".
An Garda Síochána remains one of the few largely unarmed police forces in the world, alongside those of Britain, Norway, Iceland and New Zealand.