Members of the Defence Forces along with members of the Collins family have attended an event to mark the centenary of the death of General Michael Collins.
General Collins was shot dead during an ambush in Béal na Bláth in Co Cork on 22 August 1922.
Yesterday, the Taoiseach and Tánaiste addressed a crowd of thousands who gathered at Béal na Bláth to commemorate the centenary.
Retired and servicing members of the Defence Forces joined the Chief of Staff, Lieutenant General Seán Clancy, and relatives of Collins for the Cathal Brugha Barracks ceremony held beside the car he was in when ambushed.
His grandniece Mary Claire O'Malley addressed those gathered, describing Cathal Brugha Barracks as his refuge.
A wreath laying ceremony was followed by a minute's silence, and the raising of the national flag while the national anthem was played.
There was an Air Corps fly past to conclude the event.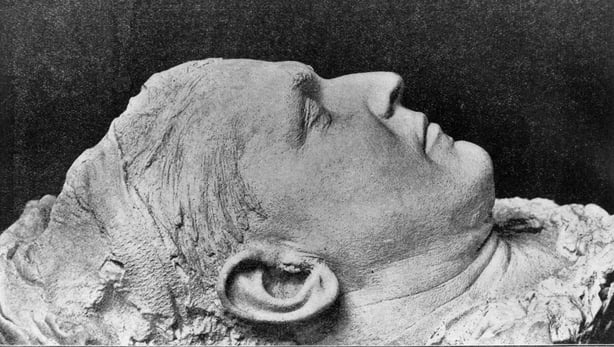 Those in attendance had an opportunity to visit the Defence Forces Military Archives and Barracks museum, home to Collins' death mask, desk and the flag that draped his coffin.
His Colt .45 pistol is also on display.
Audrey Dalton Symons, the daughter of Major General Emmet Dalton, spoke to media about the impact of Collins' death on her father, who held him in his arms after he had been shot.
"It was a day he never, ever forgot," she said.
Ms Dalton Symons said he spoke about it a lot, the "confusion" and "running around in madness" after the ambush.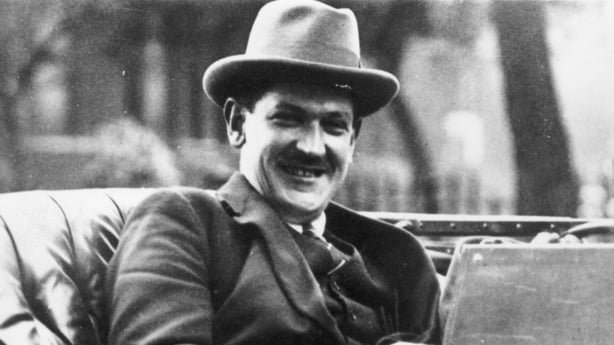 ---
Read more:
Collins' death deprived us of best hope for reconciliation - Taoiseach
Long read: 'It would be a great pity if Collins were killed'
Q&A: How was Michael Collins killed and what was the reaction?
Archives: Eyewitness recalls Michael Collins' death
---
The Civil War was almost two months old when Michael Collins died.
The anti-Treaty IRA had been comprehensively defeated in its attempts to hold cities and towns against the pro-Treaty National Army. First Dublin had fallen, then the cities and towns of Munster were captured.
The IRA Chief of Staff Liam Lynch, ordered a return to the guerilla war tactics of the War of Independence, with a heavy emphasis on ambushes of Free State troops and convoys.
Michael Collins, Commander-in-Chief of the National Army, was on a tour of inspection of West Cork on 22 of August.
He travelled with a small convoy, an armoured truck, an armoured car, an open Touring Car, and a motorcycle, maybe twenty men in all.
On his journey into West Cork that morning, he was spotted going through Béal na Bláth by an IRA scout, and an ambush was planned.
Michael Collins' convoy then made the fatal mistake of travelling back by the same road that evening, and ran straight into an ambush at Béal na Bláth.
The IRA unit mounting the ambush had actually begun evacuating the position, after it was decided the convoy would not after all be coming back that way.
Only a few men were left in the ambush position when the convoy appeared.
In an intense exchange of gunfire, Michael Collins was shot through the head and died almost instantly.
His death meant that the two most senior men on the pro-Treaty side, Arthur Griffith and Michael Collins, had died within ten days of each other. Their places were taken by WT Cosgrave and Richard Mulcahy.
The events at Béal na Bláth ushered in a new and even more bitter phase of the Civil War, with the IRA mounting a campaign of assassination against government ministers and TDs, and the Provisional Government passing legislation to allow for the execution of anyone found carrying weapons against the Free State.
Additional reporting by Shane McElhatton