The family of Salman Rushdie are "extremely relieved" he has been taken off a ventilator following his stabbing, and the British author has retained his "defiant sense of humour", his son said this afternoon.
"We are extremely relieved that yesterday he was taken off the ventilator and additional oxygen and was able to say a few words," his son Zafar tweeted.
Rushdie's agent Andrew Wylie said earlier that Rushdie was on the "road to recovery", two days after he was stabbed multiple times in a shocking assault at a literary event in New York state.
Zafar said that despite the promising news, his father's injuries were "life-changing" and "severe", and that he remained in a critical condition.
But "his usual feisty & defiant sense of humour remains intact", he added.
Zafar offered thanks to audience members who "bravely leapt to his defence" and for the "outpouring of love and support from around the world".
Rushdie's agent said earlier the writer might lose an eye; he also suffered injuries to the abdomen.
The author spent years under police protection after Iranian leaders called for his killing over his portrayal of Islam and the Prophet Mohammed in his novel "The Satanic Verses".
He was about to address the event in western New York state when a man rushed onto the stage and stabbed him repeatedly in the neck and abdomen.
The suspected assailant, Hadi Matar, 24, was wrestled to the ground by staff and other audience members before being taken into police custody.
He was arraigned in court yesterday and pleaded not guilty to attempted murder charges.
We need your consent to load this rte-player contentWe use rte-player to manage extra content that can set cookies on your device and collect data about your activity. Please review their details and accept them to load the content.Manage Preferences
Irish writer Colum McCann said he was confident that Mr Rushdie will recover from his and will have something "profound" to say to the world in time.
Speaking on RTÉ's This Week, Mr McCann said: "We heard very, very shortly after the attack happened from a number of people. We share friends, we shared literary agents.
"It was one of those things that comes along and stuns you. It had immediate reverberations and I think it will have long term effects in many different ways.
"I'm so glad to hear that Salman is doing so much better. He's talking and exuding his sense of humour still.
"He will recover and I think he will have something even more profound to say to the world. Salman is an extraordinary literary and cultural figure."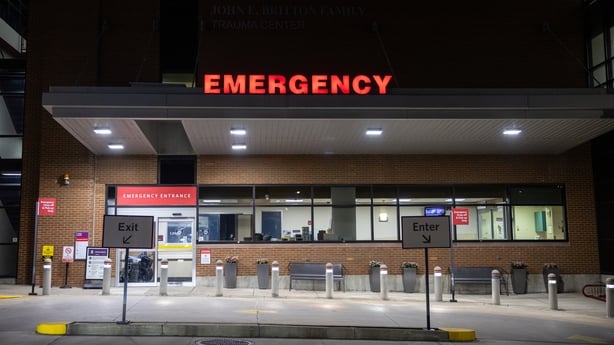 Mr McCann said that Mr Rushdie had been travelling and living freely in recent years.
"I've travelled with him even on the New York city subway. He has lived a very open life for the past couple of decades. It seemed to everybody that this had finished.
"He was very open and generous with his time. He didn't go out with security, obviously that's going to have to change for him," he said, adding that Mr Rushdie will not let this incident cower him.
"He embraces the world. He's really interested in other people. He doesn't shrink into his own little world.
"While there will be increased security there will be a Salman that will come out and say something to us that maybe even might help us heal because we're living in incredibly divided times."
The man accused of stabbing him pleaded not guilty yesterday to charges of attempted murder and assault, in what a prosecutor called a "pre-planned" crime.
A lawyer for Hadi Matar, 24, entered the plea on his behalf during a formal hearing at a court in western New York.
A judge ordered Mr Matar to be held without bail after district attorney Jason Schmidt told her Mr Matar took steps to purposely put himself in a position to harm Mr Rushdie, getting an advance pass to the event where the author was speaking and arriving a day early with a fake ID.
"This was a targeted, unprovoked, pre-planned attack on Mr Rushdie," Mr Schmidt said.
Public defender Nathaniel Barone said the authorities had taken too long to get Mr Matar in front of a judge, while leaving him "hooked up to a bench at the state police barracks".
"He has that constitutional right of presumed innocence," Mr Barone added.