President Michael D Higgins has issued a statement reiterating his condemnation of the war in Ukraine following criticism of his wife Sabina for writing a letter on the conflict.
Sabina Higgins came in for criticism over the weekend for a letter to the editor of the Irish Times in which she criticised an Irish Times editorial published on 20 July saying she was "disappointed" and "dismayed" that it did not "encourage any ceasefire negotiations that might lead to a peace settlement".
In the letter signed Sabina Coyne Higgins, she said until the world persuades Russia and Ukraine to agree to a ceasefire and negotiations, "the long haul of terrible war will go on".
A Ukrainian member of parliament described Ms Higgins' call for a negotiated settlement of the war as "under-informed" and "painful" while the Ukrainian Ambassador to Ireland said she did not believe the letter was the official position of the President of Ireland.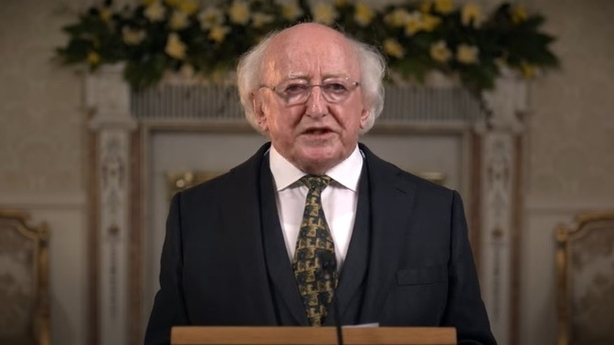 In a statement issued today, a spokesperson for President Higgins said: "The record shows President Higgins has been unequivocal in his condemnation of the Russian invasion of Ukraine from his original statement on 1 March.
"He has repeatedly condemned what he has described as the illegal, immoral and unjustifiable Russian invasion of Ukraine. He has called for an immediate Russian withdrawal and end to the violence."
The statement also said that Mr Higgins has stressed the importance of using every available "chink of diplomacy".
It is reported that Ms Higgins' letter was published on the President's official website on Friday but was later removed.
We need your consent to load this rte-player contentWe use rte-player to manage extra content that can set cookies on your device and collect data about your activity. Please review their details and accept them to load the content.Manage Preferences
Fianna Fáil TD for Limerick City Willie O'Dea welcomed the President's statement as he said it seemed to confirm that he shared the same views on these matters as the Government.
However, Mr O'Dea said questions remained about the letter, and that if Mr Higgin's clarified the matter it would "subdue the controversy."
Mr O'Dea said he had been contacted by a large number of Ukrainians who were very hurt and upset about what had happened.
The President's statement today made no mention of Ms Higgins' letter.
Speaking on RTÉ's Drivetime, Fianna Fáil Senator Malcolm Byrne said that he did not agree with parts of Ms Higgins' letter.
"It (the letter) did not identify Russia as the aggressor and did not seem to hold Russia responsible for some of the barbaric acts in which it has been engaging. It seemed to imply that both sides were equally responsible for this war.
"Sabina Higgins is however entitled to our views. I think the issue then sort of became more complicated by the fact that, whatever about sending such a letter to a national newspaper, to then publish it on the official website of the President of Ireland, does raise serious questions," he said.
With additional reporting by Joan O'Sullivan