While a deal to resume Ukrainian grain exports blocked by Russia may have eased fears of an international food crisis, a growing number of Irish producers argue that we need localised farming and food systems that work with the environment, not against it.
One such business is the Dún Artisan Bakery in Dungarvan, Co Waterford, which opened almost a year ago and has sustainability at its core.
Owners Caitriona Keating and Fergal Walsh use homegrown fruits and Irish grain to deliver a hyper-seasonal range of produce.
"The most important thing in the world is cutting down on food miles and knowing where your food is coming from," Fergal said. "Sustainability is the future of business and the future of food."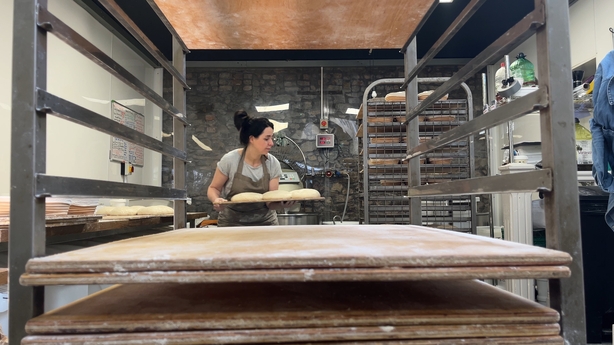 Every day the bakery produces 13 different types of sourdough bread. Over 90% of the wheat they use is grown and milled in Ireland.
Ireland currently produces very little of the wheat flour used in bread making here, with the majority imported from abroad.
"100% is the goal," Caitriona said. "Some people still believe you can't grow good quality wheat in Ireland. That's just not true. We got a delivery of Irish wheat today from one of our farmers and millers. It was grown and milled 25 mins away from here in Pilltown, and it came in as having 14% protein in that flour, which would make excellent sourdough.
"It's great quality, it has a beautiful flavour - we're so lucky. It's really important for bakers to support Irish grain because we need to support them and them us."
At their small farm in Tramore, Caitriona and Fergal grow all of the fruit that they use in their baked produce.
From strawberries and blackcurrants to tayberries and gooseberries, they have 200 mature berry bushes on their farm, which they have cultivated over the last five years.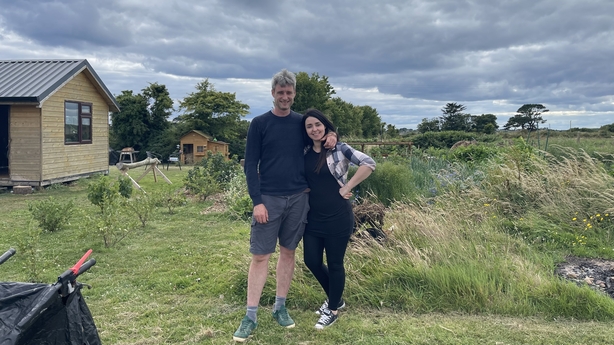 "We're seeing our first good harvest now, but we're already thinking about next year and what we don't have, and how to plug those gaps so we can be self-sufficient," Fergal said. "Our main challenge now is to try and have product consistently for the summer season. Everything won't be available all year round, it doesn't work that way. If we grow as many varieties as we can and have no isolated spells where we've nothing, that's the ideal."
Caitriona added, "Everything we grow has a use. We won't set things we can't use in the bakery, as we're conscious to lower food waste in general. We work our menu around our product. It's completely seasonal. We wanted to control what we grew, and what we wanted to use in the bakery to reduce our carbon footprint."
If the couple cannot grow something themselves, they source it from other local food producers, most of whom are also in Waterford.
What they do grow on their farm is done in a 'no dig' manner.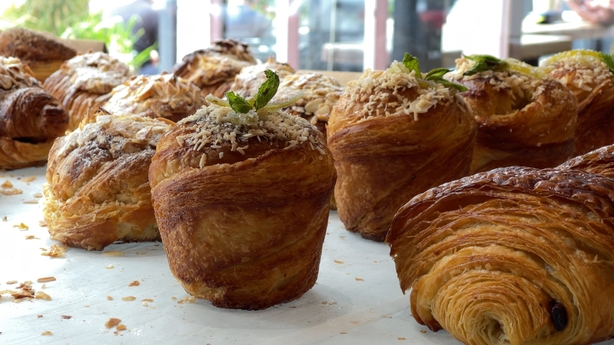 "We never dig up, we never rotavate; everything that goes in is at the top of the ground," Fergal explained. "We're trying to do things as naturally as we can. No electricity, no running water – we harvest rainwater in winter that does us through the summer. We only use seaweed fertilizer and we also make comfrey and nettle soup to soak into the ground, which are high in potassium and nitrogen naturally. These are growing around the field and we use what's most natural and what's readily available."
"It's all about the ecosystem up here. There are field mice, hedgehogs, loads of different types of birds. We're working in harmony with nature, even last year, we left some of our products go to seed and we left them for the honeybees.
"In the farm we have a carbon deficit. It has to be the aim to bring our bakery to carbon neutral, if possible. That's a long-term goal as it's maybe not feasible right now as we're so new. But that has to be our commitment and goal."
In our 'Climate Heroes' series of reports, we shine a light on the people who are stepping up to protect our environment and tackle climate change. While these people come from all walks of life, they share a common purpose to improve the world around us.