The Tánaiste has appealed for both sides in the dispute at the Irish Wheelchair Association to use the Workplace Relations Commission to find a solution.
SIPTU members employed at the Irish Wheelchair Association are staging a 24-hour work stoppage in a dispute over pay.
Pickets have been placed at IWA centres across the country.
After the matter was raised by several members of the opposition this afternoon in the Dáil, Leo Varadkar acknowledged the "really important and really valuable work done" by the workers, who he noted are not public servants.
"I'd encourage both the association itself and the staff affected and their representatives, to engage with the WRC, and perhaps we can find a solution that way", he said.
The WRC is overseen by the Tánaiste's Department of Enterprise.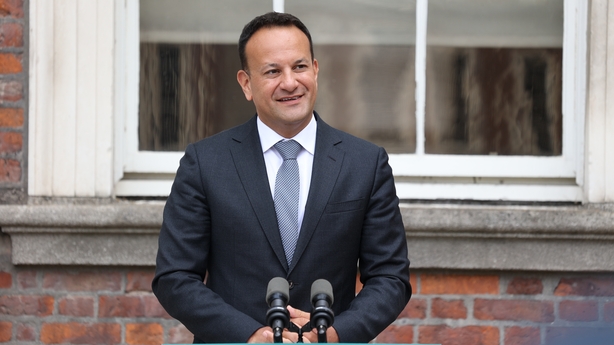 The association said it has been in discussions with SIPTU to minimise disruption to essential services.
"We anticipate that there will be minimum impact on essential assisted living rosters," the IWA said in a statement.
"It is with regret, however, that day centres and administrative buildings will not open and alternative services options will be made available for our members and service users.
"These services include our day services, rehabilitative training, and school leaver services," the association said.
People are being advised to contact their local area coordinator if they have concerns.
SIPTU members at the IWA say they are going on strike as they have not received a pay increase for 14 years and that although they do essentially the same job as Health Service Executive healthcare assistants, they are paid considerably less.
The IWA is a 'Section 39' organisation contracted to provide services on behalf of the HSE for a funding grant in accordance with Section 39 of the Health Act 2004.
The IWA said it fully understands and accepts the frustration of staff but cannot increase pay without an increase in its HSE Section 39 grant.
SIPTU member Deborah Walsh said that IWA workers have "no other option" than to strike.
Speaking on RTÉ's Morning Ireland, Ms Walsh said IWA staff want to be paid the same as those doing the same work in the HSE.
"We do the same job, so we want the same pay rate," she said.
She said that IWA pays its workers' salaries, but the organisation is funded by the State.
Ms Walsh said that it is about the Government not funding the organisation adequately, in order to facilitate it paying its workers the same rate as those doing the same work in the HSE.
"None of us want to go on strike, but we feel that this is the only option that we have to be heard, we need to be listened to," she said.
Meanwhile, the Department of Health said that because Section 39 organisations are privately owned, setting pay rates for their staff is not a matter for the Government.
The HSE said that the IWA received income of €50.7m in 2021, up from €46.9m in 2020.
"Personal assistants rostered to work in both assisted living services and respite will attend work as normal and non-rostered staff will take part in industrial action," the HSE said in a statement.
SIPTU has accused the Government of remaining silent on the dispute.
"It is maintaining the claim that it does not have a role to play in resolving it because it is not directly the employer of these workers," SIPTU Public Administration and Community Division Organiser Adrian Kane said.
"This situation is untenable and stands in stark contrast to the approach of the State prior to 2008 when there was a long-standing pay link between workers in the community sector and so-called Section 39 organisations such as the IWA with public sector workers," he added.
SIPTU said it remains available for talks with the Government but if there is no engagement then the dispute will escalate.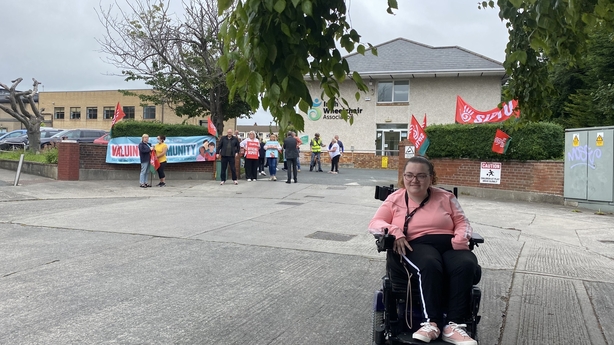 Kayleigh McKevitt is a service user at the Irish Wheelchair Association.
She said that although her access to care was disrupted by the strike, she supports the workers' pay demands.
"It affects me, and lots of other people like me, but I do think the staff need adequate pay so they can give adequate care," Ms McKevitt said.
"It's what we deserve and what they deserve," she added.
Today's action is part of a wider campaign demanding better pay for community sector workers.
Tomorrow, SIPTU members employed in a number of community organisations in counties Waterford and Galway will go on strike.
They will also be joined by workers from schemes in counties Meath, Kilkenny, Kildare, Clare, Westmeath, Louth and Donegal.