The United States has announced €786 million in additional weapons and ammunition for Ukraine as it battles Russian forces along the eastern and southern fronts.
The 14th package of armaments for Ukrainian forces includes two air defence systems, more ammunition for the Himars precision rocket launchers the US began supplying in June, up to 150,000 rounds of 155mm artillery ammunition, and four additional counter-artillery radars.
The air defence systems, known as NASAMS, are a short and medium-range surface-to-air missile system developed by Raytheon and Norway's Kongsberg Defence & Aerospace.
The remote-operated launchers are to help Ukraine forces defend against piloted and drone aircraft and cruise missiles.
"The United States continues to work with its allies and partners to provide Ukraine with capabilities to meet its evolving battlefield requirements," said Defense Department Press Secretary Todd Breasseale in a statement.
The Pentagon "recognises Norway's co-operation to enable the historic provision by the United States of modern air defense systems that will help Ukraine defend against Russia's brutal air attacks," he added.
The new package of arms, which draw on the US military's own stockpiles, took to €6.6 billion the total amount provided by Washington to Ukraine since Russia invaded the country on 24 February.
Russian missile strike on Odesa
Earlier today, Russia flattened part of an apartment building while residents slept in missile attacks near Ukraine's Black Sea port of Odesa that authorities say killed at least 21 people.
It came hours after Russian troops abandoned a nearby outpost at Snake Island.
However, Ukraine's army has accused Russia of carrying out strikes using incendiary phosphorus munitions on Snake Island today.
Neighbours in the resort village of Serhiivka helped workers comb through the rubble of the nine-storey apartment block, a section of which had been completely destroyed at 1am.
Walls and windows of a neighbouring, 14-storey apartment block had also been damaged by the blast wave. Nearby holiday camps were also hit.
"We came here to the site, assessed the situation together with emergency workers and locals, and together helped those who survived," said Oleksandr Abramov.
He lives nearby and rushed to the scene when he heard the blast: "And those who unfortunately died - we helped to carry them away."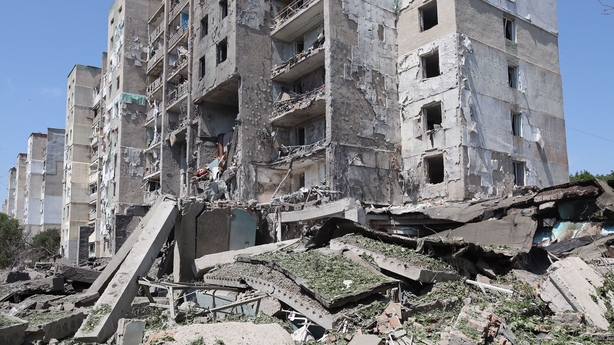 Serhiy Bratchuk, spokesman for the Odesa regional administration, said 21 people had been confirmed killed, including a 12-year-old boy.
Authorities said earlier 41 people had been rescued from the apartment building where 152 lived.
The regional governor said the Soviet-era missiles had been fired from the direction of the Black Sea.
The Kremlin denied targeting civilians: "I would like to remind you of the president's words that the Russian Armed Forces do not work with civilian targets," Kremlin spokesperson Dmitry Peskov told reporters.
---
Read the latest Ukraine stories here
---
The attack came just four days after Russia struck a crowded shopping mall in central Ukraine killing at least 19 people.
Kyiv says Moscow has dramatically escalated its long-range attacks - hitting civilian targets far from the frontline in recent days, which Ukraine describes as a war crime.
Russia says it has been aiming at military sites.
Also today, a Moroccan and a British fighter who were both sentenced to death by a Russian-backed separatist court in east Ukraine for fighting for Ukrainian forces have appealed against their sentences.
Russian state news agency TASS said the Supreme Court of the self-proclaimed Donetsk People's Republic (DPR), a territory recognised only by Russia and Syria, had received appeals from lawyers for Brahim Saadoun and Shaun Pinner.
It said another condemned Briton, Aiden Aslin, had not yet submitted an appeal, citing Mr Aslin's lawyer.
TASS also reported that two other British men, Dylan Healy and Andrew Hill, have been charged in the DPR with "mercenary activities".
Thousands of civilians have been killed since Russia invaded Ukraine on 24 February in what Ukraine says is an unprovoked war of aggression.
Russia calls the invasion a "special operation" to root out nationalists.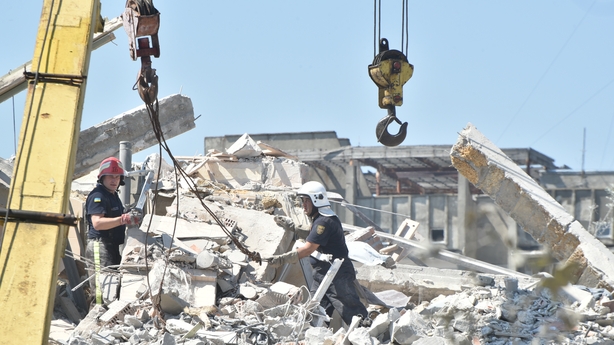 The city of Lysychansk in Ukraine's eastern Donbas region continued to come under sustained bombardment today, Ukrainian officials say.
Capturing the city would allow the Russians to push deeper in the industrial Donbas, which has become the focus of their offensive.
Moscow has been on the verge of capturing the province of Luhansk, since taking the city of Sievierodonetsk last week after some of the heaviest fighting of the war.
Residents in Russian-occupied Sievierodonetsk have emerged from basements to sift through the rubble of their city.
We need your consent to load this rte-player contentWe use rte-player to manage extra content that can set cookies on your device and collect data about your activity. Please review their details and accept them to load the content.Manage Preferences
"Almost all the city infrastructure is destroyed. We are living without gas, electricity, and water since May," Sergei Oleinik, 65, told Reuters.
"We are glad that this ended, and soon maybe reconstruction will start, and we will be back to more or less normal life."
Lysychansk is Ukraine's last bastion in Luhansk but is close to being encircled under relentless Russian artillery assault.
The Russians were today shelling the city from different directions and approaching from several sides, regional Governor Serhiy Gaidai said on Ukrainian television.
Meanwhile four people also died and three were wounded in shelling in Izium and Chuguiv, two districts of the northeastern Kharkiv region in the last 24 hours, local district chief Oleg Synegubov said.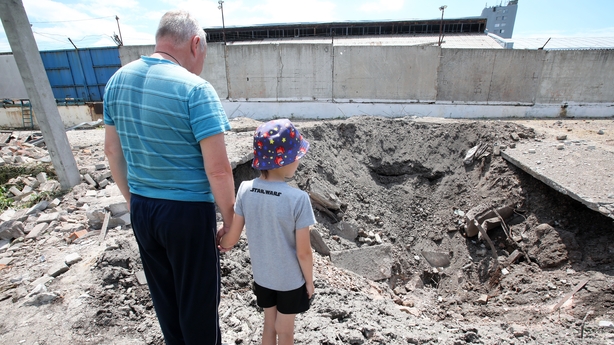 In Kyiv, Ukrainian lawmakers gave a standing ovation as the flag of the European Union was carried through the chamber to stand alongside Ukraine's own flag behind the dais, a symbol of Ukraine's formal EU candidate status granted last week.
Ukrainian President Volodymyr Zelensky and the lawmakers also stood for a minute of silence for those killed in the morning attacks near Odesa.
In the latest sign of Russia's split with Europe, Russia's ambassador in Bulgaria said she would call for her embassy to be shut, along with Bulgaria's embassy in Moscow, following Sofia's refusal to reinstate diplomats it expelled for spying.
Russia has used its control of the Black Sea to impose a blockade on Ukraine, one of the world's biggest grain exporters, threatening to shatter Ukraine's economy and cause global famine
Moscow denies it is to blame for a food crisis, which it says is caused by Western sanctions and Ukrainian sea mines.
Pushing the Russians off Snake Island could be a step towards reopening Odesa's port, although military analysts say Russia could still threaten cargo ships at sea.