Tánaiste Leo Varadkar has said there is a need for a substantial welfare package in October's Budget, along with greater childcare supports and a reduced tax burden on middle-income earners.
The Fine Gael leader was speaking at the National Economic Dialogue in Dublin, where interest groups from across society met to discuss the budget.
Taoiseach Micheál Martin earlier told delegates that while it prepares for the Budget in October, the Government will maintain a calibrated and targeted response to inflation.
He said that while the Government will continue to help, it cannot mitigate the entire burden of inflation.
This afternoon, Mr Varadkar agreed with the Taoiseach's comments that chasing inflation does not work, warning that he does not believe the current spike in inflation is temporary, and that it could go on for years.
He said that it is widely agreed that "the focus of Budget 2023 must be the cost-of-living crisis".
Mr Varadkar said as part of an anti-inflation strategy the Government can reduce the income tax burden on workers and middle-income families by indexing tax credits and bands.
He also advocated increased subsidies for childcare, to reduce costs for parents, saying "investing in childcare makes sense now and for the long-term".
He said that all three parties in Government are determined to make a move on the cost of childcare, and Minister for Children Roderic O'Gorman is developing options.
He said that they need to look at what to do, how much it will cost and how soon it can be done.
He said Budget 2023 will "of course" have a substantial welfare and pension package, greater than that announced in last year's budget, but that the scale has yet to be determined.
Today's event was attended by trade unions, business groups and research institutes, as well as representatives from the community, voluntary and environmental sectors.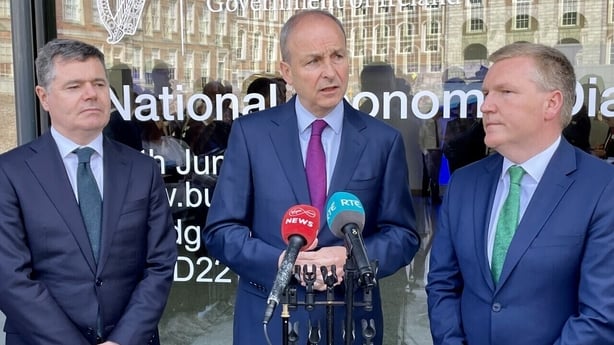 As he arrived, The Taoiseach was asked by reporters if there would be an emergency budget or other interventions before October.
He said that the Government cannot chase inflation and does not want to repeat the mistakes of the 1970s.
"We want to do this in a detailed, evidence-based way, doing significant work and look at how we bring costs down and the forthcoming budget will be a cost-of-living budget," Mr Martin said.
"What we do has to be comprehensive and it has to be sustainable over a longer period of time than just going from a month-to-month situation."
The meeting was not intended to produce specific Budget proposals or recommendations, but designed to assist participants in preparing their own pre-Budget submissions.
The overall theme of this year's dialogue was 'Building Economic Resilience to deal with International Challenges', with a variety of topics being discussed including climate policy, housing, challenges in the agri-food sector and changing labour market conditions.
Trade unions focused on how the Government plans to address cost of living pressures after last week's public sector pay talks failed to produce an agreement.
"The Irish Congress of Trade Unions will want to hear from Government what measures they intend to take immediately to protect the incomes of low-and-middle income workers who are experiencing the value of their wages being eroded on a weekly basis given the current inflationary crisis," said ICTU General Secretary Patricia King.
Minister for Public Expenditure and Reform Michael McGrath was asked by reporters if the Government would be increasing the offer it made to unions at last week's talks.
"I do hope we can get back into discussions, I think it is in the interests of everyone that we have a collective agreement," Mr McGrath said.
"It helps to provide industrial peace and also gives us certainty over a very large area of expenditure.
"I think the offer that was made by the Government was a good offer, it went a long way towards matching the projected level of inflation but we have to ensure that any deal is affordable and sustainable.
"I do hope we can get back into discussions and the Government's door is very much open but there has to be a realistic basis for reaching agreement."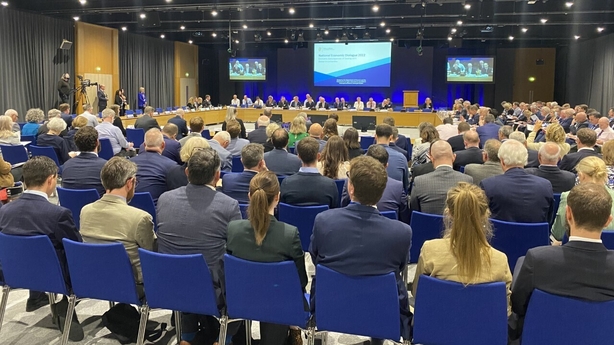 Social Justice Ireland highlighted cost-of-living pressures at today's dialogue, and urged the Government to protect low-income households in the Budget.
"Uncertainty once again dominates Ireland's social and economic outlook and frames the context for Budget 2023, but this must not be used as an excuse to, again, leave Ireland's poorest behind," SJI CEO said Dr Seán Healy said.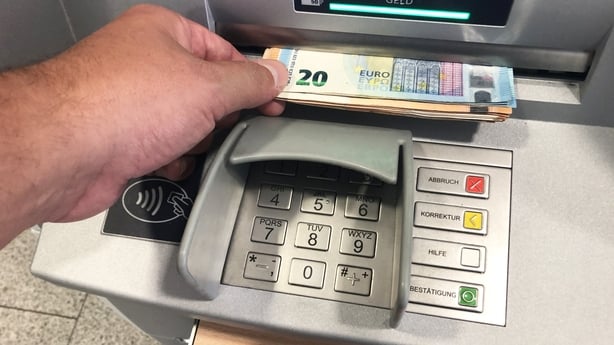 The Environmental Pillar, a coalition of environmental groups, told today's meeting that there has never been a more pressing time to address dual climate and biodiversity crises, as the cost of day-to-day living climbs higher and higher each day.
"We are living in an age of parallel crises but one should never be addressed at the expense of the other," said Oisín Coghlan, Director of Friends of the Earth Ireland.
Meanwhile, Director of Lobbying and Influence with Ibec Fergal O'Brien said employers should not be subjected to added costs in order to do business.
Speaking on RTÉ's Morning Ireland, he said that the focus must be on sustaining growth in the long term.
"We mustn't add excessive costs to employers in terms of the costs of doing business, in terms of labour costs.
"We must keep the focus on the money that we can continue to spend because don't forget the public finances are quite strong, but on measures that will support the competitiveness, the productivity innovation, skills and physical infrastructure across the economy. The things that will sustain growth in the long term," he added.
Mr O'Brien said it is vital to "get the balance right" when it comes to supporting people who are "experiencing a hit to their living standards".
Backdrop of breakdown in pay talks
Today's dialogue also happened against the backdrop of a breakdown in pay talks between the public sector unions and the Government just before the weekend.
ICTU said the Government had offered a 2.5% pay rise this year and a further 2.5% next year but said the proposal fell far short of inflation.
This morning, ICTU President Kevin Callinan said the unions made it very clear that they were in discussions with the Government on pay "to negotiate" and that is what they expected to happen.
He said "the difficulty arose" when the Workplace Relations Commission officials facilitating the talks were informed by Government representatives "that they were not prepared to move from their position".
Also speaking on Morning Ireland, he said there was a gap between the two sides and no further progress was possible at that stage.
He said there needs to be an indication from the WRC that it believes progress is possible and there needs to be movement on the Government side.
"Inflation is really the enemy of workers. Workers aren't the cause of inflation, they're the victims of it," he said.
He explained that in the public sector, there is a two-year agreement for 2021 and this year and unions sought a review of the agreement because the pay terms were negotiated at the height of Covid, where the public finances were in a very different situation to where they are now.
He said the annualised rate of inflation was 2.4% then but this year it looks like it is going to be around 7%.
"The proposal that we received from the Government side, I don't think it's helpful in circumstances where it's possible that talks may resume that we would get into negotiating the deal on the airwaves, but we made it clear that we were prepared to adjust our position, but it takes two to tango."