The Air Accident Investigation Unit has found incorrect weight and balance information contributed to a fatal plane crash in Co Kildare in 2019.
As a result, the AAIU has recommended that the aircraft manufacturer BRM Aero revise and enhance the operating guidelines for one of its planes.
It follows a detailed inquiry into the circumstances surrounding the crash near Athy which resulted in the deaths of two pilots.
Aidan Rowsome, 58, who was from Kildare and 70-year-old Jim Price, who lived in Dublin, were the only occupants of the aircraft.
The plane, a Bristell NG5 'Speedwing", had been purchased by a group of pilots, who were in the process of familiarising themselves with the aircraft.
During a exercise on a training flight on 13 June 2019, the two-seater plane commenced a rapid descent and crashed into a field.
The investigation said it is likely the impact happened when the aircraft was in a counter-clockwise-rotating flat spin.
This is the term used when a plane, with no forward airspeed, spins around its vertical axis, towards ground.
In such instances, the trajectory of the plane makes it extremely difficult for a pilot to correct their position.
The 139-page report from the AAIU rules out mechanical failure and said weather conditions were unlikely to have played a part in the tragedy.
There was no evidence that the plane had sustained any damage or failure prior to impact.
Similarly, there was no indication that unapproved manoeuvres were being deliberately performed by the pilots.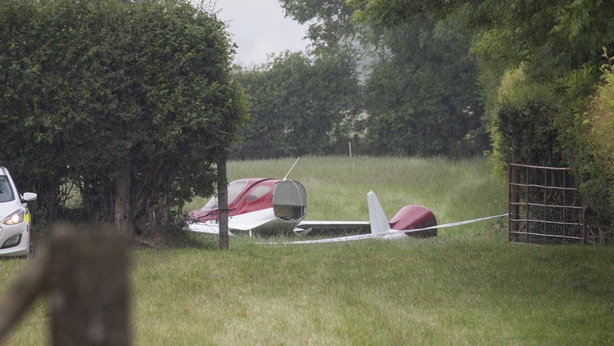 Instead, the inquiry found that the plane's centre of gravity (CG) was beyond limits, making it more susceptible to enter into a flat spin.
Eight of the 10 recommendations made in today's report relate to the BRM Aero company.
Two others are addressed to the Ministry of Transport in the Czech Republic where the company has its headquarters.
The manufacturer is advised to update weight and balance information for the plane, and to ensure that further testing is carried out to assess scenarios with variable loads.
The AAIU said the Ministry should ensure that a global notification is provided to NG4 aircraft operators, regarding weight and balance calculations