The crisis in Sri Lanka, which has seen protests on the streets of Colombo for the past two months, has now descended into deadly violence, with the armed forces ordered by the government to shoot any looters on sight.
Mobs have been torching houses and hundreds have been left injured in clashes. A curfew is now in place until early Thursday morning.
But why has the situation there deteriorated so quickly?
---
1. The resignation of a Prime Minister and the anticipation of change
Things turned violent on Monday night after Sri Lanka's Prime Minister Mahinda Rajapaksa announced his resignation.
At the end of March, protesters had already stormed the home of his brother, and the President Gotabaya Rajapaksa, to demand his resignation, resulting in the declaration of a state of emergency giving the security forces more powers.
But amid rumours that one of the dynasty would now relinquish power, protesters on both sides turned out in large numbers.
Mahinda Rajapaksa bussed in many of his own supporters from the countryside to make the announcement, according to Udita Devapriya, International Relations analyst with the Colombo-based think tank Factum. There to meet them were large numbers of anti-government protesters who had been camped out for weeks.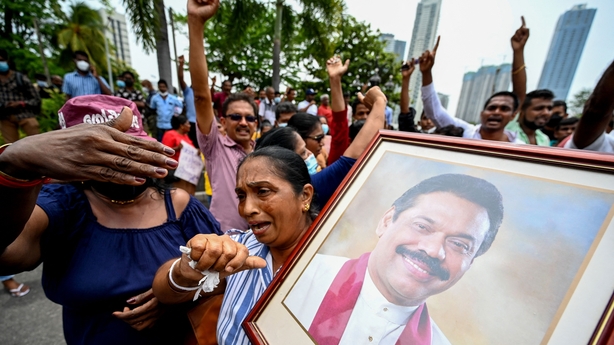 "That's when the situation started getting out of hand," he says.
On hearing the news of the resignation, he says: "These pro-Rajapaksa protesters, completely unprovoked, went ahead and started beating the anti-Rajapaksa protesters, with poles and clubs."
Anti-government protesters retaliated, with videos emerging on social media of government supporters being thrown into bins and cars and buses being set alight and thrown into the Beire Lake.
More than 40 government-linked homes and offices were vandalised or set on fire.
The prime minister himself had to be rescued in a pre-dawn military operation after thousands stormed his official residence, throwing petrol bombs.
"They started releasing a lot of violence on these pro-Rajapaksa protesters and throughout the night one ministerial residence after another was vandalised and set on fire, says Udita Devapriya, who also believes the political protesters were infiltrated by violent mobs, bent on causing destruction.
"What's intriguing is that the army and police did absolutely nothing to stop this happening," he says.
By contrast, yesterday afternoon, the defence ministry had ordered the police in Sri Lanka to shoot at anyone caught vandalising public property or causing harm to life as a curfew was put in place.
---
2. Months of power cuts, shortages and frustration
The violent rampaging happened against a background of Sri Lanka's worst economic crisis since the country gained independence in 1948.
On 12 April, Sri Lanka announced it would default on its external debt of $51 billion as a "last resort" after running out of foreign exchange currency to import goods.
There have been ongoing shortages of essential goods including medicine and diesel, leading to frequent power outages and a growing sense of frustration.
"We rely a lot of diesel powered generators during January to March," explains Udita Devapriya.
He said the power cuts in the capital Colombo started with just a few hours a day, but became much longer making it hard for people to run their businesses and domestic lives.
He says that is when the real protests started with people heading into central Colombo to pitch tents and make their voices heard at a site that has become known as GotaGoGama, a reference to the current president's hoped-for departure.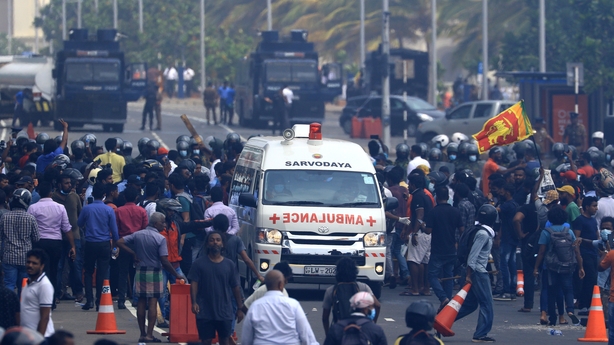 The economic situation was not helped by deep tax cuts enacted by the Rajapaksa government, soon after it took office back in 2019. Whilst initially popular with some, they took a large amount of people out of the taxation system, leading to a further fall in government revenue at a time the country could least afford it, with the Covid-19 pandemic just around the corner.
Rating agencies, concerned about government finances and its inability to repay large foreign debt, downgraded Sri Lanka's credit ratings from 2020 onwards, eventually locking the country out of international financial markets.
"They have engaged a lot in economic mismanagement and that has contributed a lot to the country's crisis right now and to the growing unpopularity of the government in power," says Devapriya.
The government is now reliant of funding from regional superpowers India and China, which are seeking to increase their influence on the island.
Current talks with the IMF have now been put at risk, due to the lack of a functioning government to lead the negotiations.
---
3. Worldwide factors: the Covid-19 pandemic and the commodity crisis
"Sri Lanka is an economy which you can't keep closed for too long," says Devapriya who notes that months of closures and restrictions had a big impact on the Sri Lanken economy, which has traditionally been hugely dependent on tourism.
With the exception of tea, Devapriya explains that Sri Lanka has very little it can export to keep the country's economy afloat.: "We are not an industrial economy. We hardly produce anything. So, what happens is we import everything."
This has led to a huge crisis with the rising cost of imports due to backlogs caused by the Covid-19 crisis as rising prices and shortages due to the ongoing war in Ukraine.
Russia's invasion of Ukraine has also directly impacted on tourism there as Sri Lanka has also been a popular destination for tourists from both countries. Official figures show 15,000 Russians and 5,000 Ukrainians visited in the month before the conflict - making them among the top three nations to visit.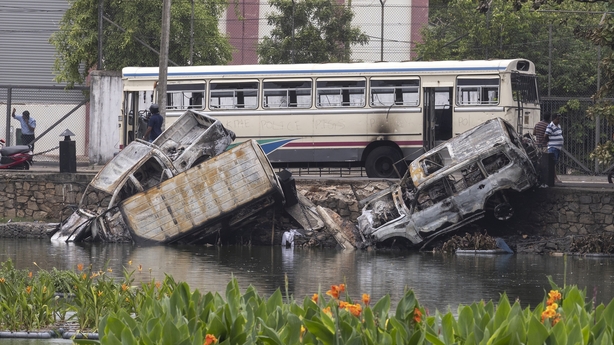 Now there are fears the latest violence in Colombo will deter others from deciding to travel to Sri Lanka.
"We had respectable tourism numbers in January and February this year, but after Putin decided to invade Ukraine, that all went haywire," says Devapriya.
He says the government's "green light to shoot on site" will not help tourism numbers, which were already in decline.
"Sri Lanka is basically spending more than its earning and tourism is not going to salvage us in the long term," he says.
---
4. An appetite for change - What happens next?
Of course, whilst the Prime Minister has stepped down, this does not mean the end of the political dynasty for the Rajapaksa family, as his brother Gotabaya Rajapaksa, a retired military officer has determinedly invoked emergency powers tries to hold on to power as president.
Back in October 2020 a contentious 20th amendment to the constitution, known as 20A was also brought in which gives him more powers, including full legal impunity.
In his resignation letter on Monday the Prime Minister, who is the older of the two brothers, wrote that he was quitting so an interim, all-party government could be formed. A cabinet spokesman says the President plans to meet opposition politicians amidst hopes of forming a new government within days.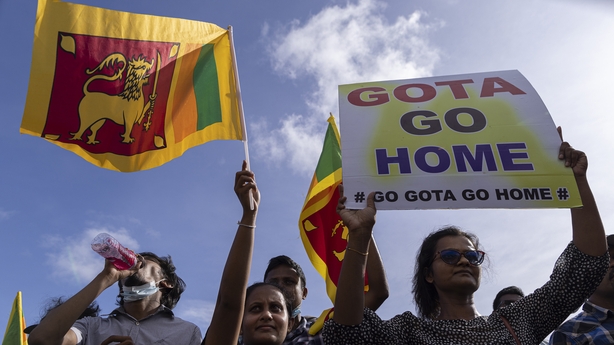 Udita Devapriya says the lead opposition party is open to an interim administration, but has stressed that this can only happen if the current Sri Lankan president leaves.
The main opposition leader Sajith Premadasa was among those attacked and hurt in the latest violence and has demanded that the Rajapaksa brothers be held accountable for what he called "a deliberate act of political and state terrorism".
However, Devapriya says there is a potential roadmap for a cross-party grand coalition, but the opposition has also ruled out working with "other ruling-party associated crisis instigators".
Many anti-government protesters hope to see more change, having been buoyed by one Rajapaksa resignation already: "This may be their twilight period. That's the hope of a great many Sri Lankans," concludes Devapriya.
Additional reporting: Reuters, AFP